A recap of the Washington Youth Tour
This year, Middle Tennessee Electric invited 14 local students to join co-op delegates from across Tennessee for the 2019 Washington Youth Tour. While in Washington, D.C., they were exposed to history, memorials, famous landmarks and activities aimed at promoting understanding of democracy and how our government works.
Tennessee's Youth Tour delegates saw the White House and memorials to presidents Thomas Jefferson, Abraham Lincoln and Franklin Delano Roosevelt as well as monuments honoring the sacrifices of veterans of World War II and the Vietnam and Korean Wars. During visits to the museums of the Smithsonian Institution, they viewed natural, historical and artistic treasures. Other stops included the historic homes of famous presidents: George Washington's Mount Vernon and Jefferson's Monticello. At Arlington National Cemetery, the group laid a wreath at the Tomb of the Unknowns.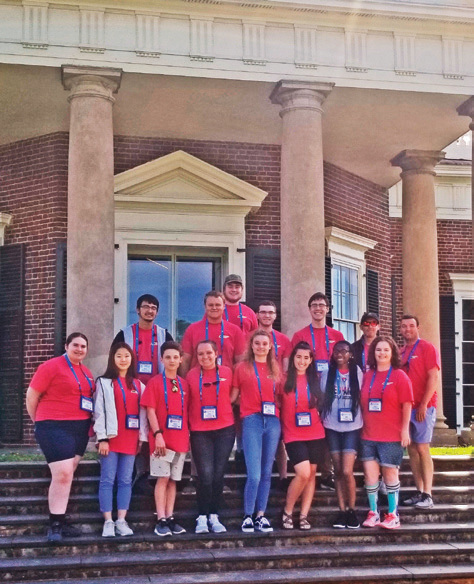 In addition, students visited with members of the Tennessee congressional delegation at the U.S. Capitol and networked with fellow Youth Tour participants from other states. There was also time for fun and fellowship on a boat cruise down the Potomac River.
The Washington Youth Tour in its current form — a gathering of high school students representing electric cooperatives from across the nation — traces its roots back more than 50 years.
In 1964, the National Rural Electric Cooperative Association began to coordinate joint activities among youth delegations sent by each state to the nation's capital by co-ops and their associations. It was suggested that co-op representatives from each state schedule visits during the same week. The first year of the coordinated tour included approximately 400 young people from 12 states. Now, more than 1,500 young people from 48 states and their chaperones participate in the Youth Tour every year.
Who is eligible for the Washington Youth Tour? High school juniors who submit winning entries in the MTEMC Short Story Writing Contest.
How do I learn more? Contact Jay Sanders, MTEMC community relations coordinator, at 615-494-1065 or [email protected].
More information about the program is online at www.mtemc.com/WashingtonYouthTour.