Event Navigation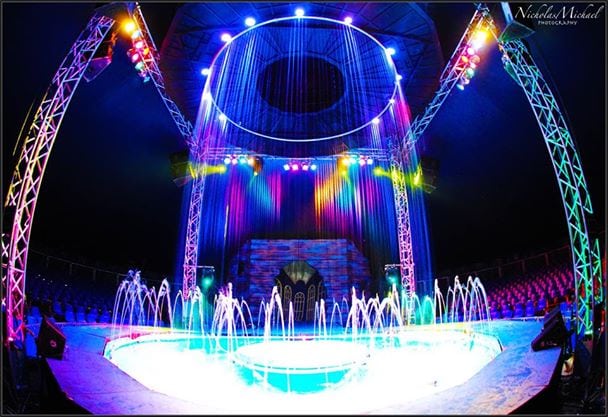 Cirque Italia
Thu., October 6, 7:30 pm

-

Sun., October 9, 5:30 pm
Aerialists and acrobats and Jetskis? – oh my!
Come experience the magical world of Cirque Italia – a show like no other. We are proud to be the first traveling WATER circus in the US! Our extraordinary stage holds 35,000 gallons of water and features a dynamic lid which lifts 35 feet into the air, allowing water to fall like rain from above as fountains dazzle below! This incredible show takes place under our majestic white and blue big top tent which came all the way from Italy. Inside we have such a theatrical and intimate setup, you just might forget you are under a circus tent!
So what can you expect to see at this remarkably unique show? How about a CONTORTIONIST who is able to bend her body in ways you would never imagine…. How high can he go? You'll be asking yourself as our Italian singer stacks chair upon chair and then balances on top of them on his hands……Our crazy clown, Alex, PLUNGES off the diving board during his acrobatic trampoline excursion! Want to get splashed? Who knows what can happen during our astounding JETSKI act……Breathtaking Aerial Divas will fly high in the sky like beautifully colored birds of paradise……. Our Laserman will be causing all kinds of explosions with his laser guns……maybe to scare away the large DINOSAUR that has invaded the show!! All this, plus thrilling highwire feats, twin juggling maniacs, elegant chiffons, and more!! Don't forget you also have the once in a lifetime opportunity to take a picture with a MERMAID.