Event Navigation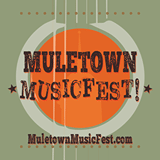 MuleTown MusicFest
Lots of people are wondering how this new festival is going to work. The Muletown Musicfest is a not-for-profit community collaboration whose focus is to bring attention to the great businesses and talented people that call Maury County home. This is both a free event and a ticketed event.
FREE EVENT
Everyone is welcome to come to the square and enjoy free music at a dozen shops and numerous spots outside on the square throughout the day and evening. Entertainment like Farmer Jason, the Instrument Petting Zoo and live music performances will be everywhere. There will be numerous food tents from restaurants around Maury County plus the staples already on the square like Puckett's, Square Market, 822 South and Muletown Coffee ready to make you feel at home.
TICKETED EVENT
In addition to numerous free attractions, there will be two special venues that will require the purchase of a wristband that allows you to go to either of the two ticketed venues (Puckett's Upstairs and Westbury House) to see headlining live music.