Scenic City Shakespeare in the Park – AS YOU LIKE IT at Greenway Farm
Sat., May 6, 7:30 pm

-

10:00 pm

Free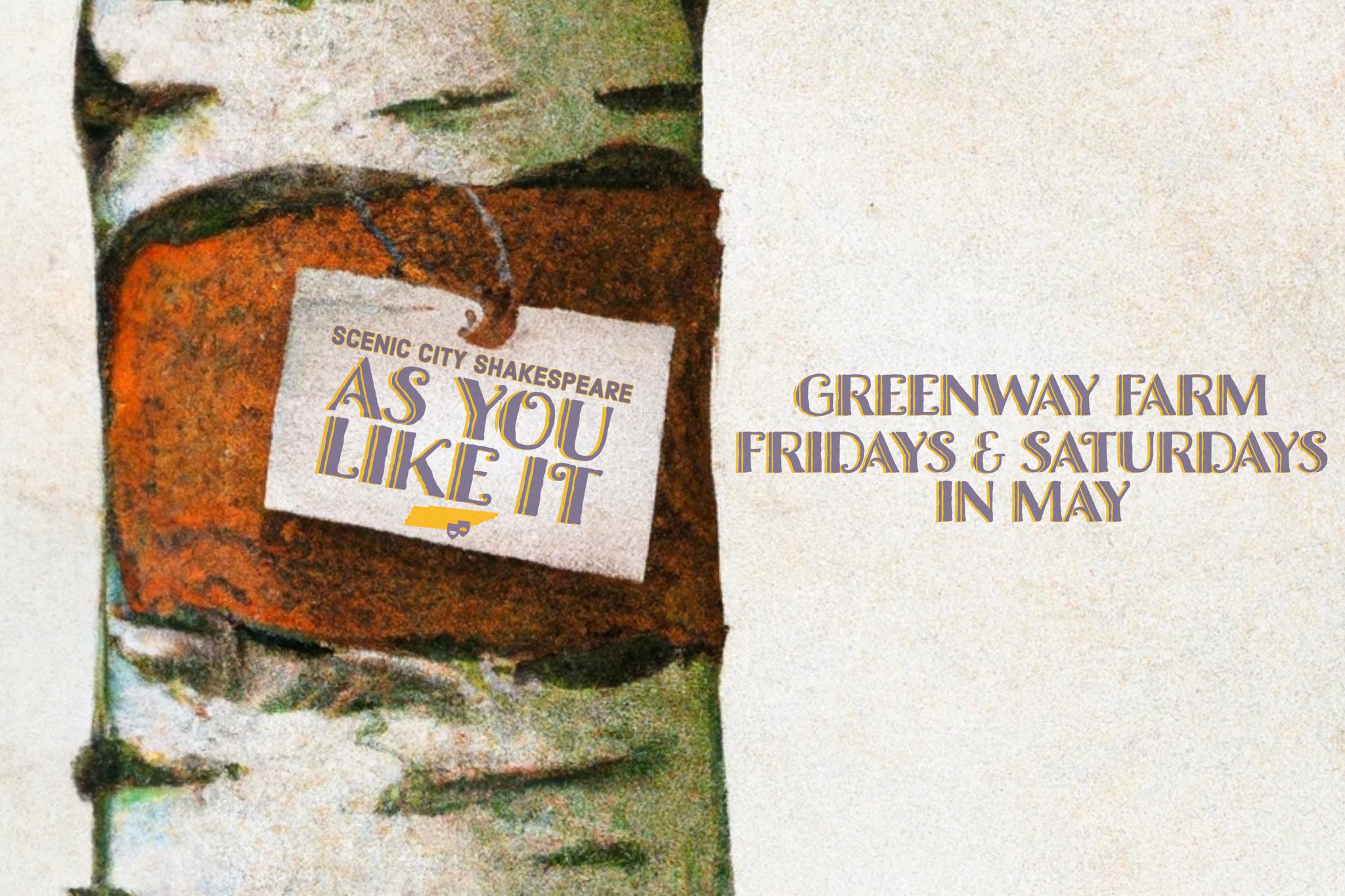 May dates announced for Scenic City Shakespeare in the Park at Greenway Farm
Dust off your lawn chairs and break out the picnic blankets – "All the world's a stage" as Scenic City Shakespeare in the Park springs back into beautiful Greenway Farm this May with As You Like It. Shakespeare's beloved pastoral comedy will have performances beginning at 7:30 on May 5 and 6, 12 and 13, and 26 & 27. May 19th and 20th will feature the family-friendly original "Billie the Bard's Puppet Playhouse" at 7:00 and the return of "From a Hat" improvised Shakespeare adaptations at 8:00. Admission is FREE; reservations are recommended. Bring your outdoor chairs and blankets – seating is not provided. Plan to arrive early to enjoy fare from local food trucks and other vendors. RSVP now at ScenicCityShakespeare.org/inthepark. As You Like It is made possible by the Arts Build Communities grant through Arts Build and the Tennessee Arts Commission.
Escape to the Forest of Arden this May with Scenic City Shakespeare's new rendition of As You Like It. In this refreshing comedy, our spirited heroine and her cousin leave behind their familiar world and encounter a company of colorful characters, each on their own journey of love and self-acceptance. Enhanced by a soundtrack of popular songs, this heartwarming story weaves together laughter and romance, culminating in a joyful celebration of love and new beginnings. Experience the timeless charm of this beloved tale and immerse yourself in the magic of the Forest of Arden as love, self-discovery and transformation intertwine!
The third weekend in May Scenic City Shakespeare shakes it up with original performances. "Billie the Bard's Puppet Playhouse" is a new hands-on educational puppetry program created by Scenic City Shakespeare with funding from the TN Arts Commission. The program premieres April 15 and 16 at the Chattanooga Public Library auditorium and will receive an encore at Shakespeare in the Park May 19 and 20 starting at 7:00. Through classic scenes, audiences will experience Shakespeare's text and engage in a magical story alongside puppet characters. Back for a second year, "From a Hat" style improvised adaptations – this year's title, "As You Like Hat!" – make for a delightful evening of improv as actors pull their As You Like It character from the hat and perform the play through a collection of improvised games and scenes beginning at 8:00.
As You Like It features new and familiar company members Marianna Allen, Bryan Basil, Maria Chattin, Courtenay Cholovich, Emma Collins, Kyle Coplen, Monica Ellison, Ryan Laskowski, Jacob Moore, Kashun Parks, Hunter Rogers, Ripken Russell, Will Snyder & Arche Twitty.
Don't miss out on everything Scenic City Shakespeare has to offer this Spring! Tickets to all performances are FREE, and VIP admission is available for As You Like It with shaded seating area and snacks provided. Reservations are recommended and donations are encouraged. RSVP now at ScenicCityShakespeare.org/inthepark.