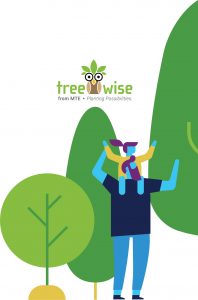 As a Tree Line USA accredited electric cooperative, Middle Tennessee Electric is committed to educating our members about the environmental importance of vegetation in our communities and how it can peacefully coexist with our electrical system. Each spring, our team of certified arborists brings the Tree Wise program to area schools to teach students about trees and their effect on our community, including the importance of planting the right tree in the right place. This year, we will continue our environmental education via virtual classroom presentations.
Why does Tree Wise exist?
This MTE initiative is a way to educate our members and their children on why it's important not to plant tall trees near power lines and to discuss vegetation management. It's our hope that children will learn from an early age why it's important to plant trees in the right place for safety and to reduce the opportunities for outages caused by vegetation and trees.
How does it work?
Your child's teacher or school can sign up for one of our vegetation management specialists to conduct virtual classroom activities and discussions about trees and vegetation and how to transport, plant and care for them.
How can parents get involved?
If your child's class participates in the program, students will be given small saplings to take home and plant with their families. As parents, you'll also get a letter from us providing more information about where you should plant your new tree along with care instructions. This encourages children to use the information they learn from Tree Wise. We urge you to participate and assist your children in planting this new tree to make it a family learning experience.
How can I get additional information?
If you're interested in learning more about the program or scheduling a time for MTE to give a virtual presentation to your school, there are three options: Call 877-414-7685, email [email protected] or sign up for more information at MTEMC.com/TreeWise.