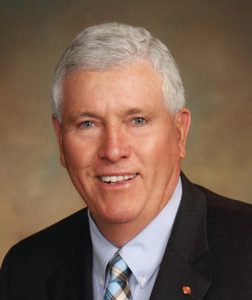 Gordon Bone was a Wilson County businessman and member who worked tirelessly for Middle Tennessee Electric. The veteran MTEMC director and longtime board chairman who passed away unexpectedly in July was known as a leader with a passion for the welfare of his fellow members. In keeping with our tradition of honoring the commitment of individuals dedicated to this electric cooperative, the annual SharingChange scholarship has been renamed the Gordon Bone Memorial SharingChange Scholarship.
Because Mr. Bone is most credited for establishing the SharingChange Foundation, it is only fitting that the scholarship funded through our charitable outreach be named after him. The MTEMC board of directors made this decision so that Mr. Bone will always be associated with one of the most outstanding community service efforts undertaken by MTEMC members.
The scholarship is used to help students who plan to attend a Tennessee two- or four-year accredited college or trade school. The applicants participate in an essay contest judged on a point system in combination with the student's financial needs assessment, current grade-point average, involvement in community service and leadership roles.
We are now accepting entries for 2020 with the deadline being Sunday, March 15. Winners will be notified in July. Applicants will complete a 200-to 300-word essay stating how the scholarship funds will benefit his or her personal goals. Essays will be judged by volunteer school teachers from our service area. Applicants must be MTEMC members or dependents of members and be entering college freshmen or currently enrolled students of a trade school, undergraduate or graduate university.
You can learn more or conveniently apply online at SharingChange.org/Scholarship.