Tennessee's popular Showcase event leads the way
"Going to the fair" has been a tried-and-true tradition for generations of Tennesseans who look forward year after year to attending cherished agricultural events that are carefully planned and carried out across the state by hundreds of dedicated folks, many of whom are volunteers.
Knowing that, committed enthusiasts on the local level are working extra hard to make sure their annual fairs not only showcase Tennessee agriculture and the joys of rural life but are fun events for fair-goers of all ages to enjoy.
I got a first-hand look at what is being done when Lynne Williams, the capable fair administrator with the Tennessee Department of Agriculture in Nashville, asked me to help judge entries at the Tennessee Association of Fairs' highly competitive Fair Showcase Jan. 18 and 19 at the Sheraton Music City hotel in Nashville. The showcase is always a highlight of TAF's annual convention, and there was plenty to see at this year's event, which attracted 504 entries from 38 fairs that are members of the association.
The elaborate Showcase — set up in the hotel's expansive McGavock's Ballroom — was impressive, thanks in large part to the efforts of Rhea County Fair's Brittany Dean and her hard-working Fair Showcase Committee. For the judging, I was teamed with good buddy Chris Villines, a member of the communications staff at Tennessee Farmers Cooperative in LaVergne. We had a ball judging quality, quaint and handy items and initiatives that had been entered by participating fairs in an array of categories: creative fair idea (other than agricultural); premium books for three different divisions (depending on the size of each fair); premium and nonpremium tabloids; brochures; fliers; fair posters; envelopes; scrapbooks in five different divisions (including digital); letterhead/envelope; fair display (freestanding and tabletop); fair promotional merchandise; best season pass; best fair theme display; fair website; video; Power Point; creative fair idea (agricultural); creative fair idea (other than agricultural); fair hat; fair T-shirt, screen-printed; fair T-shirt, embroidered; fair ribbon art craft; recycled product; and fair follies picture.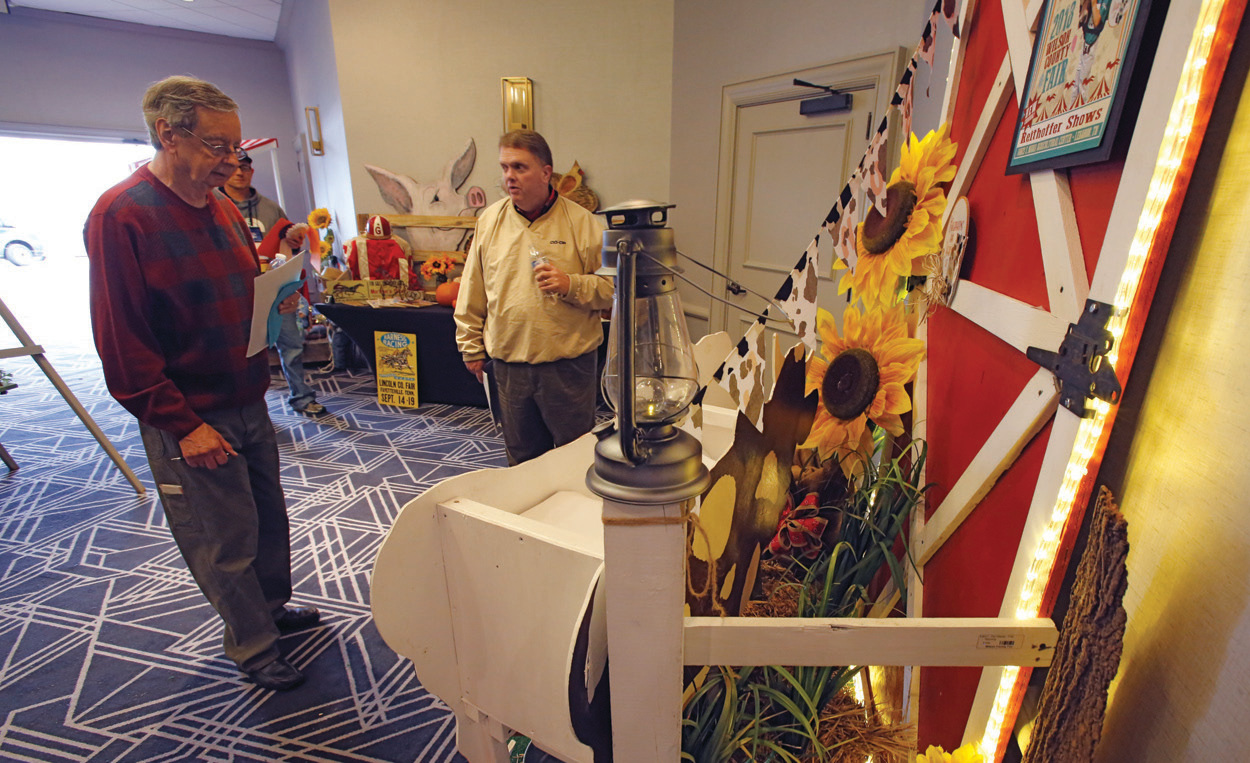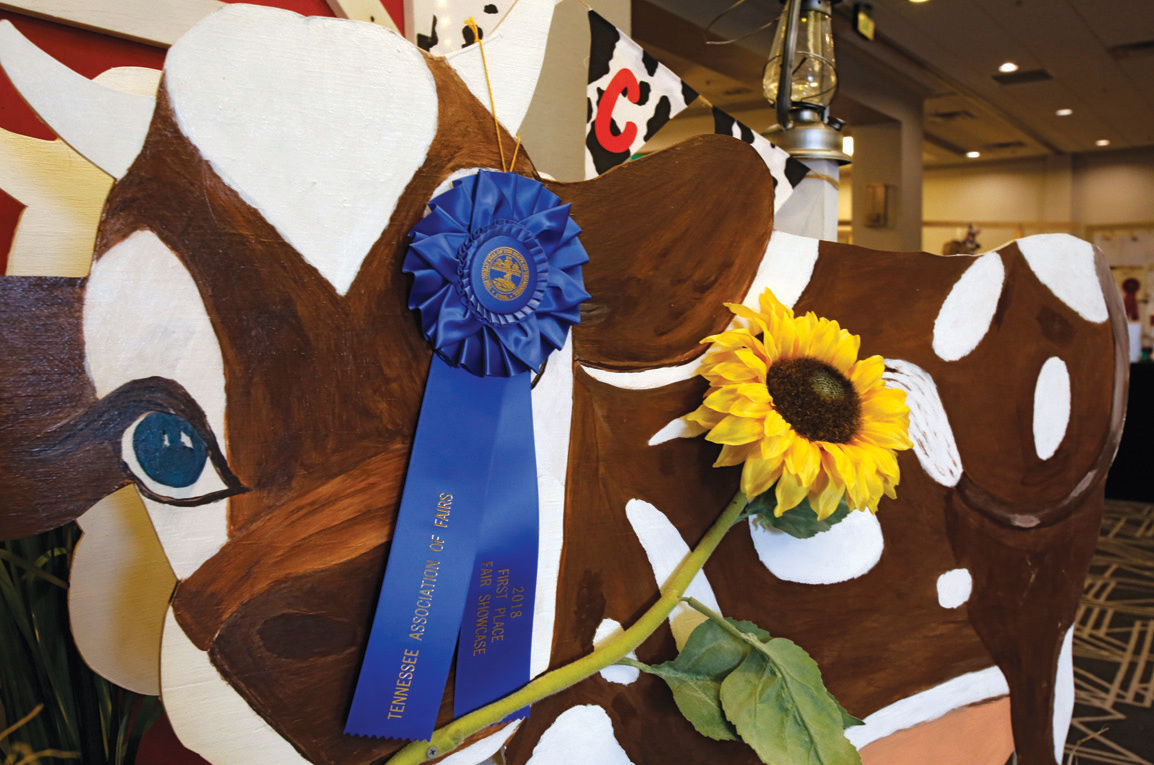 At the end, we tapped a large, cleverly constructed masterpiece from the Morgan County Fair as most outstanding entry among the classes we judged. The creative crafters used tractor/trailer pallets (reclaimed wood) to create a "tractor" pulling a "wagon" piled high with Pick Tennessee products. The big "Best of Show" ribbon looked great on this creative entry that had earlier been tapped as the best in the recycled/repurposed class. And let me say, too, that I really appreciated the friendly help that knowledgeable Showcase Committee members gave Chris and me as we worked our way through the maze of quality items made by talented, creative artisans from all over the state.
Thankfully, though, Chris and I weren't involved in the judging of an amazing array of prized quilts — always among the top attractions at the Fair Showcase. That was left to experts — master quilters Ruth Ann Caruthers and June Prince, both from Hickman County. They chose Joyce Robinson of Wilson County to receive the coveted "Golden Needle Award" — the top honor — for her beautiful "That Town & Country Quilt." Joyce's masterpiece, hand-pieced and machine-quilted, features more than 400 individually appliquéd blocks depicting town and country living.
From what I've learned in talking with other folks who are associated with Tennessee fairs, much of the credit for the high numbers of entries and active participation in the Showcase from so many fairs goes to the current 20-member Showcase board headed by Rhea County's Brittany Dean, described by Lynne Williams as a "real go-getter."
"Brittany is so creative and always looking for ways to get more participation from more fairs in the Fair Showcase competition," Lynne says. "Everyone enjoys working with her, and the results speak for themselves."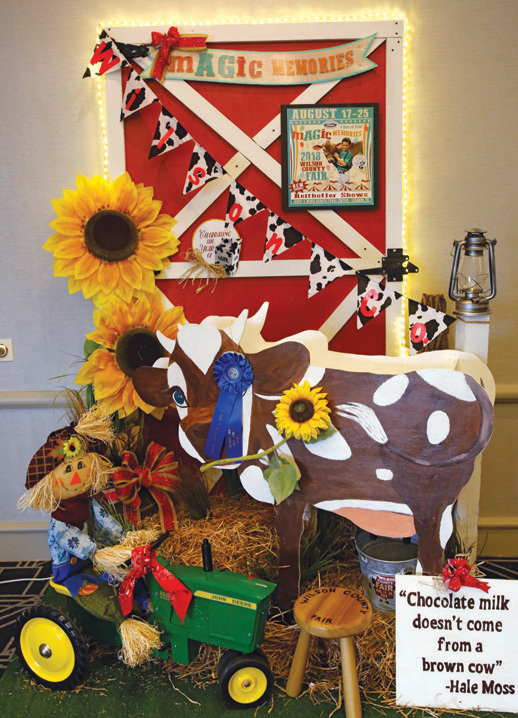 In a phone interview with Brittany a few days after the Showcase competition, I realized what Lynne was talking about. Brittany, who lives in Spring City with her husband, Curtis, and their children — Keyli, 17, and Jack, 11 — gets really excited about what she and her committee are doing to help fairs be more creative in what they offer to fair-goers.
And she says she has one major goal for what she and the enthusiastic committee do: "I want to help put fun back into fairs! There's so much more than the carnival rides at a fair. Let's even get children involved in what's going on at our favorite fair. Let's make biscuits with our children to enter in the fair. The fair is nongenerational. Everybody who goes can have a good time. I grew up loving the fair, and though what we're doing now is definitely fun, I know that fairs can be 'funner.' Besides the carnival, a fair is livestock, crops, handmade items, canned goods and so much more. It's always exciting to see what is going to be new next year."
Then Brittany tells how she came up with the idea for a colorful new competition category for 2018 Fair Showcase competition: "I ran across a lot of (placement) ribbons we as a family had accumulated over the years for things we entered in the fair. Knowing that lots of other people had lots of ribbons, too, I suggested a new category in this year's Showcase for items made from those ribbons." It turned out to be a huge hit with fairs and fair-goers alike. Among the winners was a replica of a rooster fashioned, appropriately, by Cocke County Fair, an elaborate wall-hanging Ferris wheel and a footstool. The ribbon category was, Brittany says, "one of the fun things we added to fairs in 2018."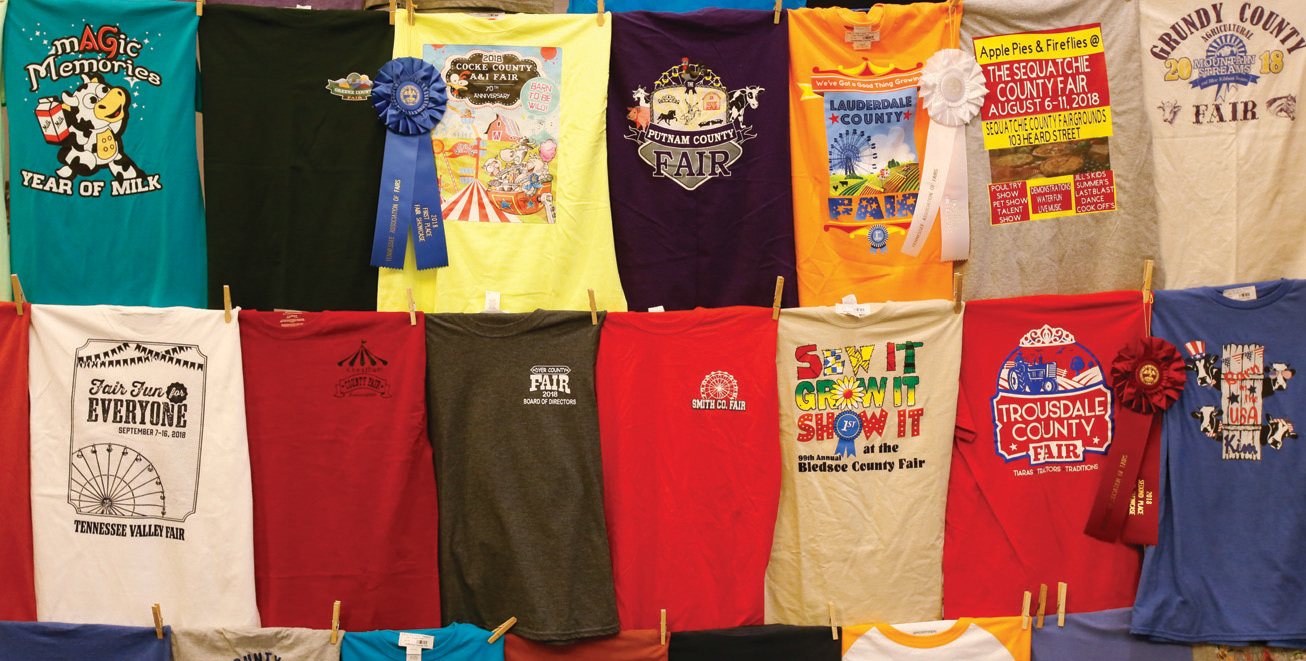 So Just how popular are fairs among Tennesseans? Well, Tennessee Department of Agriculture officials recently announced that in 2018, nearly 3 million people attended fairs in Tennessee — county and regional events as well as the State Fair in Nashville. In doing so, they generated $12 million in gross receipts. And there was plenty to see and enjoy, too, as some 26,000 exhibitors showcased livestock, farm crops and other assets.
At the end of the big 97th Annual Convention of the Tennessee Association of Fairs, Warren County Fair was named Champion of Champions for 2018. It was also among the 53 fairs recognized with the Award of Merit based on agriculture, educational value, overall operations and promotion of local interest and community spirit. Taking home State Champion honors in three divisions were Fentress County Fair, Division A; Dickson County Fair, Division AA; and Sevier County Fair, Division AAA. Premier Awards, selected from among previous winners, went to Rhea County Fair, Champion of Champions; Trousdale County, Division AA; and Wilson County Fair, Division AAA.
Now, as 2019 works its way toward fair time in Tennessee, make plans to visit one or more of the big events — and enjoy what each has to offer. And above all else: Have fun!