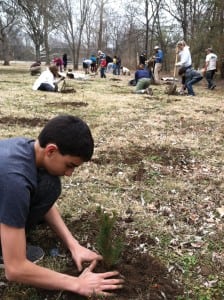 50,000 free trees available to plant across Tennessee during special event
Trees are such a part of our everyday lives that we don't often stop to think about them. They provide shade from the hot sun in the summer, oxygen for us to breathe and natural beauty to admire. It's sad to see areas where trees have been lost because of disease or human expansion. That's why the 50K Tree Day from the Tennessee Environmental Council (TEC) is such an exciting event.
TEC CEO John McFadden founded the Tennessee Tree Project in 2007 as a way to restore degraded environments across the state and build a stronger sense of positive community involvement in the caring for our environment, according to Jeff Barrie, director of Sustainable Tennessee for the TEC. The organization makes available 50,000 tree seedlings that are all supposed to be planted on the same day.
"We want these trees to be planted on 50K Tree Day on Saturday, Feb. 27," Barrie says. "This makes it more exciting and builds a stronger sense of community and enthusiasm from participants. And it ensures tree survival. These are bare-root seedlings, just 1 or 2 years old, so they need to be planted as soon as possible in order to establish their roots and survive before the warmth of spring arrives."
During 50K Tree Day 2015, 52,000 free trees were distributed in 93 Tennessee counties. Of those, 47,000 were planted by more than 3,000 participants, making it the largest single event in TEC's 45-year history. Barrie says the event's success was made possible by the support and collaboration of a long list of sponsors and partners.
One of the businesses taking part in last year's event was Middle Tennessee Electric Membership Corporation, which planted 30 trees just off Veterans Parkway in Murfreesboro.
"We felt the effort to plant trees around the community was an appropriate reflection of our principles, specifically our commitment to community," says Josh Clendenen, communications coordinator for MTEMC.
Cathy Mitchell, MTEMC's community relations coordinator, was one of the employees who took part in the planting event last year. "We understand the importance of planting trees not only during celebrations and observances like TEC's 50K Tree Day or Earth Day but also throughout the year. We have two certified arborists who work hard to educate our members on how and where to plant trees."
The trees for 50K Tree Day are available at no cost to anyone who registers on TEC's website, tectn.org/50KTreeDay, through midnight on Feb. 25 or while supplies last. Trees are available for pickup at various locations statewide on one day only: Friday, Feb 26. There will be some Saturday morning options at select locations for picking up trees on Feb 27. This information will all be posted at the website through Feb. 27. Participants must register on this website in order to receive trees. People who do not register are not eligible to receive trees. Barrie encourages everyone to check TEC's website before driving to pick-up locations to be alerted of any last-minute changes in times or locations.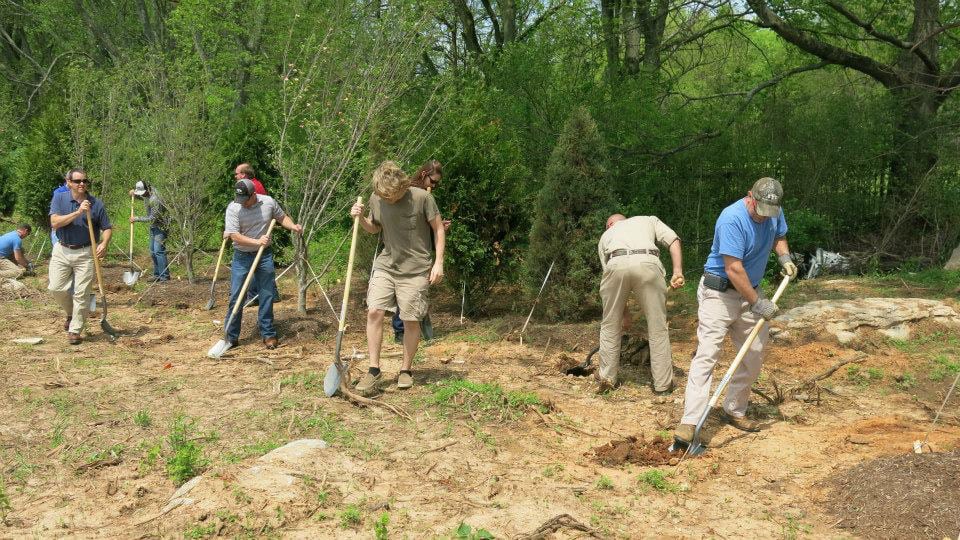 "Last year, we did run out of trees on the final day of registration, so we encourage participants to register early," he says. "In case of severe weather on Feb. 27, our alternate planting date is Saturday, March 12. If this happens, the pick-up date will be Friday, March 11. This will only happen if there is severe rain, thunderstorms, ice/snow or threat of tornadoes."
Although the trees are being given away for free to anyone who registers, TEC invites donations to help defray costs. TEC is a small nonprofit organization with a staff of six, and this is a big undertaking that is only possible because of donations and grants they receive. Donations can be made when people register on the website, or you can mail a check to the Tennessee Environmental Council at One Vantage Way, Suite E-250, Nashville, TN 37228. The council aims to raise $50,000 between now and planting day to cover the costs of the trees.
Barrie says that all participants are welcome: individuals, landowners, businesses, community groups, churches, Scouts, etc. Requirements for participation are "Pickup, Plant and Post" … in other words, being available to pick up trees at the designated times and locations (participants can have a friend or family member pick up trees if they are not available at the times posted), agreeing to plant all trees on Feb. 27 and promising to post pictures/videos on TEC's Facebook page (search for Tennessee Environmental Council) or email pictures to the council. The tree quantities will be posted on the website and can be selected during the online registration. Participants can select bundles of four, eight, 12, 16, 20, 24, 48 or 100 trees. Each bundle includes equal numbers of flowering dogwood, Shumard oak, Virginia pine (evergreen) and redbud. The redbud and dogwood thrive in the shade of the larger trees, so these bundles are an ideal mix of species for Tennessee. When you pick up your trees, please bring a plastic trash bag in which to wrap your trees and protect them until you plant them.
So mark your calendars for 50K Tree Day on Saturday, Feb. 27. It's a great way to get outside and enjoy nature while helping to ensure the natural beauty of Tennessee. With each event, the number of trees beautifying the state increases.
"Our long-term goal is to plant and care for 1 million native trees in Tennessee," Barrie says.
With the help of Tennesseans during this special event, the Tennessee Environmental Council can move 50,000 trees closer to that goal.