Boxing gloves give inspiration to cancer patients, keeping them in the ring for the fight of their lives
In the spring of 2004, Murfreesboro's Sheree Wooten received news that no one ever wants to get though it's something people somewhere hear every single day: Her mother had cancer. In fact, Gerrell Craig had liposarcoma, a rare type of cancer that forms in the fat cells of deep, soft tissue. Craig had to have a tumor the size of a small Nerf football removed, and as a loving daughter, Wooten wanted to do whatever she could to help her mother fight the disease.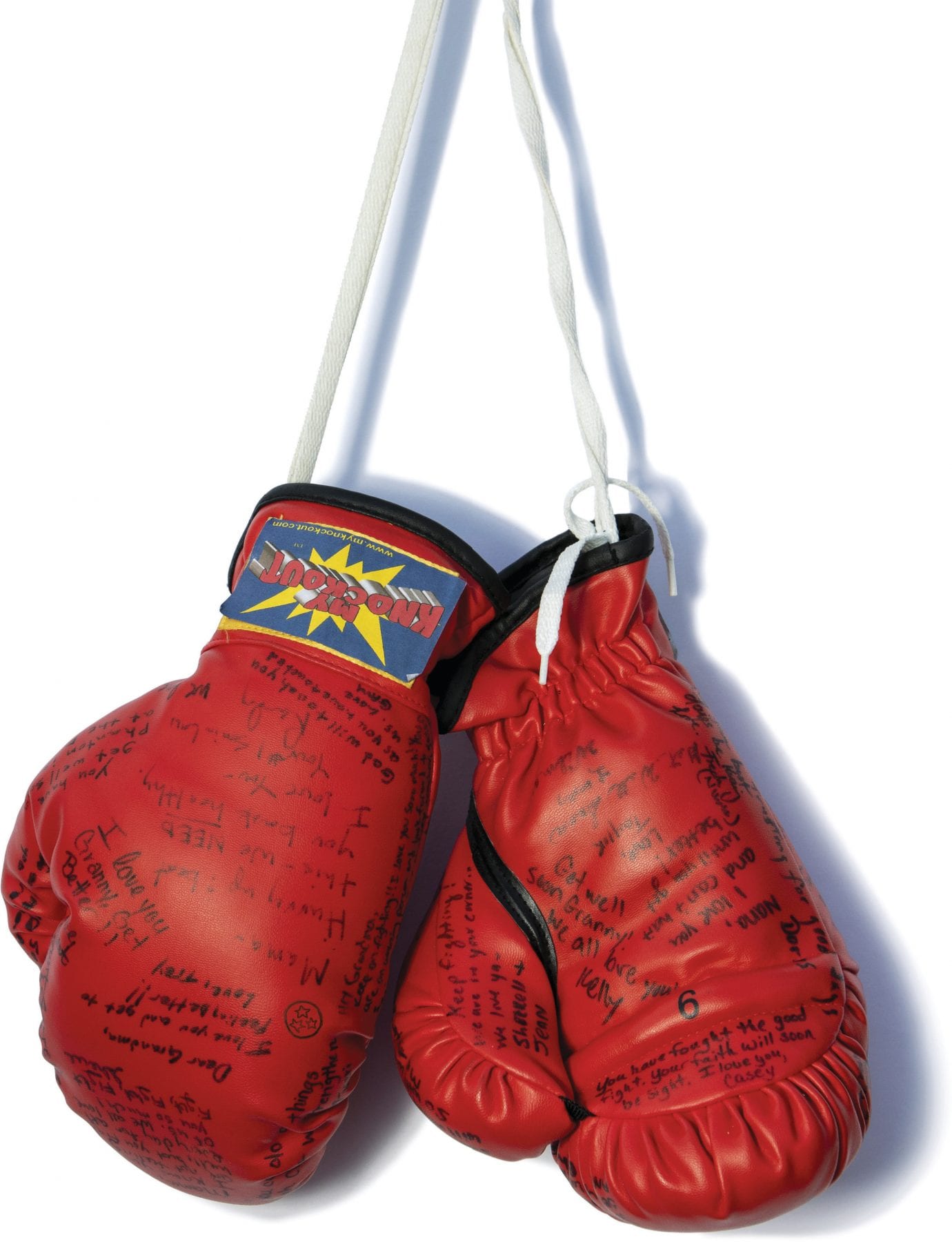 "When I left work the day my mom was put in the hospital for her first chemo treatment, I remembered telling her she had to put on her boxing gloves and fight," Wooten says. "As I was driving to Atlanta from Nashville, I just had the thought of getting her some boxing gloves and writing messages all over them to encourage her to fight and never give up. So I stopped at a Walmart and bought a pair of boxing gloves and a permanent marker to write on them."
Little did Wooten know at the time that the decision to make those purchases would eventually lead her to start a company that sells boxing gloves to inspire others fighting cancer, heart disease, depression or any other physical or emotional battle.
"I stayed with my mom that night in the hospital after giving her the gloves," Wooten says. "She was really restless, so I asked if she was OK. The selling of the gloves was totally her idea. She told me that night that she thought I should sell them. We talked all night, no sleep; we were too excited about the possibility of selling the gloves to others. We came up with so many ideas during the night. When the morning came, I found a notepad and pen, and we started putting the ideas on paper. I drew up what I imagined as my logo. I wasn't sure how we would do it, but I knew I had to. It meant so much to my mother. I never wavered on whether we should do this. I knew in my heart that it was a good idea. All the doctors and nurses who came in to see my mom thought it was a great idea. I knew some way, somehow, we would make it happen."
Wooten gave her mom the original pair of gloves on a Friday. The following Monday, when she went back to Nashville, she talked to her boss about how to start up a company. Within two weeks, she had met with a lawyer and started the process of getting a business license.
"I knew that my mom's time might be short, and I didn't want to waste any of it. That Monday, I started looking at websites. I wanted something with 'knockout' in the name. When I saw 'myknockout,' I knew that was it. Cancer — or any battle you are facing — is a personal battle, so 'my knockout' was perfect."
Things moved quickly. Wooten bought the domain name and started working to build a website. While telling a friend what she was trying to do, Wooten found out the friend and her husband did business with a man in India who happened to make boxing gloves. Everything just fell into place.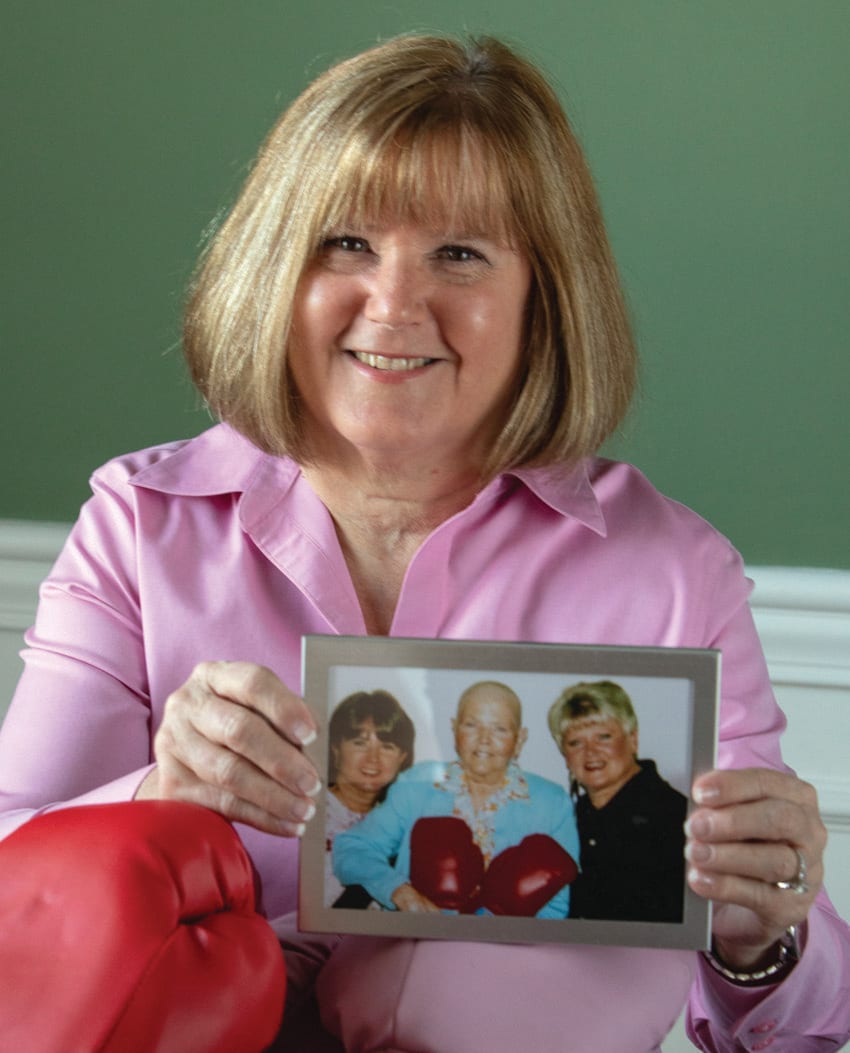 "I had prayed, asking God for wisdom and to open doors for this business to get started," Wooten says. "I had no idea where to start or how to finish, but I knew I could do it. My mom and I talked every day about what to do next. The first thing she said to me every day when I called her was, 'So what have you done with the business today?' We worked on how we would package the gloves, market them, what would be included. My sister joined in, and together we worked to get My Knockout up and running."
Soon the ball was rolling on getting gloves made. Wooten sent pictures of her logo and received samples of the colors pink and red for the gloves. Because of the distance between Wooten and the manufacturer, it took time to get started, but the determined sisters just plugged away, day after day. When Wooten had no luck in finding someone in America to make the gloves, she sent messages back and forth to India until she finally received the first sample of the gloves.
"They came a day or two before I left to go home for Mama's final days," Wooten says. "God was so good to let her see not the finished product but at least a sample of what she had envisioned that Friday night in the wee hours of the morning."
Craig passed away in August 2005 after her cancer returned in the spring of that year. Prior to her passing, she let Wooten know that though the idea for the boxing gloves came about because of cancer, they should be for anyone facing any kind of difficult struggle.
"We just wanted people to be encouraged no matter what kind of battle they faced," she says. "We talked about wounded soldiers and people with diabetes, heart disease, depression, anything that takes fighting to get through."
To spread the word about My Knockout, Wooten and her sister went to AmericasMart, a wholesale trade center in Atlanta, and met a lot of great people who bought the gloves and put them in all different types of stores and gift shops. Many of the sales, however, came through the company website as word spread. A purchase includes a pair of full-size red or pink boxing gloves, a permanent marker to use in writing encouraging messages on the gloves, an encouragement card, a gift bag and tissue paper. The cost is $45 with 15 percent being donated to the American Cancer Society for research into cures for liposarcoma and other types of cancer.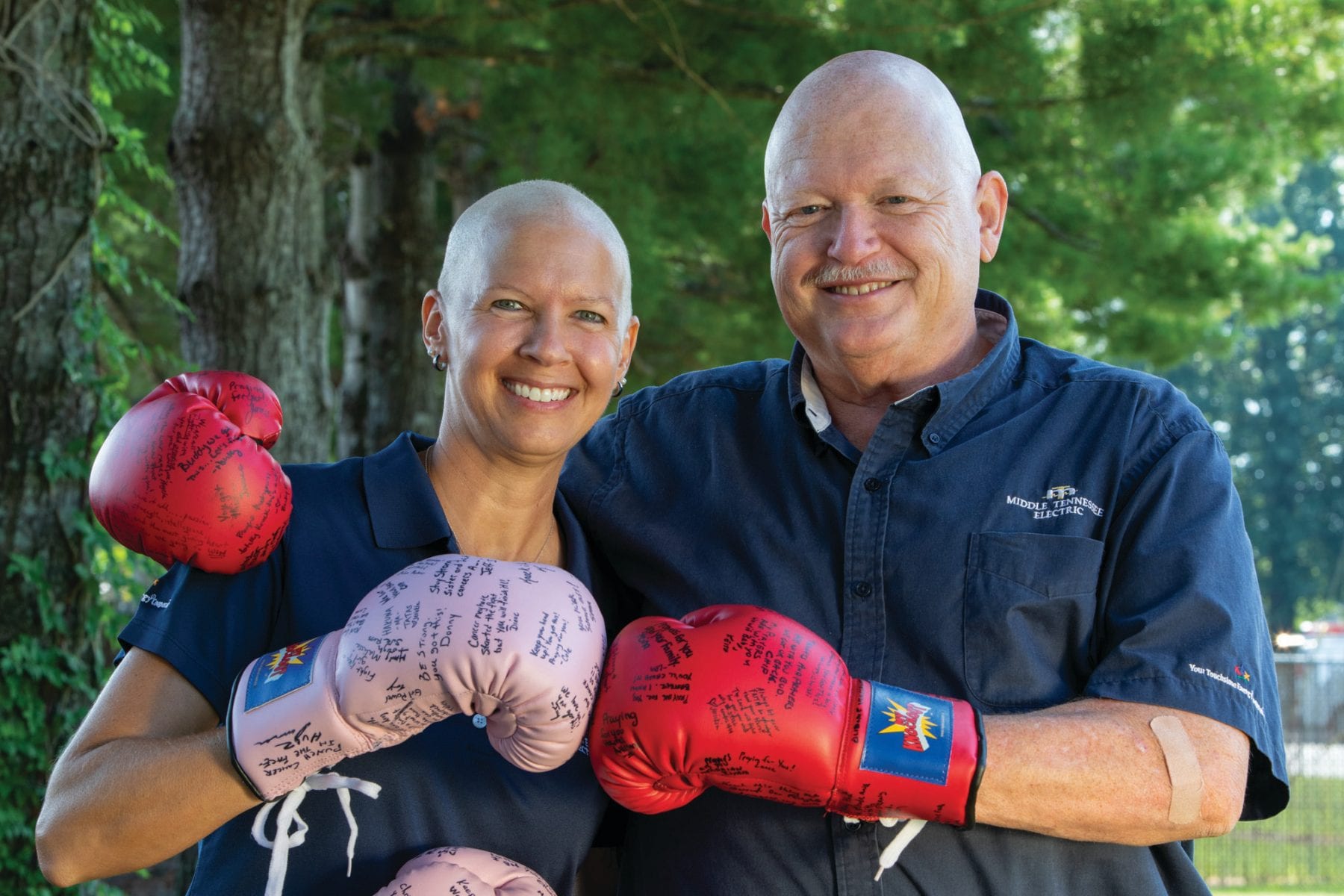 Recipients of the gloves have found the intended inspiration to fight their ailments. Among them is Christi Mooring, an operations quality assurance technician with Middle Tennessee Electric Membership Corporation in Murfreesboro, who is fighting breast cancer. Christi received a pair of the My Knockout gloves from co-worker Shawn Futtrell, who is Wooten's son-in-law. Mooring says the gloves have definitely helped her.
"I look at them nearly every day," Mooring says. "It's the coolest thing to me; like a cast for a broken arm, it helps to bring a smile to a tough situation. Also, everyone wants to 'do something,' but there isn't anything anyone can do really except to be there and offer well wishes. This allows them to do that and to be truly thoughtful about it. Cards and flowers are nice, too, but these stay around forever and remind you to FIGHT, never give up. They also remind you just how much everyone cares. The outpouring of support I have received has blown me away. I am truly humbled. I have purchased two sets for other cancer fighters as well, hoping the gloves will bring them up as much as they do for me."
One of those for whom Mooring has bought gloves is yet another co-worker at MTEMC, Howard Ruse.
"Christi decided to get a pair for me after she learned about my cancer situation," says Ruse, a facilities coordinator at the cooperative. "She felt that hers helped lift her spirits, so she was kind enough to do for me what had been done for her. My diagnosis is that I have stage 4 prostate cancer that has now spread into my bones. There is no cure at this time, but every time I look at the gloves, it gives me the determination to keep fighting this disease.
"I was very touched to receive the gloves where my friends have written such nice words of encouragement. When the pain becomes unbearable, I take the gloves and read all the best wishes from my friends at work. It gives me the will to keep fighting and never give up."
Another of Mooring's friends to receive a pair of gloves is Cori Dodson, who has just completed her final chemo treatment for cervical cancer and credits the gloves with getting her through the rough patches.
"I received the gloves from a group of friends," Dodson says. "There were about 16 of us at brunch together, and Christi surprised me with the gloves. Everyone passed them around the table, and each signed them with a personal message. I had just completed my first round of chemo, and Christi was going in for her surgery the next day. It was a fun afternoon but also very bittersweet due to the circumstances."
Dodson's upbeat attitude shines through even when discussing a serious and scary subject.
"I was diagnosed in March 2018 with cervical cancer or metastatic endocervical adrenocarcinoma, which was unusual since I haven't had a cervix since 2001," she says. "My hysterectomy was actually on 9/11, if you can imagine. During the surgery, the doctor decided to leave one ovary 'for hormonal reasons,' and 17 years later, here we are. Apparently, there were either cancerous or precancerous cells on that remaining ovary that were missed, and the cells regenerated into a grapefruit-sized cancerous tumor. My understanding is that the stage of my cancer can't be determined because that had to be done in 2001. According to my doctor, I now hold the record (in the U.S.) for the oldest cancer cells to regenerate into cancer at 17 years; the 'lucky' previous record-holder was at a mere 13 years. I never thought my cervix would get me into any kind of record book!"
Despite having an upbeat attitude, there are just some days when the awful side of being treated for cancer wins the day. And that's when those boxing gloves full of messages came in mighty handy.
"I try really hard to stay upbeat and positive during this challenging time, but on those days when I have no choice but to give in to the fatigue, weakness and just overall yuckiness of the side effects, I read the sweet messages from my friends, and it whips me back into shape," Dodson says. "It is a reminder that I have a tribe of strong women on my side who are fighting this fight with me and for me. I keep the gloves in my living room area so that they are always in my line of sight. Never underestimate the power of a few encouraging words."
---
For more information:
If you know someone who could use some encouragement to keep fighting a disease or tough situation, you can order a pair of My Knockout boxing gloves at myknockout.co/ (note that it's a .co address and not a .com) or call 877-887-5837.