Tennessee glassblowers demystify an ancient artform by giving hands-on training and  appreciation
Think of something you do every day, and imagine it being done the exact same way a hundred years ago. Can you think of anything? What about a thousand years ago? Chances are, everything you do, everything you touch, everything you own has been upgraded by technology or design in some way or another, likely in the last six months. We live in a rapidly changing world. It's hard to imagine doing anything the exact same way our ancestors did it.
That is, unless you're a glassblower. Except for a few minor tool and material improvements, the art of glassblowing is done as it has been since the Bronze Age — using a furnace and handling simple tools and a long blowpipe.
You've seen glassblowers at arts and crafts fairs or perhaps on a field trip when you were young. They crouched in front of furnaces and on the ends of metal rods twirled beautiful liquid bubbles that grew larger as they blew air through the rods. The breath is key to the art of blowing glass. No fans or bellows are used. The artist's own careful breath controls the shape and size of the piece, ensuring the different colors swirl and dance in the surreal kaleidoscope that only true handmade glass can achieve.
It's almost as much fun to watch the faces of the audience as it is to witness the transformation of the glass as it turns from a formless blob to something as beautifully functional as a vase, drinking glass or sculpture.
Glassblowing originated sometime in the first century BC when artisans of the Roman Empire discovered glass's forging abilities at extreme heat and began making glass vases and urns for drinking and serving food and wine. The process was passed down from teacher to student for centuries.
But it wasn't until the middle of the 20th century that glass artists turned it into an artform all its own, transcending its previous life as functional craft and beautiful household items. Glass is now on display in museums and galleries around the world as art pieces to be viewed as you would any sculpture. And if you've ever watched a glass artist at work, it is no less mystifying today than it must have been to onlookers in the Roman Empire.
Tom Fuhrman, a longtime glass artist from Oak Ridge and a favorite at craft fairs across Tennessee for decades, exclaims, "Glass is one of those art forms where you most often hear someone ask, 'How did you make that?' It's just very fascinating and mysterious to people."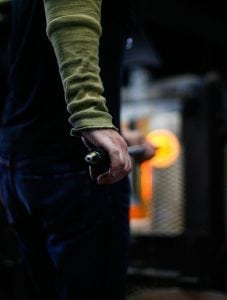 As Tennesseans we are not only able to watch glass artists at work but can actually participate and bring home a vase or sculpture made with our own hands and our own breath. Many of our local glass artists also conduct workshops to teach students of all ages the basics of glassblowing.
Tennessee is fortunate to be home to one of North America's most comprehensive programs for learning the ancient art of glassblowing and sculpture. The Appalachian Center for Craft (ACC) in Smithville is affiliated with Tennessee Technological University, and graduates of ACC have taken what they've learned and made an impact all over the U.S. and around the world. Former students have set up shop — from small furnaces in their backyards to large businesses all their own — around the globe and are continuing the legacy of teaching as well.
Professor Curtiss Brock, head of the glassblowing program at ACC since 1989, has helped launch the careers of countless glass artists and was 2009's art educator of the year. Despite his busy schedule, Brock continues to blow glass almost daily and has his own work in more than 25 galleries worldwide.
"It's not like a woodshop," says Brock, "where you can just turn it off and go home. This is a 24/7 kind of commitment. The furnace has to be so hot to work."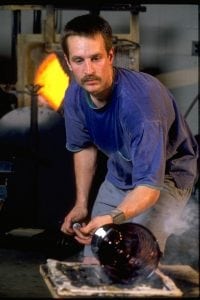 In order to mold and manipulate glass, a furnace must be cranked to 2,200 degrees. That's the equivalent of six or seven conventional ovens baking at full capacity. Glass only allows itself to be manipulated when it reaches that temperature.
Once the glass is in liquid form, it can be molded and blown into shapes, and colors, bubbles and other design elements can be added. The glass cools quickly once it leaves the heat of the furnace, so the artist has only a few minutes to forge a shape and get a design he or she wants. Like most all artistic processes, accidents can often give each piece its charm.
"We understand more about the material the more we do it," says Brock. "But there is always a huge element of surprise when working with glass. That's one of the things that keeps us fascinated with it."
One of Brock's former students who is making a dent — not only in glassblowing but as an entrepreneur — is Matthew Cummings. His Pretentious Beer and Glass Company in Knoxville combines two of the young artist's loves — craft beer and handcrafted glass — into a certain one-of-a-kind business. Cummings creates his own custom glassware and sells it online and for the growing local craft beer industry. He also does commissioned work for Kingsport's Gyspy Circus Cider Company and Knoxville's Lonesome Dove Western Bistro, making everything from their swizzle sticks to cocktail glasses to tap handles.
Many of Tennessee's glassblowers are willing — passionate, in fact — to share what they've learned by passing it on to younger generations. Franklin's José Santisteban has been working with glass since 1999 and runs his Franklin Glass Blowing Studio where he creates his own work as well as teaches, giving folks a hands-on education in the art of glass.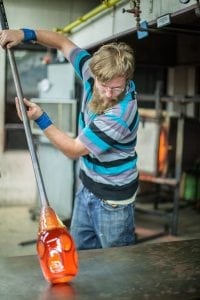 "I've been in love with the artform for as long as I can remember," says Santisteban, who studied glassblowing in Seattle, Washington, and Rochester, New York, after receiving a bachelor's degree in literature and theory from Vanderbilt University. As an artist, Santisteban gathers inspiration from the world around him. He observes nature, geometry, structure, chaos, even social interactions to give him ideas. As a teacher, he tries to inspire his students with the same sense of wonder he had as a child, when he was fascinated with water in all its many forms: rain, snow, lakes, streams, oceans, ice and steam. It seems only natural that he would gravitate to working in glass.
"You never forget your first time seeing someone make this beautiful thing before your eyes," says Santisteban. "You watch it harden into this colorful crystal-like material. It was just like magic to me. I knew I had to do it."
One might expect glassblowing, with all the physical rigors of a difficult blue-collar job, to be a young man's pursuit, but Cummins disagrees. "Ugo LaPietra (the renowned Italian glass artist) is 78, and he works every day. He's still blowing glass. I know a lot of older guys doing this. It's a way of life, and you have to have a passion for it."
"You have to stay fit," stresses Brock, speaking of the intense commitment level the practice demands of a full-time glass artist. "And you have to be 'all in' at some point or you won't be able to do it well. Eventually it will just frustrate you right out of the profession."
"My goal as an instructor is to take the mythology out of glass and keep the reality of what it is, that it can be done, that it is being done by some remarkable people," Brock says. "I've been fortunate enough to teach them and pass along this craft, and now I'm watching them do the same. It's very satisfying."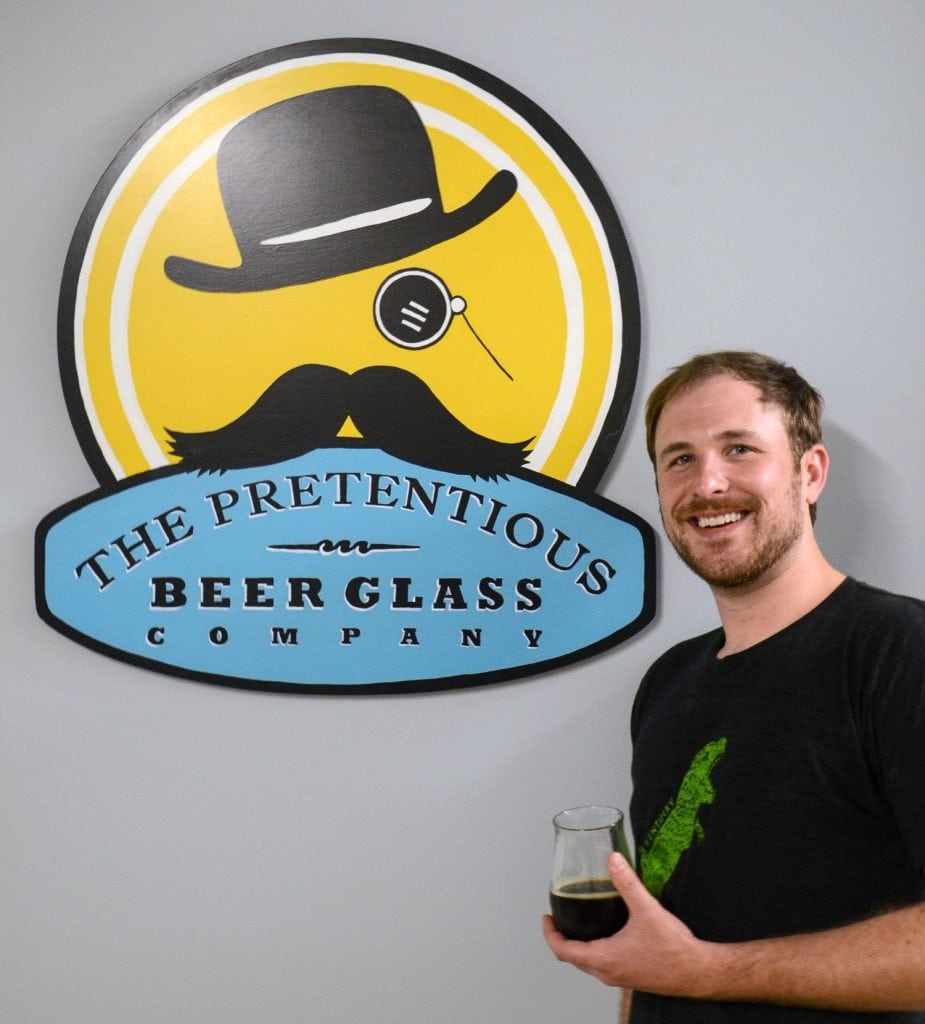 ---
Glassblowing Across the State
Workshops teaching the timeless art of glassblowing are available throughout Tennessee. We've spotlighted several here, but search the internet for glass artists in your area to see what they offer.
Middle Tennessee:
Franklin Glassblowing Studio
Jose Santisteban
1143 Columbia Ave.
Suite A10
Franklin, TN 37064
615-435-3746
franklinglassblowingstudio.com
East Tennessee:
Thomas Spake Studios
P.O. Box 4041
Chattanooga, TN 37405
423-596-8696
thomasspakestudios.com
iGNiS Glass Studio
409 Broad St.
Chattanooga, TN 37402
423-265-2565
ignisglass.com
West Tennessee
Ginkgo Glass Studio
3542 Northwood Drive
Memphis, TN 38111
901-292-4866
facebook.com/GinkgoGlassStudio
---
Visit these web links to see more work from the artists featured in this article:
The Pretentious Beer Glass Company
etsy.com/shop/PretentiousBeerGlass
Lyla Nelson
lylanelson.net
Sam Meketon
glassartists.org/sammeketon
Appalachian Center for Craft
1 William Jones Drive
Cookeville, TN 38505
800-255-8881
tntech.edu/craftcenter