Before our ancestors had cars to go where they pleased, Tennessee's most popular vacation destinations were mineral springs resorts. Starting around 1810 and declining about a century later, these resort hotels could be found in Grainger County at the nationally famous Tate Springs and lesser-known Lea's Springs. About half a dozen of them dotted the Highland Rim west of Nashville in places such as Kingston Springs and Bon Air Springs. You could find one in southwest Tennessee at Shelby County's Raleigh Springs and in the southeast corner of the state at Monroe County's White Cliff Springs.
Nearly all of these mineral springs hotels, though, are gone. They don't exist anymore because people got cars and started going to other places. They are gone because, compared to our ancestors, today's vacationers are hyperactive and can't even imagine what it was like to vacation when the main activities were reading, playing board games and dancing to orchestra music in the evening. They are gone because most people no longer believe in the healing power of mineral waters. When people get sick these days, they go to a doctor who prescribes a well-tested drug, not "a month in the country, drinking mineral water," as some once did.
I've been researching Tennessee's resort hotels of yesteryear — defined as rural, remote places where people used to vacation for weeks or months at a time. I've got 95 hotels on my list so far, and 92 of those have burned down, fallen down, been torn down or become private residences. However, three of those hotels still exist — all in the small Macon County town of Red Boiling Springs.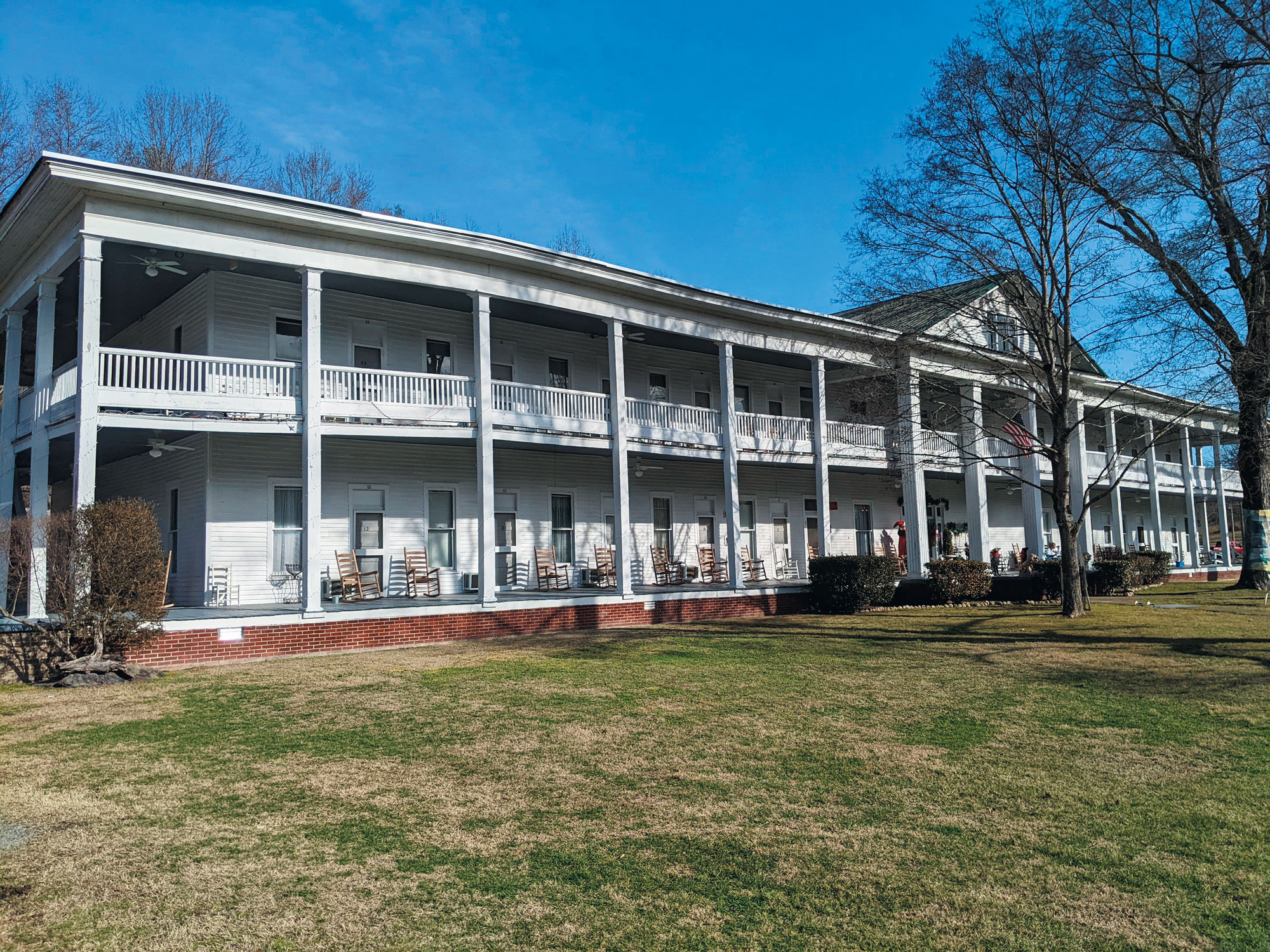 As recently as 1920, Red Boiling Springs had about a dozen places in which visitors could stay. The largest was the Palace Hotel, which had 180 rooms. Over the next several generations, business declined because of the reasons I just named and because a 1969 flood destroyed large parts of the town. However, three of the Red Boiling Springs resort hotels are still open. They were in (nearly) continuous operation throughout the 20th century and still reflect more of the lifestyle of the early late 19th century than they do the 21st.
These three Red Boiling Springs hotels will have you stepping back In time
Donoho Hotel
Red Boiling Springs' most striking hotel by appearance, the Donoho was built shortly before World War I. The 37-room hotel is completely made of wood and has a long balconied porch, just like the vast majority of resort hotels had in the old days. "We have hundreds of feet of wood porch and, I think, 64 rocking chairs," says John Cook, one of the Donoho's owners who grew up in Macon County.
Over the years, Cook and his business partner, Jack Stites, have gone to great lengths to fill the hotel. "We bring in a lot of live music," he says. "We have weddings, corporate retreats, family reunions and other types of events.
"And to make sure the local folks know about us, we open the dining room every second and fourth Sunday from 11 a.m. to 2 p.m. for people to come have lunch after church. It's kind of a Macon County tradition."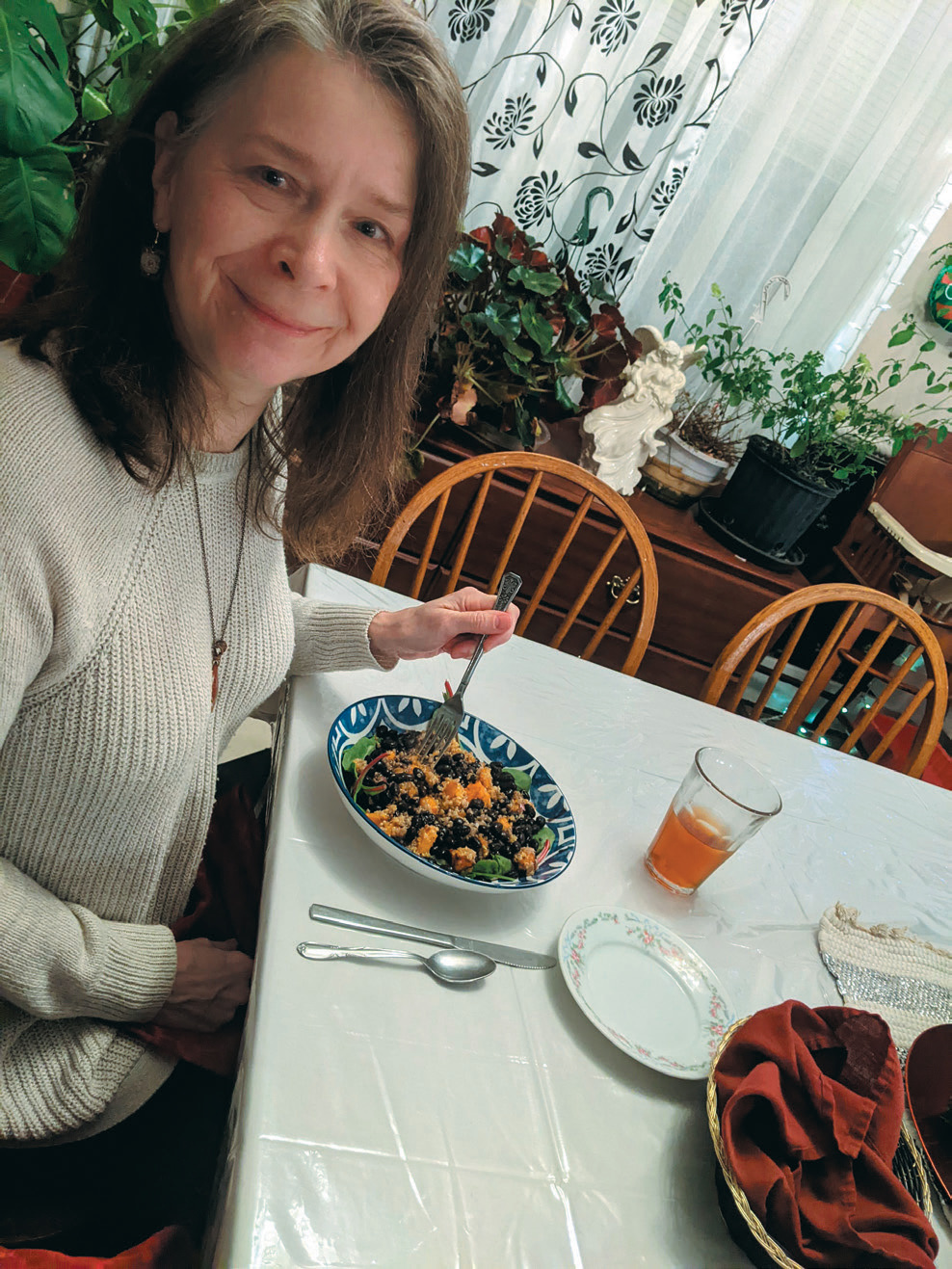 Thomas House
Opened in 1890, the Thomas House once had mineral bathhouses, a nine-hole golf course, an open-air bowling alley and a swimming pool. Today, it doesn't offer any of those things, but the 15-room hotel does have something far more interesting to the postmodern visitor — spooks. "There are people from all over the world who come here time and time again to ghost hunt," says owner David Cole, who bought the hotel in 1993.
In fact, a list published by CNN recently cited the Thomas House as the second-most-haunted location in the U.S. — No. 5 on the list being the entire town of Gettysburg, Pennsylvania. Because of the hotel's ranking, there are "ghost hunters" all over the country who organize and stage outings at the Thomas House.
Cole says most of the ghosts he's been told about are connected to the history of his hotel. "I'm not a ghost hunter," he says, "but we have been told about the ghost of a daughter of the Cloyd family who used to own the hotel. There's a ghost of one of the former cooks. We've been told that there is a ghost of a boy who drowned in the pool a long time ago. This sort of thing."
Armour's Hotel and Spa
This 22-room hotel was built in 1924 and has for most of its existence been known as the Counts Hotel. It was purchased in 2021 by Mark and Kally Efros, a married couple with roots in Memphis but who most recently lived in Arizona. "I have a lot of experience running hotels, and Kally is a wonderful cook, having raised a family of seven children and helped with two restaurants that we once owned," Mark Efros says.
The Armour's Hotel and Spa still offers mineral baths, which might make it the last place in Tennessee that does. It also has monthly Fourth Saturday Jams featuring local bands.
The creativity these three hotels have employed over the years amplifies the fact that Red Boiling Springs does not have a national park, putt-putt golf courses and vendors who sell candied apples. Granted, the lovely Salt Lick Creek winds through the town, and it is crossed by three covered bridges — which is saying a lot in a state with very few covered bridges. But instead of a row of gift shops and restaurants, the main drag in Red Boiling Springs has a row of empty lots with signs indicating where the Arlington Hotel, the Palace Hotel and the Bush's Ax Handle Mill used to be.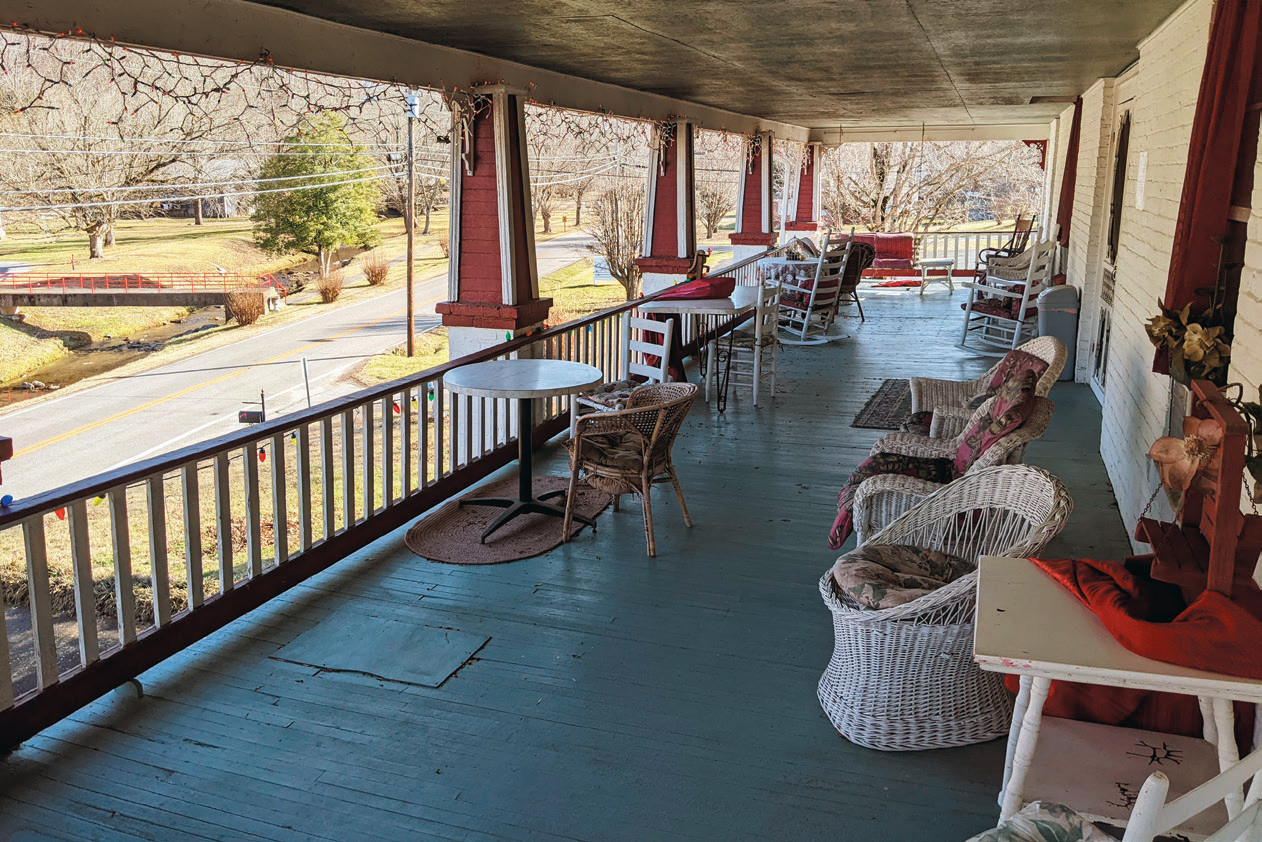 "We do not have the hustle and bustle of Gatlinburg," says Rita Watson, executive director of Vision 2020, a nonprofit organization that promotes Red Boiling Springs. "This is more of a genuine, laid-back vacation destination. However, we do have ghost hunting at the Thomas House, mineral baths at Armour's and live music shows."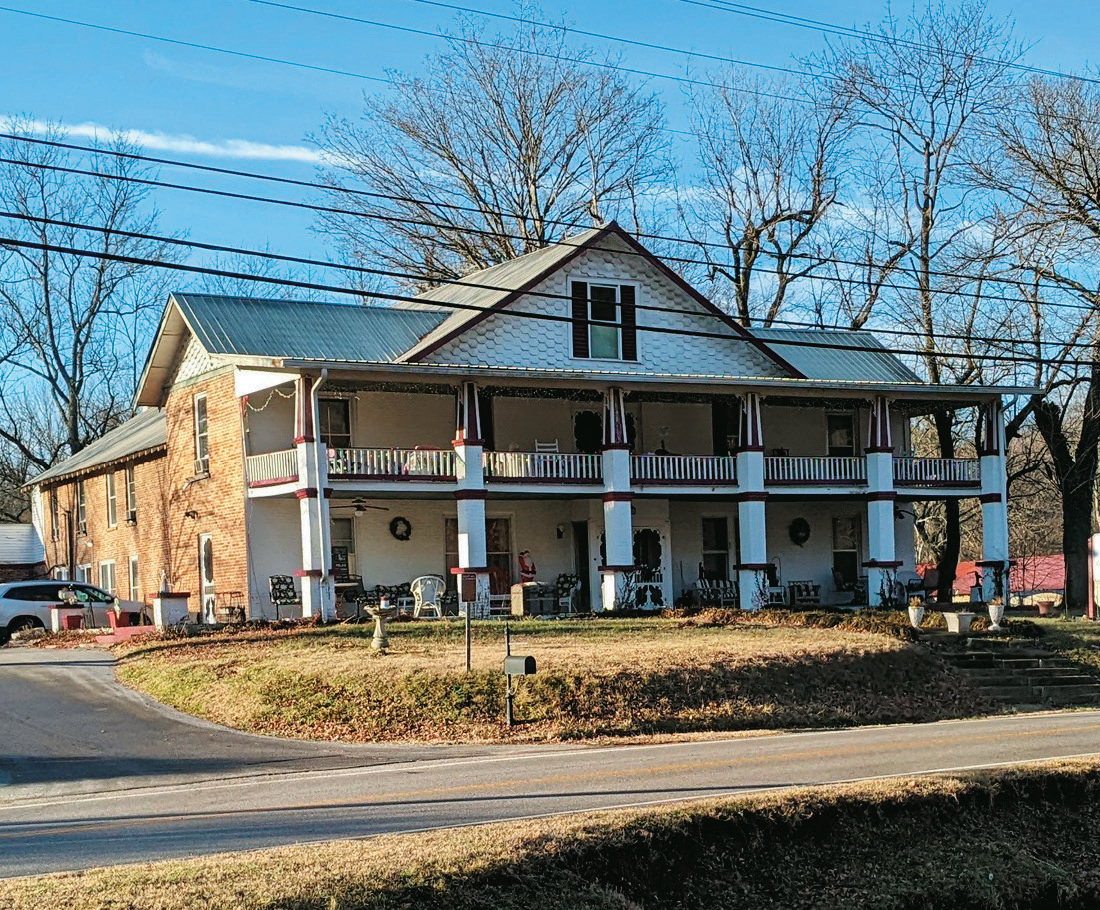 Like many of the people who are devoted to the Red Boiling Springs cause, Watson has roots in the area. "My parents grew up here, but then they moved away to northern Illinois where they raised my four siblings and myself," she says. "We knew all about Red Boiling Springs and visited here, and the family continued to own the farm. The farm is what eventually got us back here."
Vision 2020 hopes to convert an old bank building in town into a local history museum — an effort that has struggled in recent years because of the pandemic. As it stands, the cultural center of Red Boiling Springs is a shop called Step Back in Time, which is open Thursday through Saturday from 10 a.m. until 2 p.m. Vision 2020's main accomplishment to date is the organization of numerous special events such as the Folk Music Festival in June, an annual 5K run in November and a songwriters' conference in February.
For now, Red Boiling Springs has three wonderful old hotels — all of which serve meals, one of which has mineral baths, two of which have somewhat regular live entertainment and one of which (reportedly) is haunted. "We aren't going anywhere," says Thomas House owner David Cole. "Neither, apparently, are the ghosts."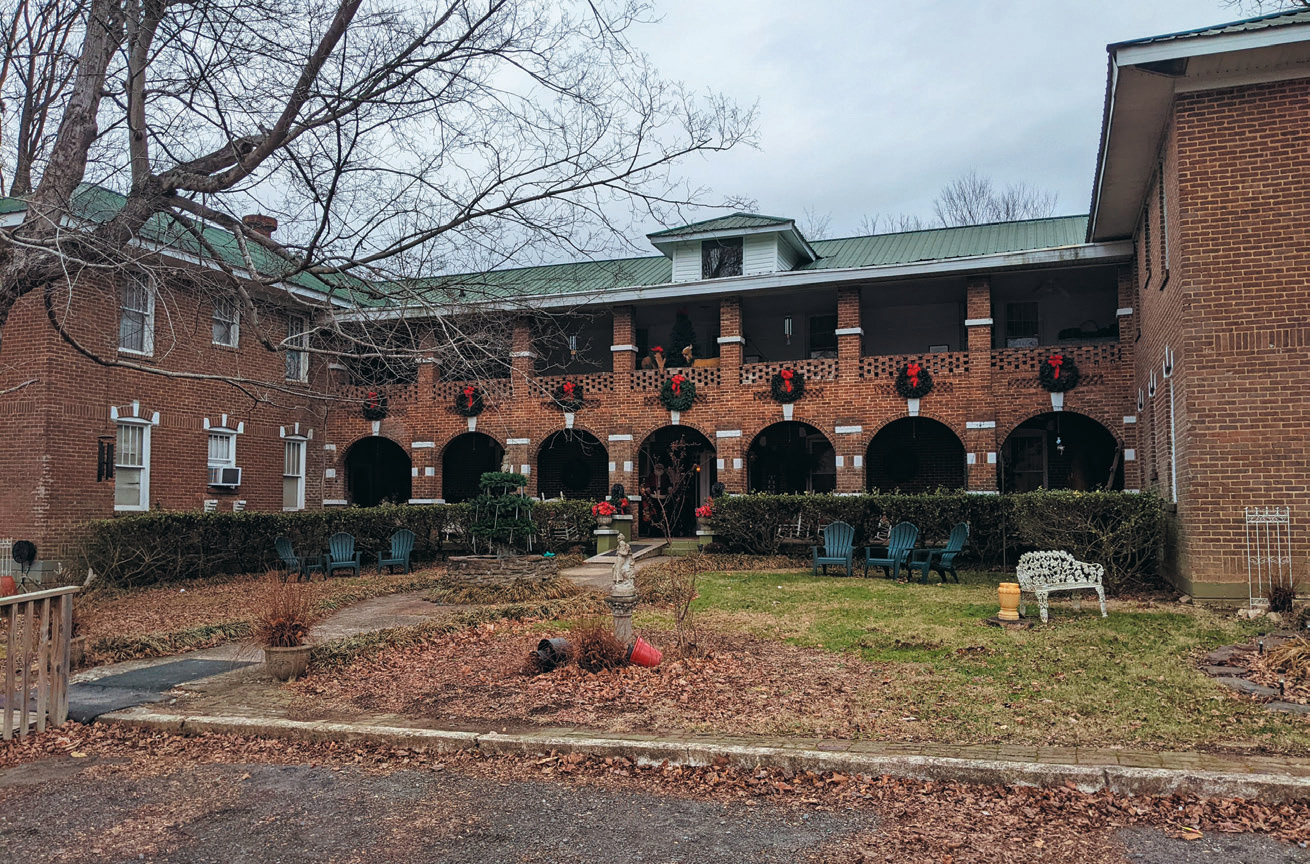 ---
You Can Still Drink and Bathe in Mineral Water at Red Boiling Springs
There was a time when mineral water was a huge part of Tennessee's tourism scene. Between 1810 and 1920, most newspapers contained an ad for at least one mineral spring with a claim that the water could cure all sorts of ailments.
"I attended Mr. Saunders' mineral spring in the summer of 1812 for about two weeks, for a complaint in the bowels which had lasted in upwards of twelve months and reduced me very low," Thomas A. Oden proclaimed in the April 20, 1813, Clarion and Tennessee Gazette. "(I) was relieved in that time solely by the use of the water."
The majority of these mineral springs dried up long ago. In fact, a Vanderbilt professor named George Mayfield wrote a story in the Nov. 5, 1948, Nashville Banner bemoaning the fact that so many of Tennessee's mineral springs had vanished. "In most cases the waters are now but a trickle as compared with 50 years ago," Mayfield wrote.
However, Red Boiling Springs still has several active mineral springs. For liability reasons, the pumps that used to dispense water on public property have been sealed off. But guests at the Donoho and Armour's hotels are welcome to sample the mineral water there.
Be advised that mineral water is different than the "sweet" but tasteless water that most current Americans associate with natural springs. There are numerous types of mineral water — each with different amounts of iron, magnesium, sulfate and other minerals. "We don't get a lot of guests who want to drink the water anymore," says Donoho Hotel owner John Cook. "But we have a spring that dispenses black water on our front lawn and a different one that puts out red sulfur water on the side."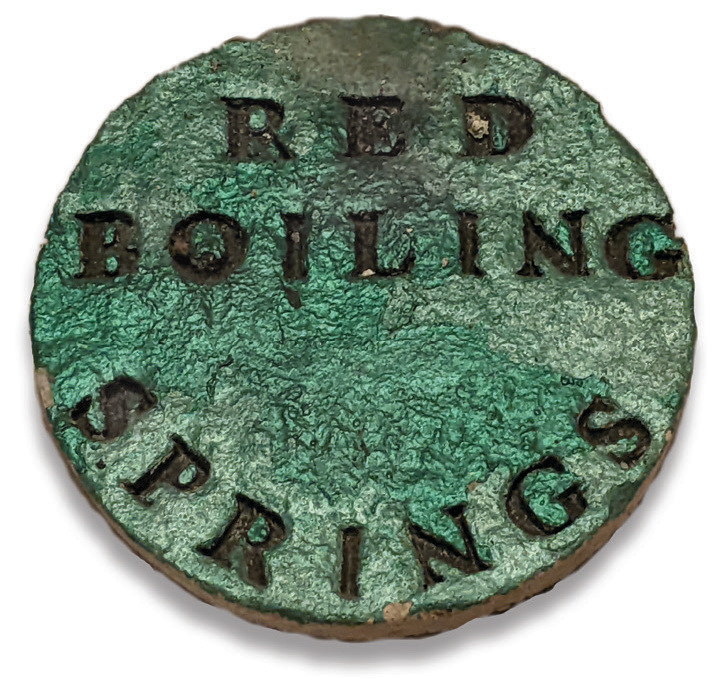 Despite the name of the town, mineral water comes out of the ground cold in Red Boiling Springs. That's why they mix black mineral water with hot tap water at the mineral baths at Armour's Hotel.
I took a long, hot bath at Armour's and can vouch for its comfort and the wonderful night's sleep I had afterward. A few pointers: Black water is clear like normal water. But before you bathe in it, remove all jewelry because it will turn jewelry black.
I can also tell you that a lot more steam rises from your hands and arms when you take a bath in mineral water than it does when you bathe in normal water. At one point, I pulled my arm out of the hot water, and steam rose from it for more than a full minute!
Also, in case you are wondering, I did consume some black mineral water and learned that it's an acquired taste. I didn't like it at first, but when I left I asked hotel owner Mark Efros whether he's thought about bottling it.
"Not yet," Efros said. "We let guests take it with them, but we haven't started bottling it."