Successful program gives Tennessee children the gift of reading
In his book "On Writing," Stephen King said, "Books are a uniquely portable magic." And who better to introduce to that kind of magic, the magic of imagination and learning, than children? That is the idea behind the partnership between Dolly Parton's Imagination Library and the Governor's Books from Birth Foundation, which is celebrating its 10th anniversary this year.
Since 2004, this unique partnership has worked on the state and local levels to provide nearly 22 million books to Tennessee children from birth to age 5. Every child enrolled in the program receives a new, age-appropriate book each month. Tales abound of kids waiting anxiously for their new books, looking forward to getting mail of their own, and reading the book immediately — and then over and over until the next one arrives. This excitement about reading is the reason the program was created, and it's having some wonderful, long-term impacts.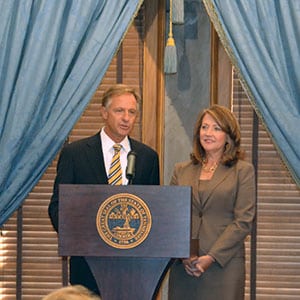 "One of my favorite stories is of a child who was so excited to receive new books that he would immediately sit down in the driveway and read them," says Theresa Carl, president of the Governor's Books from Birth Foundation.
The more than 400,000 children who have participated in the program are better prepared for school and have stronger early reading skills, according to a Tennessee study and kindergarten literacy assessments. The positive impacts continue into second and third grade as Imagination Library participants outperform nonparticipants. Also, studies have shown that children with as few as 25 books in their homes completed an average of two more years of schooling than those who have no books.
Successful program gives Tennessee children the gift of reading
Carl says the program has seen participation skyrocket in the past year since a partnership began with the Tennessee Department of Health. Through the Welcome Baby program — which provides new parents with lots of resource information, including the Governor's Books from Birth brochures — 10,000 new children have been enrolled in the book program.
A benefit of the program that might not spring immediately to mind is that it has helped children develop essential life skills such as confidence and socialization. Even as adults, it's easier to strike up conversations and get to know people if we feel we have something in common. So if you have a class of kindergarteners arrive at school having read the same books in their preschool years, they have a common experience on which to build friendships.
On an even more basic level, children who have been exposed to books and reading come into their first day of school understanding the differences between letters and words, which helps not only in reading but other subjects as well. If children are exposed to books and reading early, it helps them develop a strong vocabulary and command of speech. This makes perfect sense when you consider that a child's brain grows to 80 percent of its adult size by age 3 and 90 percent by age 5. So those five years covered by book deliveries from Imagination Library are critical to future success.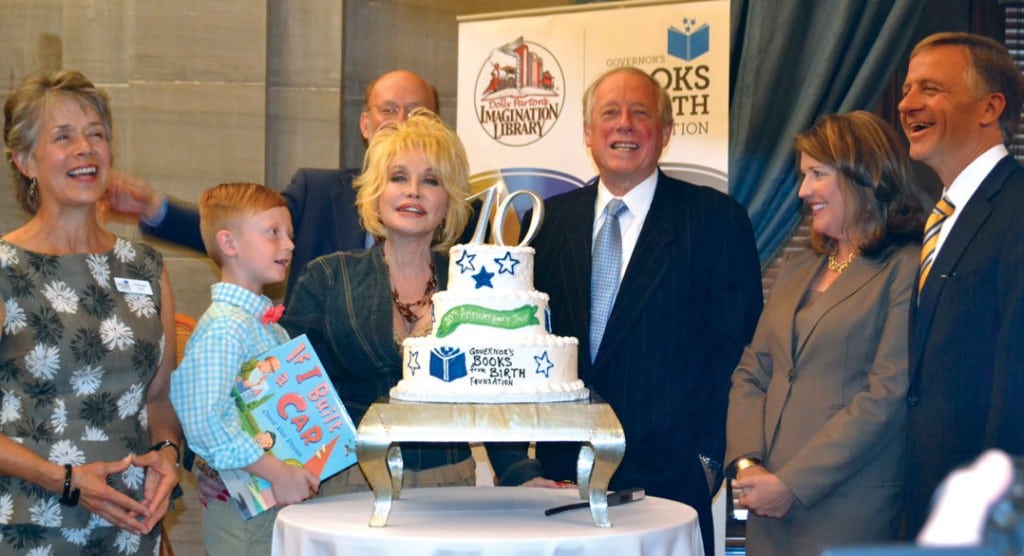 The program's success is a product of the way it's structured. Fifty percent of the funds for books, mailing and support of local programs comes from the state through the Governor's Books from Birth Foundation. The other half comes from local affiliate programs, which also undertake the task of enrolling children in the program. Dolly Parton's Imagination Library then manages the selection and distribution of the books.
One of Tennessee's electric cooperatives, Duck River Electric Membership Corporation, recently partnered with rural electric lender CoBank to contribute to this valuable program. DREMC and CoBank each gave $5,000 to a Sharing Success grant for the Imagination Library. The funds will help ensure more children in DREMC's seven-county service area can be enrolled in the program.
"Our board of directors voted unanimously to apply for the grant," says DREMC President/CEO Michael Watson. "We see great value in supporting childhood education and development. It improves the quality of life for our co-op members, families and communities."
Steve Oden, DREMC's director of member services, says, "Lots of kids in southern Middle Tennessee develop a love of reading and books because of Imagination Library and the Governor's Books from Birth Foundation. Duck River EMC and CoBank were proud to partner with these programs in a Sharing Success grant."
The grant check was presented to Tennessee First Lady Crissy Haslam during the Imagination Library/Governor's Books from Birth month-long bus tour to promote the program, enroll children and garner donations.
Carl says that during the bus tour, she heard some amazing stories and witnessed wonderful commitment to ensuring Tennessee's children have a good reading background.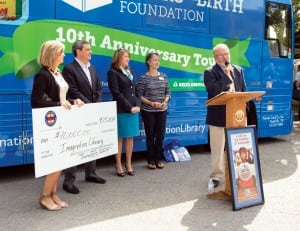 "One great-grandmother literally chased us in her van because she wanted to sign up her great-grandchildren," Carl says. "Her little great-granddaughter started reading to the baby right there in the van."
Another wonderful, and perhaps unexpected, result of the program Carl heard about during the bus tour was the secondary impact of parents and grandparents improving their own reading skills so they could read to their children and grandchildren. Some were even inspired to go back and get their GED certificates.
Carl says the program has been so successful that officials in other states have inquired about how to replicate that success for the children of their states.
If you would like to donate to this worthwhile program, you're in for some good news. First, for as little as $12 you can provide a book a month to one child for a full year. Also, you can rest easy knowing that every cent donated to the program goes to the purchase of books, not administrative costs.
Visit www.governorsfoundation.org to learn more about the program, including how to sign up a child, information on the research into how early reading helps children succeed in school and beyond, how to get involved as a volunteer and how to donate.
A quote by Garrison Keillor showcased on some of the  Governor's Books from Birth Foundation's literature perfectly illustrates the impact of this program: "A book is a gift you can open again and again."
To Get Involved
For registration information or to learn how you can help provide books to Tennessee's children, please visit www.governorsfoundation.org.