With spring in the air, you may be thinking about new plantings, adding landscaping or even starting a new building project. Though you may have carefully budgeted and saved, that project could end up costing you a lot more if you don't call 811 before you dig.
Approximately 38.6 million people will dig this year without first having underground utility lines marked. And nearly 50 percent of American homeowners who plan to dig said in a recent survey that they would not call 811 beforehand. Not only could this be a costly mistake, but they could be putting themselves and their communities at risk. Digging without knowing the approximate location of underground utilities can result in damage to gas, electric, telecommunication, water and sewer lines and can lead to service disruptions, serious injuries and costly repairs.
April is National Safe Digging Month, and Fayetteville Public Utilities wants to remind our customers that a complex network of pipelines, wires and cables may lie just underground in your yard. Striking an underground utility line while digging can cause harm to you or those around you, disrupt service to an entire neighborhood and potentially result in fines and repair costs.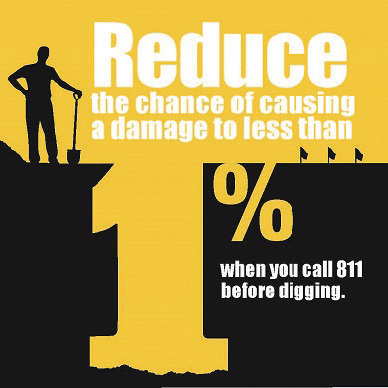 Calling 811 is free and simple. Just pick up the phone and follow these instructions:
Call at least three days prior to digging to ensure enough time for utility lines to be properly marked.
When you call 811, a representative from Tennessee 811 will ask for the location and description of your digging project.
Tennessee 811 will notify affected utility companies, like FPU, who will then send a professional locator to the proposed dig site to mark the approximate location of your lines.
Once lines have been properly marked, roll up those sleeves and carefully dig around the marked areas.