Amy Grant and Vince Gill present holiday favorite in Music City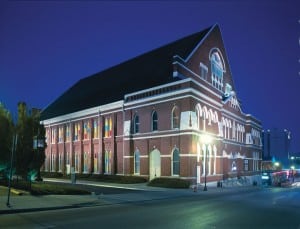 It's called "The Mother Church of Country Music" and "The Carnegie Hall of the South." While it may not be the biggest building in downtown Nashville, it certainly is one of the most imposing, standing as it is on 125 years of revered reputation.
It's now called The Ryman Auditorium, named after Capt. Thomas Green Ryman, a Nashville businessman and visionary who built the church in 1892. It cost $100,000 and took seven years to complete. Originally named the Union Gospel Tabernacle, the church provided a pulpit for Ryman's favorite preacher, Sam Jones, and moved Jones' followers out of the tent revivals of the day and into more comfortable conditions. Mourning parishioners collectively agreed to rename it after Ryman when he died in 1904.
A veritable parade of performers has appeared on the Ryman stage over the years. From its earliest days, Sarah Bernhardt, Will Rogers, Enrico Caruso, Charlie Chaplin, Helen Hayes, Harry Houdini, Bob Hope and Doris Day, among countless others, have graced its stage. It was the home of The Grand Ole Opry from 1925 until the world's longest-running radio show moved to the Opryland Hotel in 1975, but the Opry still revisits the Ryman from time to time.
Of all these honored entertainers, none seem better suited for The Mother Church than the annual holiday performances of musical power couple Amy Grant and Vince Gill.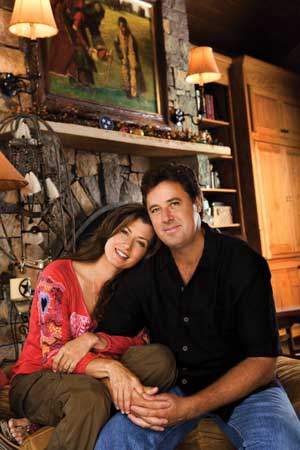 "Christmas at The Ryman," Grant and Gill's annual holiday performance at the historic venue, is a favorite among Tennesseans as well as tourists from around the world. Families plan their vacations around the concert, and the audience is a mix of all ages, all nationalities and all walks of life. This year, the married duo will add two extra shows, making the ninth annual holiday event an eight-night engagement, with demand for even more as tickets sell briskly. This year, they'll perform Dec. 2, 3, 9, 10, 16, 17, 22 and 23. Tickets and details can be found by visiting ryman.com.
"Christmas audiences are special," explains the Grammy- and Dove-award winning Amy Grant, "They tend to involve the whole family, and their emotions are a wonderful mix of anticipation and reverence. It's a thrilling experience for both of us."
"These holiday tours have become our favorites," her iconic husband adds in agreement.
Gill has won 20 Grammy awards as well as a Career Achievement Award in 2011 from The Academy of Country Music. He released his breakthrough hit, "When I Call Your Name," in 1990 and hasn't slowed down since. He is currently touring with the Nashville-based all-star outfit The Time Jumpers. Consisting of A-list session players and songwriters, the nine-piece band plays Texas swing and old-time standards by classic country icons like Bob Wills, Merle Travis, Patsy Cline and others. Gill plays alongside his fellow musicians like the team player he learned to be when first coming to Nashville as a young man from his hometown of Oklahoma City.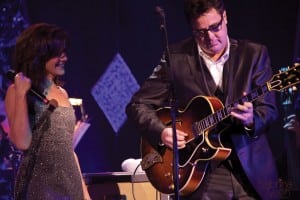 Grant has won every honor bestowed upon a Christian artist — and then some — including six Grammys. Virtually every album she releases tops the charts. She has sold upward of 30 million albums worldwide and is one of only two Christian artists with a star on Hollywood's Walk of Fame. She was inducted into the Gospel Music Hall of Fame in 2003 and holds the record for the most No. 1 album debuts — 16 — for the Christian music genre.
Both Grant and Gill are recognized by Music City insiders as two of the most generous people in the business, giving of their time and talents when a worthy cause is presented to them. If you frequent benefit concerts in the Nashville area, it's not uncommon to see either of them — or both — perform in support of the charity.
A production like "Christmas at The Ryman" takes months of planning and a team of dedicated professionals to pull off.
"We started meeting with the production team last spring to discuss the show in terms of musical content and set and lighting design," says Jennifer Cooke, Grant's manager. "Tour rehearsals started the week of Nov. 16. For our Ryman dates, in addition to Amy and Vince, we will have eight band members on stage and nine hardworking crew members running the show every night."
Approximately 18,000 people will enjoy the 2015 season show, and Gill and Grant have added an opening act this year for the first time — Chicago acoustic folk duo Jon and Valerie Guerra.
And as the curtain opens and the music begins, the Christmas season will be ushered in by two of America's most gifted performers whose voices bring that familiar and comforting feeling we identify as good cheer.