Horse Creek Sanctuary Saves and Protects
Not far from Savannah in West Tennessee lie some 2,000 scenic acres dedicated to the protection of domestic animals and wildlife. When Ron and Linda Pickard opened Horse Creek Wildlife Sanctuary and Animal Refuge in 1998 to protect wildlife, they also provided a loving, secure place for domestic animals who had nowhere to go.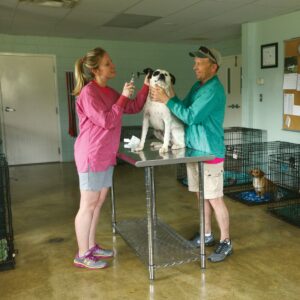 Since then, the Pickards and a committed, caring staff have provided food, medical care and warm kennels to more than 1,000 dogs before placing them in loving homes.
The 1990s were Ron's busiest years as chief executive officer of Sofamor Danek, a Memphis business whose products treat degenerative diseases, deformities and spine and cranium trauma in humans. He and Linda enjoyed retreating to Pickwick Lake anytime they could, and it was on one of these outings that a stray dog crossed their path, "adopted" the Pickards on the spot and inspired their establishment of a sanctuary for homeless animals. They named their new dog "Flash."
The Pickards, members of Tennessee Valley Electric Cooperative, bought 500 acres on Horse Creek in 1998 and began building the first kennel. Besides buying the land for the sanctuary, Ron and Linda also established and endowed the 501(c)3 Sharon Charitable Trust, "a not-for-profit organization dedicated to the welfare of domestic animals and the preservation of wildlife," thus assuring the perpetuation of the refuge.
From the beginning, the facility's mission statement, which focuses on "Helping the World Through Animals," was posted in each of the facility's buildings. A small staff manned the office, began taking in rescues from Hardin County Animal Control and maintained the grounds. Mike and Ike, a Percheron team, pulled wagons and trolleys filled with visitors touring the property.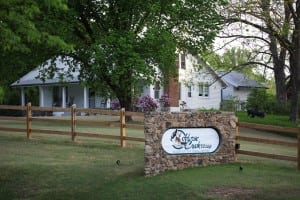 Horse Creek's rescued dogs still come exclusively from Hardin County Animal Control. "When they arrive, loving hands take care of medical needs, quiet their fears and keep vigil as some fight for their lives." Linda says. "They are well fed, warm and have kind voices to talk to them. To sick and abandoned animals, this is heaven."
Since 1998, the Pickards have asked the dedicated staff to think of Horse Creek Sanctuary as their home, too. When General Manager Kevin Skoffic says, "This is the best job I have ever had," the staff echoes his sentiment.
Skoffic joined the staff in 2009 after retiring from law enforcement. As general manager, he works closely with the Pickards to preserve the rugged terrain for wildlife while landscaping the grounds and maintaining various accommodations for qualifying groups. Skoffic, Robert Adams, Donald Baugus and Lonnie Vandiver maintain the grounds, machinery and buildings. Administrative Manager Kristina Austin, originally a volunteer, oversees office operations, and Denise Pipkins, animals records coordinator, is responsible for updating the sanctuary's website and photos of the adoptable — and adopted — animals. Denise is also a veterinary technician and often cares for sick dogs until the vet, Dr. Don Edwards, arrives.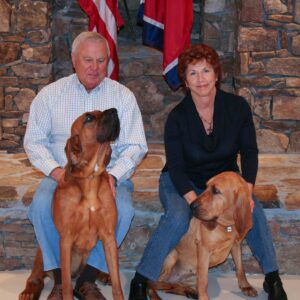 Once the first dog kennel was completed at Horse Creek Wildlife Sanctuary and Animal Refuge in 2000, it quickly filled to capacity. Hardin County Animal Control rescues were increasing, and so was the demand for the sanctuary to save dogs from euthanization. As a result, a much larger, state-of-the-art dog "Villa" was completed in 2003. It has heated concrete floors, central heating and air conditioning, quarantine kennels for new dogs, a doggy bathtub and hair dryers, washer and dryer, refrigeration for medications, substantial storage space and accommodations for Dr. Edwards' weekly visits.
Inside the Villa, which averages 40 "guests" at any given time, each lucky canine enjoys a spacious kennel with doggy door access to a private, secure run. Smaller runs can be opened to acres of exercise space and a doggy playground, complete with toys. Volunteers take dogs for strolls on a mile-long paved trail that loops a lake and has its own fire hydrant.
Tim Stanfill, the Villa's operations supervisor and "dog whisperer," and Kim Austin, adoptions facilitator and kennel attendant, coordinate the daily cleaning, feeding and play schedules and also welcome new rescues and coordinate adoptions. Once newcomers to the Villa are nursed through medical emergencies, loved through their abandonment anxieties and named by the staff, they are "family," Linda says, and are perhaps on their way to eventual adoption — to the right person or family, of course.
In the Villa's "meet and greet" room, Tim and Kim observe the interaction of dogs with potential adopting families, their children and/or pets. Though adoption applications are submitted in advance and carefully evaluated, Kim stresses that "filling out an application does not guarantee adoption." Assurances are necessary, too — things like safe environments, fenced yards, proper health care "and, most of all, loving owners who will make a lifelong commitment."
The Tim-and-Kim team take a few of their canine friends to adoption events each month in search of loving "forever homes" for the animals. They travel in a customized van that has built-in kennels and separate air conditioning that's set for doggie comfort. The candidate canines, says Linda, are "happy, healthy, current on all vaccinations and ready to 'adopt' a family."
"Cecil, Flash, Squirt, Max and many others have their pictures on the side of the van as they arrive in rock star fashion at the adoption sites," she adds.
Linda stresses, though, that both Kim and Tim have a "sixth sense" about people and dogs and never hesitate to say "No!" if there's any question or concern about a dog's pending safety or well-being.
Though the sanctuary's growth from 500 to 2,000 acres was exciting, it also demanded more time and attention from both Ron and Linda. Fate played a role, though, in helping them meet the challenge. Sofamor Danek, the Memphis business Ron headed as CEO, was bought by Medtronic in 1999.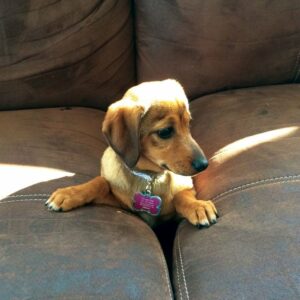 "By that time," Linda said, "Ron had enjoyed 30-plus years in the orthopedic and spine implant industry. The timing was perfect, so he retired, and we were able to turn our complete attention to the sanctuary." It was something both had been looking forward to.
Horse Creek Wildlife Sanctuary and Animal Refuge has become a special destination for not only folks who want to adopt a healthy, happy animal but for other individuals and groups with varying interests. Take these, for example:
Dr. Brian Butterfield of Freed-Hardeman University's Biology Department in Henderson is in the midst of a 10-15-year study on turtle migration, growth and habitat.
University of Tennessee at Martin has conducted digs at Horse Creek on one of the largest deposits of crinoids, marine echinoderms dating back 450 million years to the Paleozoic fossil era.
Veterinary technician students from the University of Tennessee, Knoxville, intern under the supervision of Dr. Don Edwards, the veterinarian who cares for the refuge's animals.
Each spring, the sprawling complex hosts Nature Days for some 300 fourth-graders from Hardin County schools.
The Horse Creek Lodge is free to qualifying not-for-profit groups, requiring only an application and a refundable deposit of $250. It accommodates 100 people.
There are also cabins, camp-houses, primitive campsites, Indian mounds, fossil trail, miles of hiking trails — all free to churches, schools and civic organizations.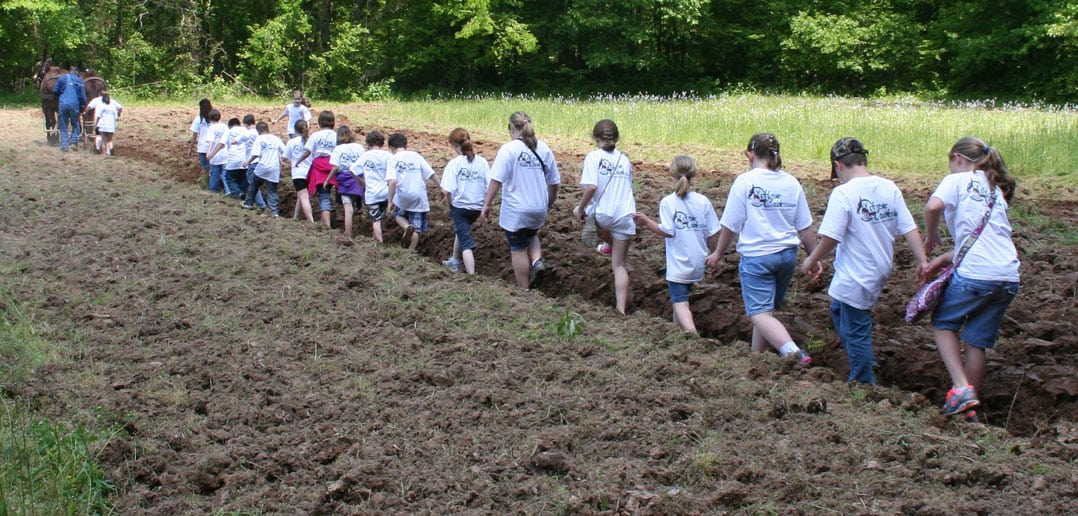 For more information on Horse Creek Wildlife Sanctuary and Animal Refuge, call 731-926-4008 or visit its website, horsecreekwildlife.org. To adopt from Horse Creek, visit horsecreekwildlife.org. If you have an animal that needs help, contact your local animal control facility or visit nokillnetwork.org, petfinder.com or animalshelter.org to find a shelter near you.