Tennessee motorists on Interstate 24 know about Monteagle Mountain's steepness and sharp curves. It's a test for internal-combustion engines, transmissions and drivers. Not a Pike's Peak challenge, but the elevation rise of 2,000 feet and 6 percent gradient slow traffic going east and west.
Assaulting the mountain in an electric vehicle (EV), I didn't know what to expect. In the passenger seat, The Tennessee Magazine Editor Robin Conover prepared her camera equipment. I gripped the steering wheel of a 2021 Nissan Leaf SL Plus, awaiting the inevitable drivetrain strain and loss of speed.
It didn't happen. In fact, we seemed to defy gravity on our ascent over the Cumberland Plateau. The Leaf easily passed slower cars and big trucks. Thank goodness it was a nimble machine on curves where 18-wheelers jockeyed to change lanes.
The Leaf surprised me with its power and torque. It never slowed, and I didn't need to squash the accelerator pedal.
The Leaf was so impressive that when we turned off I-24 at the top of Monteagle, I took the wrong ramp and wound up heading back down the mountain toward Nashville. My mistake became a lesson in regenerative braking, putting power back in the EV's battery.
I only wish Robin had not laughed so hard when I used this excuse.
Mission of the Leaf EV expedition
Nissan Americas' Smyrna plant started Leaf production in 2013. The model, also made in Japan and the United Kingdom, has become one of the world's best-selling electric cars.
The Leaf and a growing number of EV models shine when driven daily on commutes or in cities and suburbs for running errands. EVs excel in start-and-stop traffic or on short trips. Their miles-per-gallon equivalent is higher in cities than on the highways, and they offer the convenience of recharging overnight at home.
Tennessee is 432 miles wide from east to west and stretches from the Appalachian Mountains to the Mississippi River. The range of the Leaf SL Plus is up to 226 miles on a single charge, depending on driving conditions.
Robin and I weren't out to prove the Leaf could do it; our mission was to see if we could find public recharging stations while exploring Chattanooga area landmarks and iconic tourist attractions.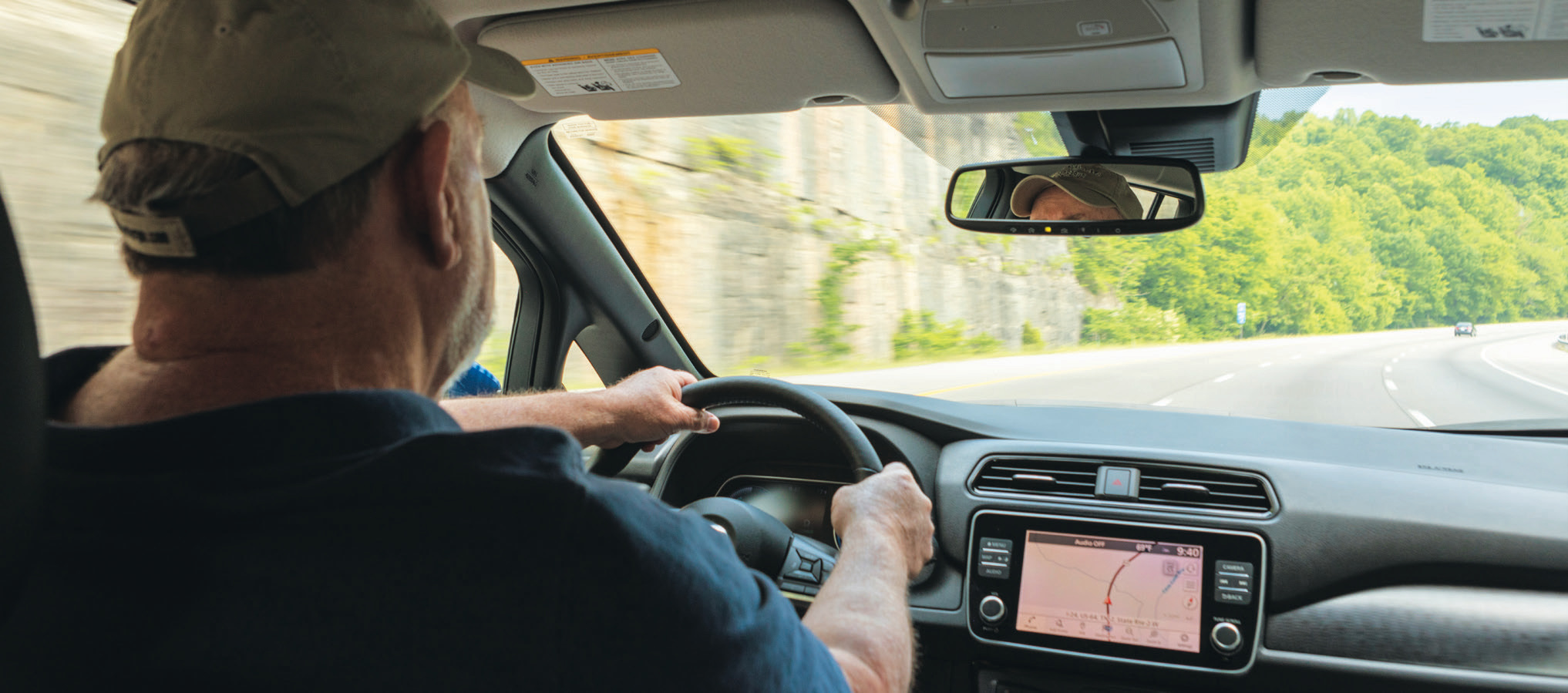 Staring (nervously) at the dashboard display
The Leaf's 62 kilowatt-hour battery can be recharged three ways. The fastest is via a quick-charger system, capable of an 80 percent "fill-up" in around 30 minutes. It's not the pump-and-go speed of gas stations, but these chargers don't delay EV motorists too long. Unfortunately, this type of public recharging infrastructure is difficult to find on stretches of rural interstate.
Our Leaf also came equipped for Level 2 recharging (240-volts, around eight hours of recharging time) and with a connector for a home-power plug (120 volts and typically 12–16 hours for sufficient recharging). This is what I used to top up the battery before departure, running a heavy-duty extension cord from my garage.
Robin and I realized the challenge would be finding quick-chargers. We consulted online resources like PlugShare and Chargehub to identify Level 2 stations to use in a pinch, but the time needed to fully recharge was daunting.
The digital display of battery power dipped below 50 percent when we cruised into the Sequatchie Valley. This was when my first case of range anxiety struck.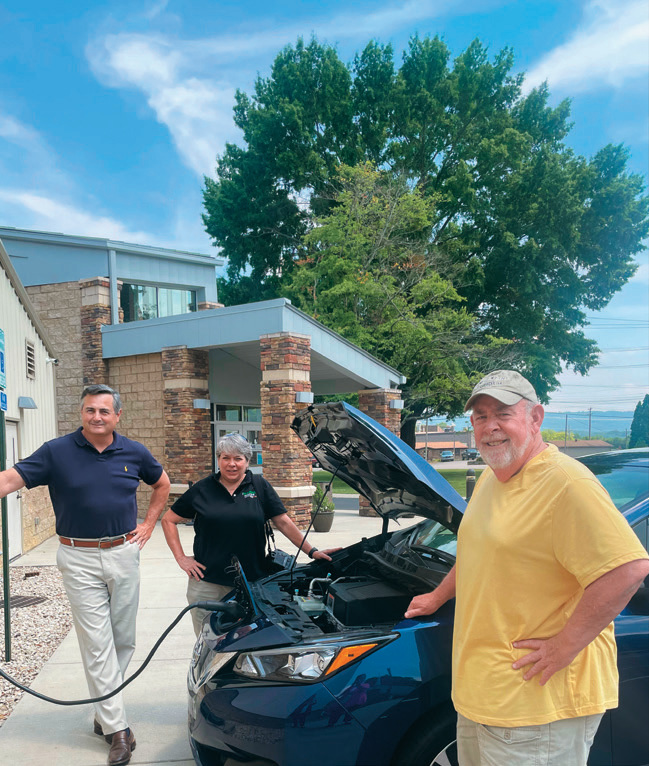 Help from electric co-op friends
Robin had a plan. The famed Chattanooga Choo-Choo Hotel was listed as a quick-charger site, according to her research. We could reach the downtown area on a dwindling battery, not stopping for side trips or photography.
Help awaited at South Pittsburg, home of Lodge cast-iron cookware and the National Cornbread Festival, where a Level 2 public charging station is available at Sequachee Valley Electric Cooperative. CEO/President Mike Partin and staff made us welcome while the Leaf recharged enough to put our minds at rest.
Later in the afternoon — with my range anxiety subsiding — we entered the Chattanooga Choo-Choo Hotel parking lot and pulled up to an EVgo quick-charger, touted to provide 90 miles worth of power in 30 minutes. This was our first experience buying kilowatt-hours for an electric vehicle. It required Robin to download an app, create an account and follow the instructions.
After a false start (my fault), the current began to flow. We declared victory and decided to make this charging station the nexus of our Chattanooga adventure.
Practical and comfortable touring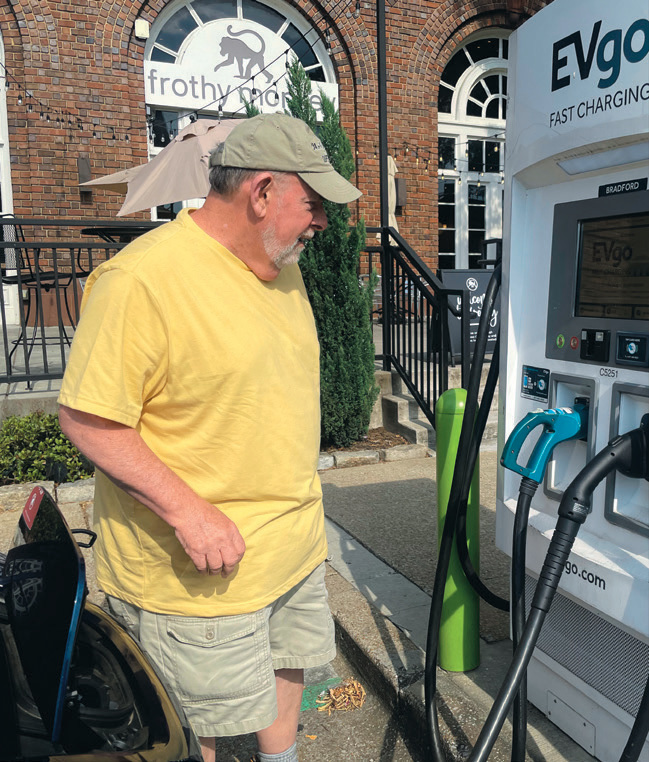 Downtown and outlying districts were easily accessible by EV. The Leaf performed well when negotiating routes to landmarks, museums and other attractions.
A nicely appointed vehicle, it boasted plenty of interior room. The seats were easy on my legs, hips and back, a plus for senior citizens. Entry and egress were easy, even for a wide-bodied person like me. We also hauled several bags of Robin's photography paraphernalia and our luggage.
Robin and I proved to ourselves that full ranges are possible with careful planning and lots of patience.
Style-wise, this second-generation Leaf presented a sleeker, sportier look than its predecessor. I noticed it garnered several second-looks from motorists and pedestrians. My overall impression of the Leaf and EVs in general was positive… if only the public quick-charging infrastructure existed to support long-range driving.
The EVs are a tide rising faster and higher. The Leaf alone numbers more than 500,000 units sold worldwide. Popularity is growing, with manufacturers now turning to electrified pickup trucks.
Robin and I proved to ourselves that full ranges are possible with careful planning and lots of patience. What's crucial to future efficiency is proliferation of quick-charging stations along interstates and in rural communities.
Our return trip began with a full battery, thanks to another quick-charge during breakfast. The Leaf had plenty of power to get Robin back to Nashville after dropping me off halfway there. I noticed another benefit when she pulled out of my driveway.
The almost-silent EV didn't cause any of the neighborhood dogs to bark.