2024 ASCI Robert Burns Night Supper
Thu., January 25, 5:30 pm

-

9:30 pm

$125.00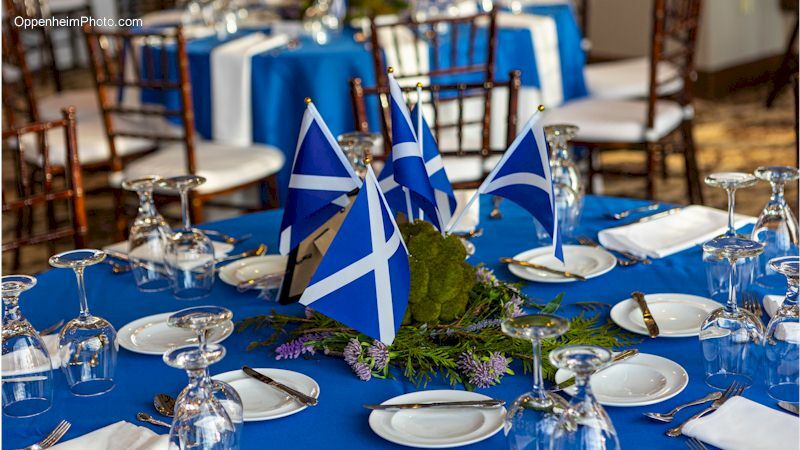 Asheville Sister Cities with sister cities of Dunkeld and Birnam, Scotland, invite you to a charity benefit celebration of the 265th Birthday of Robert Burns, the Bard of Scotland: Thursday, January 25, 2024 – 5:30 pm, Biltmore Double Tree Hotel, Asheville, NC.
Guest enjoy a Three Course Dinner, a full Robert Burns Night ceremony with Scottish music, poems and songs, and a Live Charity Auction. An optional Guided Scotch Whisky Tasting and Robert Burns Poetry and Song Seminar will also be available.
All proceeds from this Burns Night charity fundraiser will support Asheville Sister Cities, Inc., a 501c3 organization. Past Burns Nights have made possible contributions to the Burns Cottage Restoration, Niel Gow Memorial, Birnam Arts and the Dunkeld Community Archive.
PROGRAM SCHEDULE:
– Reception – 5:30 pm: Piper greeting, Guest reception, Live music, Full cash or credit card bar service
– Guided Scotch Whisky Tasting – 5:45 pm: Pioneering local craft brewer, Oscar Wong, of Highland Brewing, will conduct a Guided Scotch Whisky Tasting with a quick background on the five recognized whisky regions of Scotland followed by a sample from four of the regions. Tasting notes on each take you on a journey that will whet your appetite for the wide range of Scotch whisky flavors. The cost for this optional tasting is $50 and tickets available below are limited to 30 participants and are sure to sell out.
– Robert Burns Poetry and Song Seminar – 5:45 pm: For the first time this year, a 45-minute Robert Burns Poetry and Song Seminar available to all guests is being added to the program and will begin in the Vanderbilt Room at 5:45 pm. The seminar will reflect on Burns' work to offer a deeper appreciation of the Bard and will begin with "Address to a Haggis" to provide a better understanding of this essential part of Burns Night traditions.
– Procession and Address to the Haggis – 6:45 pm: Parade of the Kilts and Tartans to "Scotland the Brave", Master of Ceremonies' welcome, "Selkirk Grace" by the Reverend, Henchmen fetch the Haggis, "Address to a Haggis" by the Bard, Toasting the haggis lead by the Bard
– Dinner Service and Entertainment – 7:05 pm: Menu includes salad, dessert and choice of chicken, salmon or vegan entree. Haggis is available on the side. Complimentary water, coffee and tea service will be available. They are excited to announce that Andrew Finn Magill, who is the Coordinator of the Swannanoa Gathering Fiddle Week, will be providing live fiddle music for Burns Night.
– Charity Auction and Closing Ceremony – 8:45 pm: Asheville Sister Cities greetings, Live Charity Auction, "Immortal Memory" by the Bard, Musical entertainment, "Toast to the Lassies", "Toast to the Laddies", Burns' works recited, "Auld Lang Syne."
TICKETS:
ASCI member admission: $100
Non-ASCI member admission: $125
Student admission: $50
Optional Guided Scotch Whisky Tasting: $50
URL:
Tickets: https://go.evvnt.com/1915512-0?pid=10417
Date and Time: On Thu, 25 Jan, 2024, 17:30 – Thu, 25 Jan, 2024, 21:15
Category: Community | Fundraisers | Charities