NAMIWalks
Sat., May 20, 6:00 pm

-

8:00 pm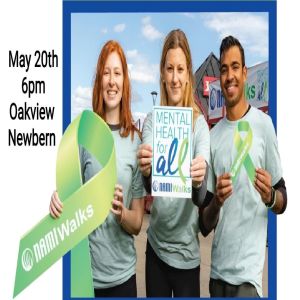 On Saturday, May 20, community members are encouraged to attend NAMI WALKS 2023 at Oakview Park in Newbern. The event will kick off at 6 p.m. with vendors, music, free community resources and a 1-mile glo walk that begins at dusk. This event is free to the community.
NAMI Walks promotes awareness of mental health, raises funds for NAMI's free, top-rated programs and builds community by letting people know they are not alone. Communities across the nation are coming together to bring awareness to treatment resources, community support groups and the overall care and compassion that community members have towards the betterment and well-being of all of its citizens on Saturday, May 20.
There are only four cities in Tennessee participating, and Dyer County is the smallest and most rural participant and the only community in Northwest Tennessee.
"We need that 'village' to assure this event is a success and so that our friends, families and neighbors feel the support our community is ready to give them," said Christi Bane, Dyer County Health Council member and director of Prevention Alliance of Dyersburg/Dyer County [PADD]. "We are hoping to see friends from neighboring counties join in. Lauderdale, Madison, Gibson, Obion, Weakley, Lake, Crockett, Tipton and Henry – we all share resources and are stronger together!"
Vendors in attendance at the event will include NAMI, Hopefield, TN Save A Life, Professional Care Services, TSPN, UT-Health Science Center, Dyer County Health Department, PADD, Eagles Nest Services, WRAP/RCP, Youth Villages, Perimeter Health, the Carl Perkins Center for the Prevention of Child Abuse in Newbern.
This event is brought to Dyer County through a partnership between the Dyer County Health Council and NAMI Dyer County.
Category: Community | Local / Community