Event Navigation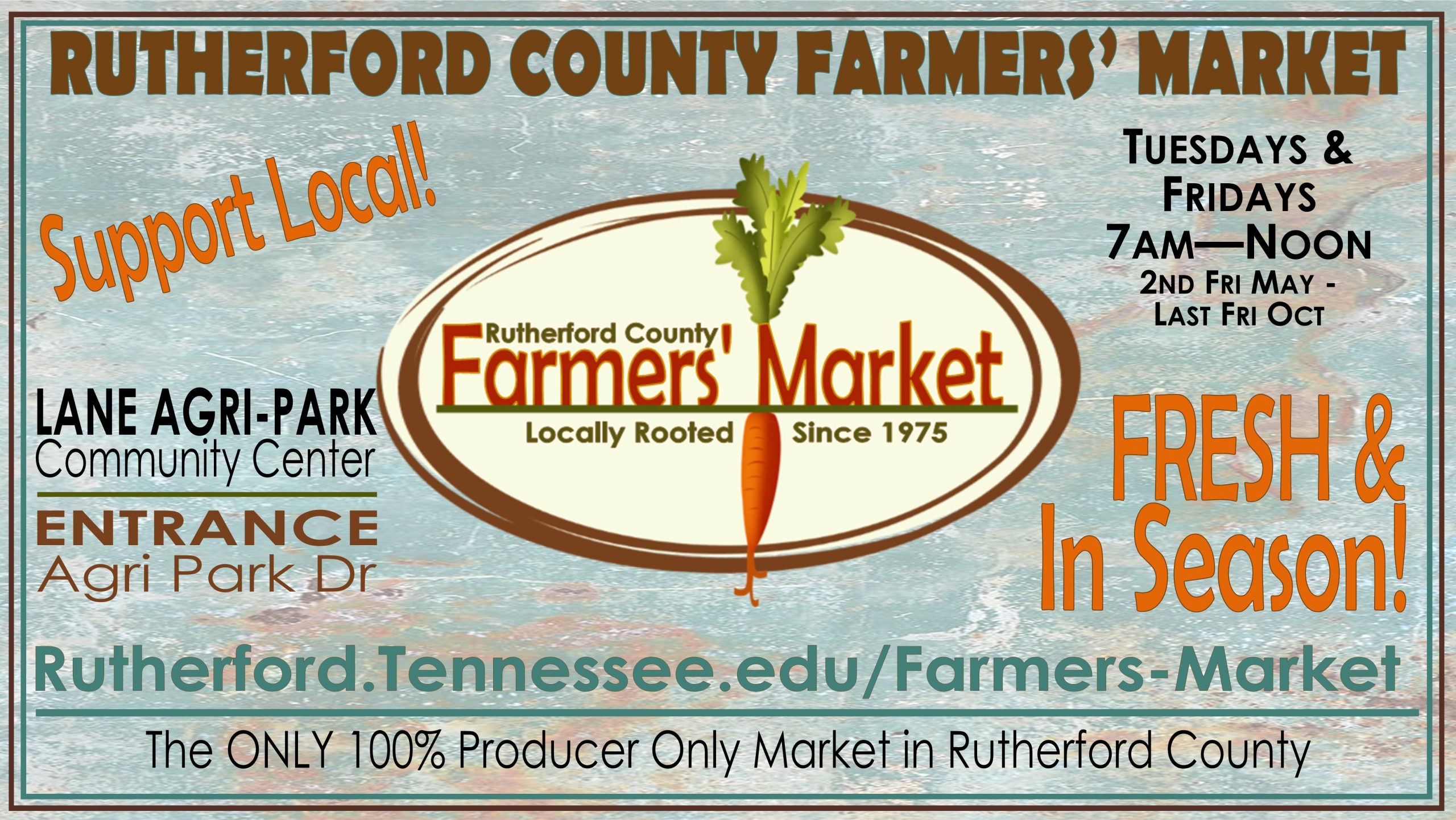 Rutherford County Farmers' Market
Fri., May 14

-

Fri., October 29

|

Free
The Rutherford County Farmers' Market, open Tuesday and Friday from 7 a.m. to noon, is the only 100% producer-only market in the county.  Shoppers can find an array of favorite items and a huge variety of unique items.  Patrons can find produce that's in season-freshly harvested vegetables, fruit and mushrooms. There are baked goods- breads, cookies, muffins, pies and cakes, candy, fudge, mixes and dips along with your choice of jams, jellies, fruit butters and honey. Take home flavorful cuts of meats: beef, pork, chicken and eggs. Shoppers can purchase from local nurseries and plant dealers to grow herbs, produce, flowers, shrubs, and trees or enjoy a beautiful bouquet to brighten your day. You're sure to find something when you stop by the RCFM.
Credit and debit cards, along with SNAP payments are accepted. Some farmers will accept WIC vouchers in July and August.  All vendors accept cash and tokens.
New this year are "Come & Go" informative sessions from 9-11AM. Check out the schedule online.
THE RUTHERFORD COUNTY FARMERS' MARKET: PRECAUTIONS FOR COVID-19
* A FACE COVERING IS REQUIRED TO BE WORN AT ALL TIMES BY SHOPPERS AND VENDORS FOR EVERYONE'S SAFETY
* VENDORS WILL BE SOCIALLY DISTANCED (BRING YOUR OWN CART)
* PRACTICE SOCIAL DISTANCING
* DO NOT TOUCH PRODUCE OR PRODUCTS ON DISPLAY.
* Allow VendorS to bag YOUR PURCHASE
* Wash Hands OFTEN
* Wash Items prior to opening or consuming
* Please DO NOT come to the market if you are experiencing any symptoms of illness.