Scenic City Shakespeare in the Park – THE WINTER'S TALE
Fri., October 6, 7:30 pm

-

10:00 pm

Free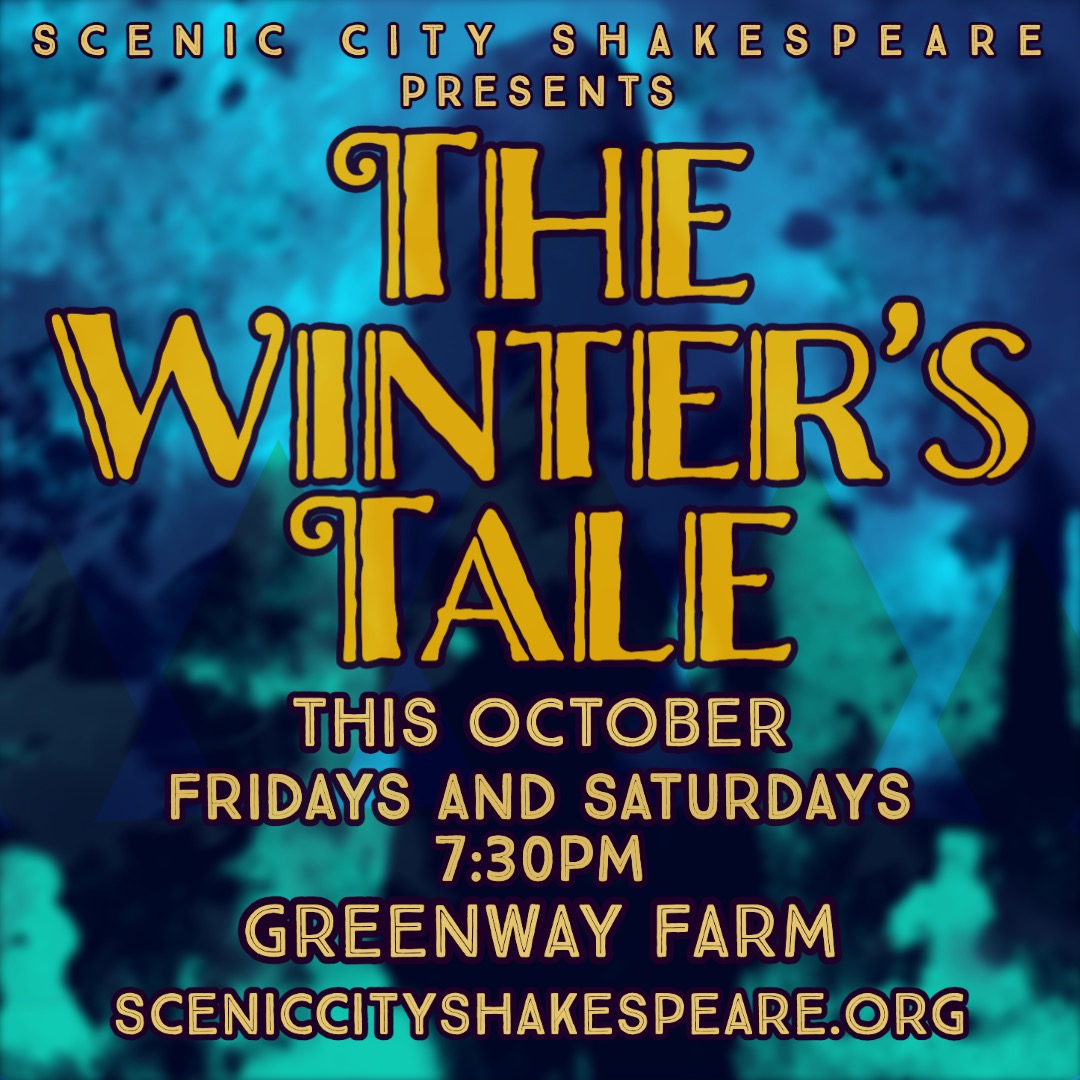 Shakespeare in the Park returns to Greenway Farm in Hixson, TN, this October with The Winter's Tale. The Bard's riveting romance play is a classic story of jealousy and redemption across 16 years. The Winter's Tale weaves tragedy and comedy into a fairytale with plenty of disguises, a lost princess and the famous stage direction "exit, pursued by a bear." FREE performances will run on Friday and Saturday evenings in October. Catch shows beginning at 7:30 PM on October 6 & 7, 13 & 14, 20 & 21, 27 & 28. Admission is FREE, reservations are REQUIRED. Space is limited. Bring your outdoor chairs and blankets – seating is not provided. RSVP now at sceniccityshakespeare.org/inthepark. Arrive early to enjoy fare from local food trucks and other vendors. The Winter's Tale is made possible through generous funding from Arts Build's Artists Work grant.
The Artists Work grants program, established in October 2020, provides funding to individual artists, artist studios and non-profit arts organizations to produce artworks for public spaces in Chattanooga. Funding for the program was provided by the Lyndhurst Foundation and Footprint Foundation. Through the Artists Work grant, Scenic City Shakespeare is thrilled to bring in local actor Quentin McCuiston, appearing under a Special Agreement Contract courtesy of the Actors' Equity Association. All actors and creative team for Scenic City Shakespeare in the Park are paid a stipend. Support the growth of FREE Shakespeare in the Park in the Greater Chattanooga Area by becoming a monthly donor today at sceniccityshakespeare.org/support.
The Winter's Tale cast is led by Quentin McCuiston and features new and familiar company members Amanda Medlin, Sawyer Medlin, Abby Ingle, Arche Twitty, Kyree Brown, Ed Huckabee, Hunter Rodgers, Emma St. Kathryn, Sarah Roberts, Amy Lowdermilk, Morgan Robbins, Maria Chattin and Jonathan Sumner. Emma Collins will serve as director and text coach. Technical direction by Ryan Laskowski. Monica Ellison will choreograph. Anne Rushing is the production stage manager.
Don't miss out on Scenic City Shakespeare in the Park this Fall! Tickets to all performances are FREE – RESERVATIONS ARE REQUIRED due to our agreement with Actors' Equity Association. To reserve your ticket for The Winter's Tale in October or to find out more about Scenic City Shakespeare in the Park including sponsorship opportunities and vendor applications, visit sceniccityshakespeare.org.