The 8th Annual Gr8t Chase 5K
Sat., October 14, 8:00 am

-

1:00 pm

$35.00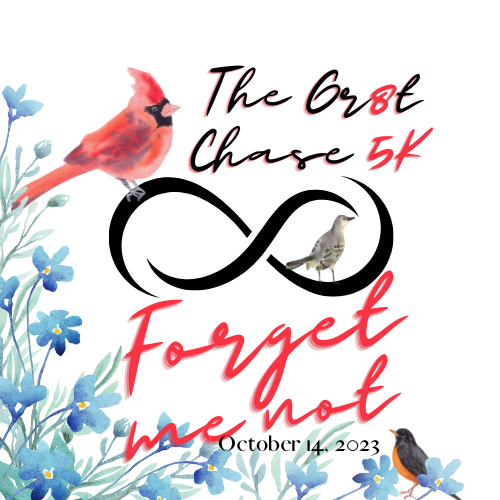 Runners, walkers, and cancer fighters of all ages will once again lace up their sneakers for an in-person Forget Me Not 5K Run/Walk on Saturday, October 14, 2023.
The Gr8t Chase 5K event supports area childhood cancer patients and other children diagnosed with a life-altering illness. The run/walk will be at Gateway Island in Murfreesboro, TN. The participants will enjoy scenic views along the USTAF-certified 5K route.
"We're delighted to be able to host our 8th Annual event," said race organizer Jennifer Yeatts. "For many, this event is an annual reunion in the fight against cancer where the community comes together to honor loved ones lost and to encourage other childhood cancer heroes on their cancer journey. We have pictures of the past recipients of the proceeds of this race along the trail to keep our runners and walkers motivated. It's a big milestone for us getting to our EIGHTH year of holding this event. Why the 8? That was Chase's favorite number. He said it was like the infinity symbol, no beginning and no end. He liked that our family all had 8's in our birthdates. He chose 8 as his jersey number in sports. The number 8 was the seat he like to sit in while he was in class. It is why we have the 8 in our name. So, our 8th year is pretty special and meaningful to us!" Event proceeds benefit children and their families in our community whose lives have been disrupted by illness.
Strollers and wheelchairs are welcome.
The 5K race is professionally chip timed with trophies for the top male and female overall finishers, and medals (gold, silver, and bronze) in seven age divisions (10-year increments). Registration is $35 for the run/walk, and $30 for a virtual, T-shirt-only option, available for those who wish to participate but cannot attend. All entries registered before October 1, 2023, include a Gr8t Chase Forget Me Not 5K race shirt.
Memorial and encouragement bags will once again be available for decoration and will be displayed along the start/finish line to honor loved ones.
Packet pick-up and late registration will be from 11:00 a.m. to 6:00 p.m. Friday, October 13th at Hanks Two Doors Down at 2333 Memorial Blvd, Murfreesboro, TN. You can register or find out more information on Vendor Spaces ($50) or Sponsorship Opportunities online at http://www.thegr8tchase.org.
About The Gr8t Chase, LLC
The Gr8t Chase is a not-for-profit 501(c)3 foundation that provides help to families with children who have been diagnosed with an illness that disrupts their daily lives. Our goal is to remind the child they are more than their diagnosis and for the family to be able to focus on the child without financial burden during their illness. Children are at the heart of everything we do. Headquartered in Lascassas, Tennessee, the organizers are focused on our mission: inspire hope, give compassion and render financial aid.
In 2008, a ten-year-old boy from Murfreesboro named Chase Donnell was nearing the end of his life from a valiant battle with Burkitt's Lymphoma when he was given a wish by the Make-A-Wish Foundation. Chase made the decision to give his wish away to his school, Walter Hill School in Murfreesboro, so that all the kids who came after him could have new gym equipment. Chase told his mom, Jennifer, that he wasn't afraid to die, he was afraid he'd be forgotten. He was also troubled by all the children and families he saw in the hospital during his time there, who were going through what he experienced, and he wanted to do something to help. They wrote a cookbook dedicated to warriors and fighters, raising over $25,000 for cancer research. After he passed away in March 2008, News Channel 5 did an Emmy-nominated feature story about Chase's connection to his school, his community, and his beloved Nashville Predators, and how he had given his wish away. The gym at Walter Hill School and a section of state Highway 231 in front of the school are named in Chase's honor. Through his selflessness, the Predators became a huge part of Make A Wish and Vanderbilt Children's Hospital, donating time, money and frequent flyer miles. His image was also featured on a car for the Make-A-Wish Foundation on a car for NASCAR at a race in Bristol, Tennessee.
Since Chase's passing, his mother has raised funds to help Eric Yutzy win the Leukemia & Lymphoma's Society Man of the Year title in 2009 and been nominated in 2010 for Woman of the Year for her fundraising efforts and named runner-up in 2010, raising over another $25,000.
In 2014, Chase's Mom, Jennifer, won the game show, Hollywood Game Night, and she used that money to create the organization to honor her son and pay forward his legacy of selflessness and care for others. They also honor Chase's 16-year-old cousin, Dylan who passed away from his complications of cancer treatment. Chase and Dylan went through treatment at the same time.
The Gr8t Chase is a grassroots charity that takes all net proceeds from its fundraising efforts and puts that money directly in the hands of those in need. The Gr8t Chase Foundation helps families whose children are battling life-limiting illnesses, just as Chase had done.