The Amazing Acro-Cats Astound Asheville
Sun., October 8, 4:00 pm

-

Mon., October 9, 9:00 pm

$50.00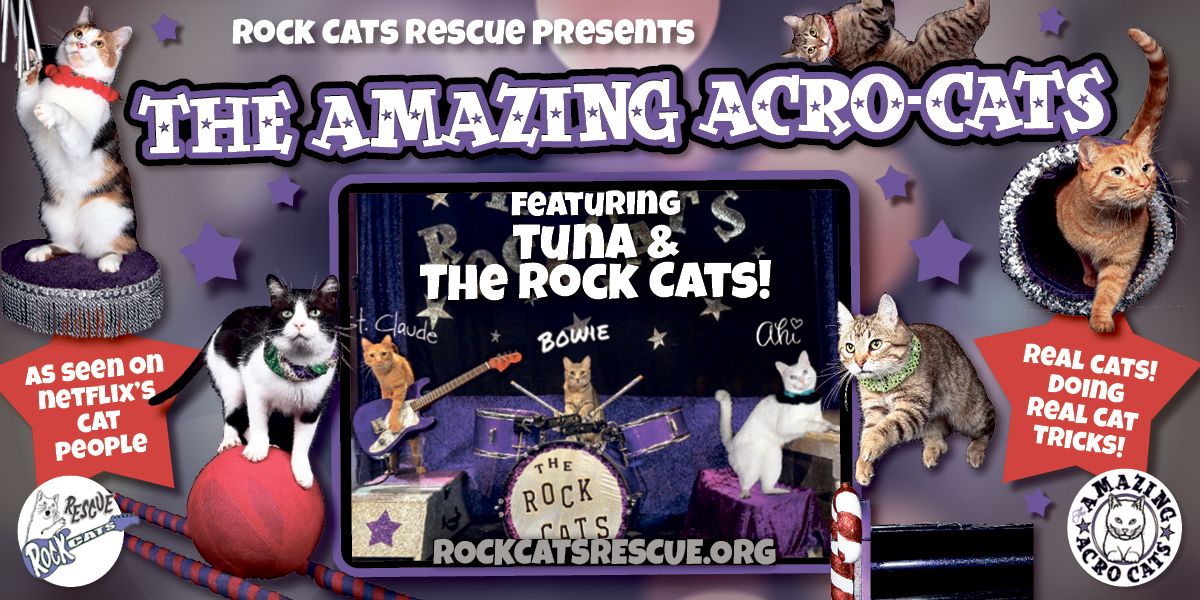 The Amazing Acro-Cats, featured in the Netflix series Cat People, are coming to Asheville!
This troupe of trained domestic house cats, all former orphans, rescues and strays, give a one-of-a-kind purrformance that includes cats riding skateboards, jumping through hoops, ringing bells, balancing on balls and performing other feats of agility and entertainment. The show finale is the only all-cat band in the world: Tuna and the Rock Cats. The Rock Cats play guitar, drums and piano, and they've been joined by the Jazz Cats on saxophone, trumpet and clarinet.
The Acro-Cats tour to support Rock Cats Rescue, a 501(c)(3) nonprofit organization. Rock Cats Rescue is focused on saving cats "One Click at a Time" through cat welfare, rescue and adoption. The Acro-Cats show promotes the importance of bonding and training cats with positive reinforcement, while also finding homes for rescued cats. Rock Cats Rescue has found homes for 322 cats and kittens since 2009.
In addition to being on Cat People, the Amazing Acro-Cats have been featured on national TV shows including The Late Show with Stephen Colbert, Animal Planet's Puppy Bowl, CBS News Sunday Morning and PBS Nova's Cat Tales.
Tickets: https://go.evvnt.com/1949188-0?pid=10417
Category: Arts | Performing Arts
Price:
Reserved: USD 50.00