Walk to End Lupus Now, Nashville
Sat., September 9, 10:00 am

-

Mon., October 30, 12:00 pm

Free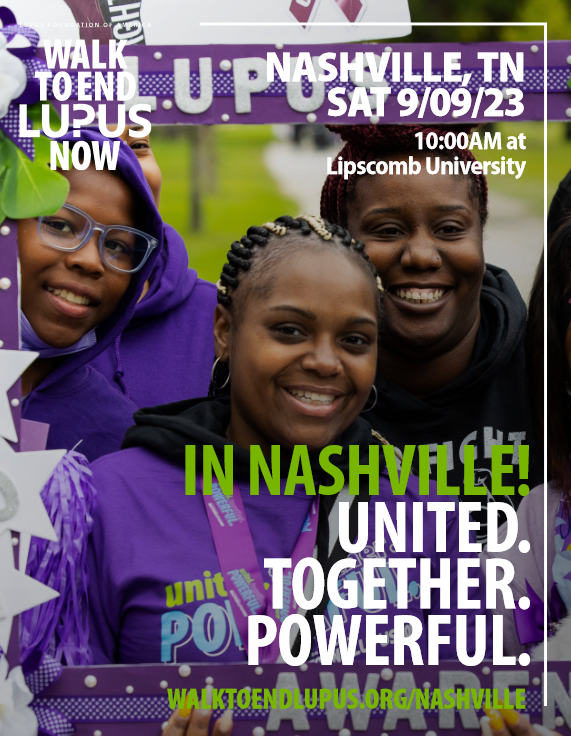 EVENT: 1st Annual Walk to End Lupus Now, Nashville. Held at Lipscomb University in Nashville, TN, on September 9th, 2023 at 10 am.
WHAT IS THE EVENT? This is the first year that the Lupus Foundation of America will be hosting a Walk to End Lupus Now in Nashville, TN. This event is open to participants of all ages, free of charge and is the signature fundraising and awareness event for the Lupus Foundation of America. Attendees can participate in the walk as individuals or teams. We will have presenting sponsors, resources, public speakers, a DJ and kids area on the day of the event.
WHAT IS LUPUS? Lupus is a chronic (long-term) disease that can cause inflammation (swelling) and pain in any part of your body. It's an autoimmune disease, meaning that your immune system attacks healthy tissue, and most commonly affects the skin, joints and internal organs — including kidneys or lungs. There are currently few effective therapies and no effective cures for Lupus. Patients with Lupus can have significantly reduced quality of life due to the disease, and some even suffer complications leading to death. Lupus disproportionately affects women and people of color. This disease can be difficult to diagnose and expensive to control.
WHO IS LFA? Lupus Foundation of America (LFA) advocates for Lupus research, provides materials and support services to those impacted by Lupus and raises general awareness for this complicated disease.