Walnut Grove 2023 Community Fun Day
Sat., July 15, 2:00 pm

-

6:00 pm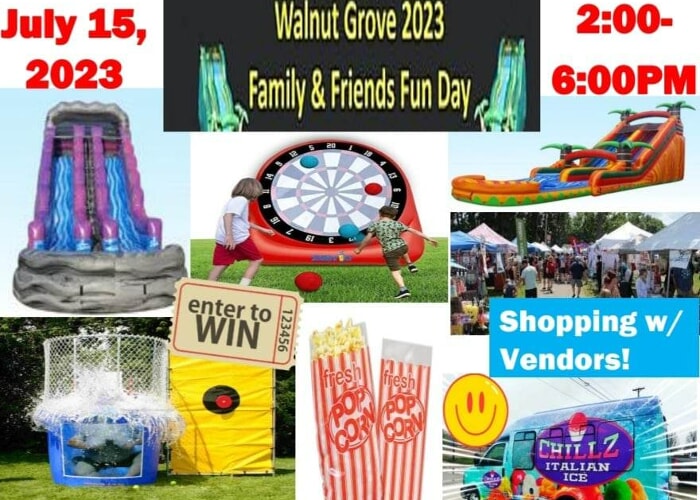 Walnut Grove is celebrating 152 years of ministry and community service and they invite YOU and YOUR FAMILY to join them. Like years past, participants will enjoy great food from local vendors and sample signature creations from others. They will also listen to great music, shop from local vendors, cool down on the 20 ft. water slides, play games, win prizes (cash prizes included), laugh, play, sing, eat and dance with others that love the Lord!
This year's theme is Summer Fun with a Luau flare! Ladies come out in those beautiful summer dresses or bright vibrant colors. Gentlemen, they would like to see you all in island attire as well. No matter what you wear (appropriate of course, lol), they want to see you there!!!
There will be games for every age group!!!
While attendance, water slides, music, games, hydration stations and activities are free, please remember to bring cash/preferred payment methods to make purchases from vendors, food trucks and BINGO!!! Yes, BINGO!
This is a day, they choose to give back to the lovely members of Clarksville. They appreciate you all. It is such an honor to celebrate 152 years of ministry with each of you.
Select "interested" or "going" to the event link for updates/details.