Gone are the days when electric cooperative members only had two or three options for paying their power bills. Before the technology age, co-op members were only able to pay in person at the office from 8 a.m. to 5 p.m. or place an envelope in a drop box after hours. Others might choose to mail checks that could take up to a week to arrive and be applied to their accounts.
In the year 2020, Southwest Tennessee Electric Membership Corporation offers fast, easy and convenient payment options to fit the busy lifestyles of all its members. Here is a summary of all the payment methods at members' disposal:
In person
Payments may still be made Monday through Friday, 8 a.m. to 5 p.m., at any of our five offices located in Brownsville, Jackson, Covington, Henderson and Atoka. Our member services representatives will be happy to assist members paying bills in person and help with any account updates and changes. A minimum payment of $40 or the actual account balance, whichever is less, is required for payments made to a member services representative in the office.
PaySite Kiosks
Southwest also has PaySite Kiosks available 24 hours a day, seven days a week, at all five of our offices. Additionally, there is a kiosk in Whiteville at the Exxon-Tiger Mart, 2070 Highway 64 East. The Whiteville kiosk is available during store hours — 6 a.m. to 10 p.m., seven days per week.
There is no minimum payment and no fee for paying your electric bill at a Southwest Tennessee EMC kiosk. These convenient payment machines accept cash, personal checks, debit cards and credit cards.
Bank Draft
Automatic Bank Draft is the easiest way to pay. Simply complete a Bank Draft Application and submit a voided check to one of our member services representatives in your local office. Bank Draft bills will automatically be paid on the due date each month from the designated checking or savings account. Members using Bank Draft never have to worry about paying a bill or incurring late fees. Members will receive a memorandum bill marked "Bank Draft" and showing the amount that will be deducted from the account. Each month, a draft for the net amount of the electric bill will be sent to the bank, just as if a check had been written. If at any time a member wishes to discontinue participation in the Bank Draft program, simply contact the local Southwest office.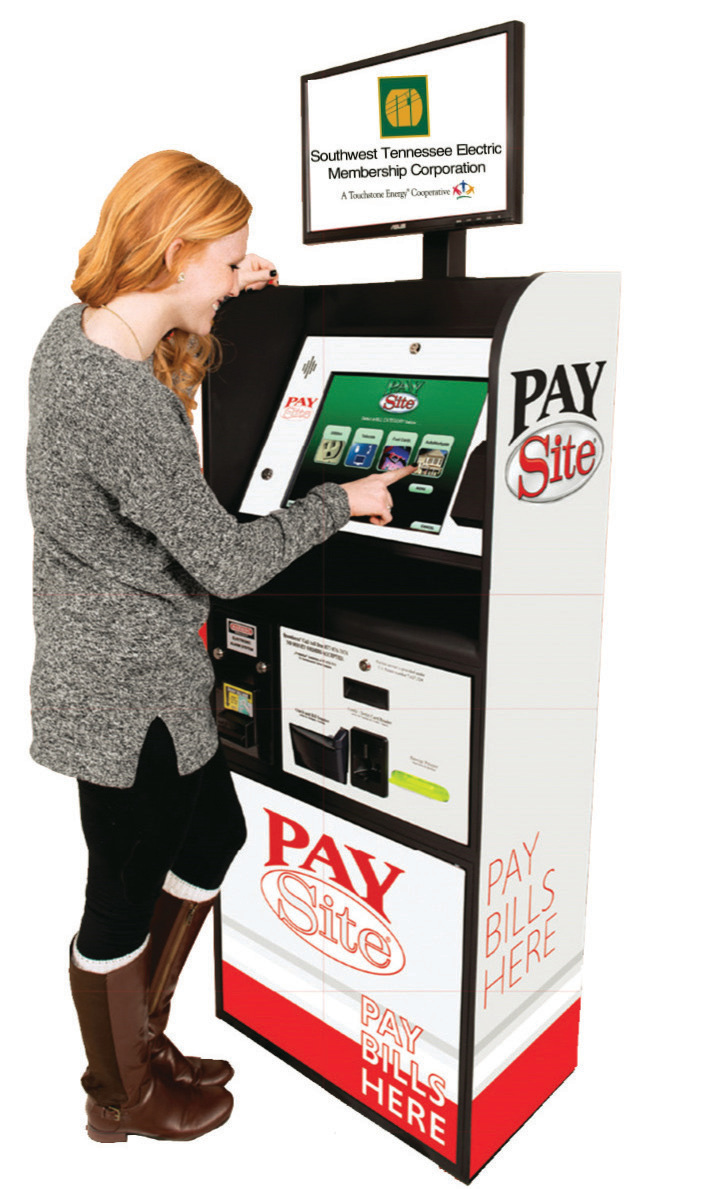 By Phone
Southwest members can pay their power bills over the telephone by calling 1-855-782-7864. Members can use a check, debit card or credit card to make a payment. There is a $20 minimum payment by telephone. This is a free service.
Online
Members can pay their bills online using a check, debit card or credit card. Online payments have a $20 minimum. A convenient link can be found on our website, www.stemc.com. Click on "My Quick Pay" and "Pay Online." Members will need their account numbers to pay online. This is a free service.
For members who have never paid a Southwest bill online before, be cautious. We recommend only using the link on the Southwest website to pay. There are some other payment sites on the Web that members might use to pay bills that are technically legitimate; however, user beware that unlike Southwest's online bill pay, accounts will not automatically be credited, and these sites may charge a fee to make a payment. Also, it may take up to two weeks for Southwest to actually receive payments made through other payment sites. Such a delay could result in disconnection of service and cause the account to incur a late fee and even a disconnection fee.
By mail
Southwest also still accepts payment by mail. Be certain to allow at least seven days for postal delivery. To ensure accurate processing, please detach and return the lower portion of your bill. Payment must be received on or before the due date to avoid a late fee. Mail payments to Southwest TN EMC, P.O. Box 55360, Little Rock, AR 72215.
As your electric cooperative, Southwest Tennessee EMC strives to give our members the power to be free of inconvenience. That is why we offer a variety of fast, easy and convenient payment options to accommodate the busy lifestyles of today's co-op members.