April Fool!
You may notice multiple flags hidden throughout the April magazine. That was our intention as a way to add variety to our Find the Flag contest and have some fun for April Fools' Day. Entries that identify a correct location for the flag will be included in the monthly drawing of winners. You won't be penalized if you miss a location. Still please send only one entry per person. The correct flag location(s) for the April magazine will be revealed in our June issue.
Thank you again for reading The Tennessee Magazine and for your overwhelming support of the Find the Flag contest.
---

Can you find the flag?
We have hidden somewhere in this month's magazine the icon from the Tennessee flag like the one pictured here. It could be larger or smaller than this, and it could be in black and white or any color. If you find it, send us a postcard or email us with the page number where it's located. Include your name, address, phone number and electric cooperative. One entry per person. Three winners will be chosen from a random drawing, and each will receive $20.
Note that the icon we hide will not be on an actual flag or historical marker, will not appear on pages 20-26 and will not be placed in any ads. Good luck!
---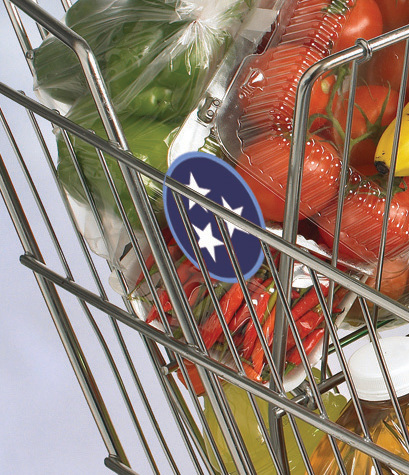 February Flag Spotters
Thanks for the postcards and emails again this month identifying the correct location of the flag, which was found in the shopping cart on page 12.
Winners are drawn randomly from each month's entries. February's lucky flag spotters are:
Paul Schumacher, Selmer, Pickwick EC
Peggy Breedlove, Hendersonville, Cumberland EMC
PeggyAnn Whitson, Oneida, Plateau EC
---
Enter online