Kid President greets life with a smile, a dance and a healthy dose of enthusiasm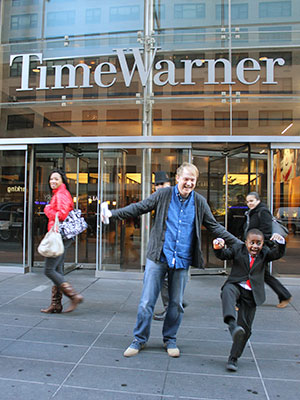 Kid President is a tiny, suit-wearing star with a simple message: Make the world a better place. In the last year, his humorous videos on YouTube have racked up millions of views and given him the opportunity to work with people like Steve Carrell, Rainn Wilson, Beyonce, Justin Timberlake and even the actual president, Barack Obama.
Brad Montague and Robby Novak, his 10-year-old brother-in-law, are both from Chester County, along Southwest Tennessee Electric Membership Corporation lines, and are the creative team behind Kid President.
They are quick to admit that Kid President had humble beginnings, and they never imagined it would grow into a tremendous opportunity to impact others. "It started as something fun we could share with our family," says Montague. "Robby and I have always made stuff together — songs, drawings, little movies."
Kid President was the result of a conversation about what the world would look like if a kid were in charge. The two built a set out of cardboard and set up a camera and lights.
"When Robby got behind the desk, he immediately began dancing," Montague said. He asked Robby questions about the things grownups needed to know. "He said, 'Everybody just chill out.' I had things I wanted him to say, but it was better to ask questions and let him talk."
The pair filmed a lot the first time around and made three videos out of the footage. "We were just trying to figure out what this was," says Montague.
"There are things I want to instill in him — things I want him to know. The videos are just him reflecting those things back but through the eyes of a kid, so they are brighter and better."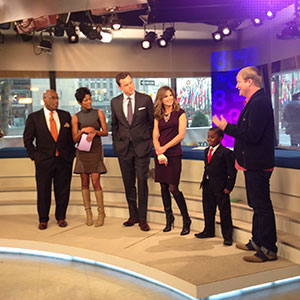 The two continued to make videos, and in January of 2013, they posted the video "A Pep Talk from Kid President." The video reminds viewers that they "were made to be awesome."
"We were shocked by the response," says Montague. "Within the first few days, the video had been viewed more than 100,000 times, and we were getting phone calls from the 'Today' show." The video has now been viewed more than 31 million times.
Montague is using their influence to give kids a voice and the opportunity to make the world a better place. Many of their videos highlight causes and organizations that kids can get excited about — like providing school desks and soccer balls for students in third-world countries.
In October of 2013, Kid President encouraged followers to participate in "Socktober" — a call to serve the homeless in their own communities, even in ways as simple as donating a pair of socks. They received stories of people taking action from every state and around the globe.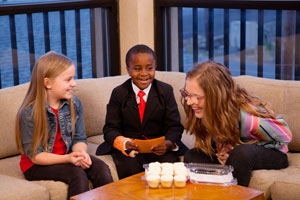 Today, Kid President is focusing on finding opportunities for kids and adults to work together to make the world better and celebrate family.
"We want to do things that make classrooms better," says Montague, "to help kids develop leadership qualities and teach compassion and creativity. We want to help kids develop a view of the world where they can see that their choices and actions impact the people around them."
People around the world are paying attention.
Kid President was asked to help with the United Nations' World Humanitarian Day, an event designed to celebrate the spirit of people helping others. They also traveled to Cannes, France, to speak at the Cannes Lions International Festival of Creativity.
While those events certainly stood out, the highlight of the year was when President Obama gave Kid President a tour of the Oval Office at the White House in Washington. The two talked about how grownups and kids can work together to make the world "more awesome."
In 2003, Montague's in-laws, David and Laurie Novak, began fostering and then adopted Robby and his sister, Alexia. They were born with a genetic condition called osteogenesis imperfecta, better known as brittle-bone disease. This means their bones can break very easily, sometimes for no reason at all. In many of the Kid President videos you will see Robby wearing a cast.
"Robby has had more than 70 broken bones in his short life," says Montague. "What's inspiring about Robby isn't his condition but the fact that his condition doesn't define who he is. In spite of all he's been through, he not only keeps going — he dances."
Montague and Robby continue to work on each episode of Kid President together. You will not find any fancy sets or film crews. "It's just us having fun and hoping we create something that makes people happier than they were before they clicked play," says Montague. "Incredible things can happen when you match the creativity and passion of young people with the wisdom and know-how of adults. Kids can cut through a world full of noise and speak the truth with simplicity and love. Kids are good at that, and grownups are not."
There is plenty more to come in the world of Kid President. You can watch the videos and learn about opportunities to get involved at kidpresident.com or by following @iamkidpresident on Twitter.