I've written 175 of these columns, half a dozen books, 1,500 pages of Tennessee History for Kids booklets and more online content about history than I care to contemplate. But this is the first time I have written about my own family.
A few months ago, in search of a project to get me through the pandemic, I started researching my family tree. I worked my way back several generations, through East Tennessee, Virginia and Illinois, and then to Sweden, England and Ireland.
Here are some of the more interesting discoveries:
Places
Although my family comes from all over, the place that comes up the most is northeast Tennessee. This was a bit surprising since neither I nor my parents grew up in Tennessee. But many of my ancestors lived in Washington and Sullivan counties in communities such as Telford, Leesburg, Piney Flats and Jonesborough.
Both of my paternal grandparents grew up in Knoxville in houses that were torn down long ago. My grandfather William T. Carey Sr. lived in the Fourth and Gill neighborhood at 826 Eleanor St. The house was decent-sized, apparently, but not big enough; he shared it with nine brothers and sisters. In fact, one of the questions that came to mind as I researched the family tree is how my great-grandmother Bertha managed to feed her children after her husband, Sam Carey, died in 1915. "No one ever told you that?" my newly discovered second cousin Martha Hartman explained to me over the phone. "When the older kids finished high school, they all had to get jobs and give part of their salary to Bertha."
My maternal grandmother, Louise Dempsey, grew up about two miles away at 1814 Cornell Ave. Through the aid of an old map, I learned this was in the middle of the present-day campus of the University of Tennessee. Her father, my great-grandfather, was an engineer for the Louisville & Nashville Railroad. He couldn't operate an automobile, but he drove a train all over East and Middle Tennessee.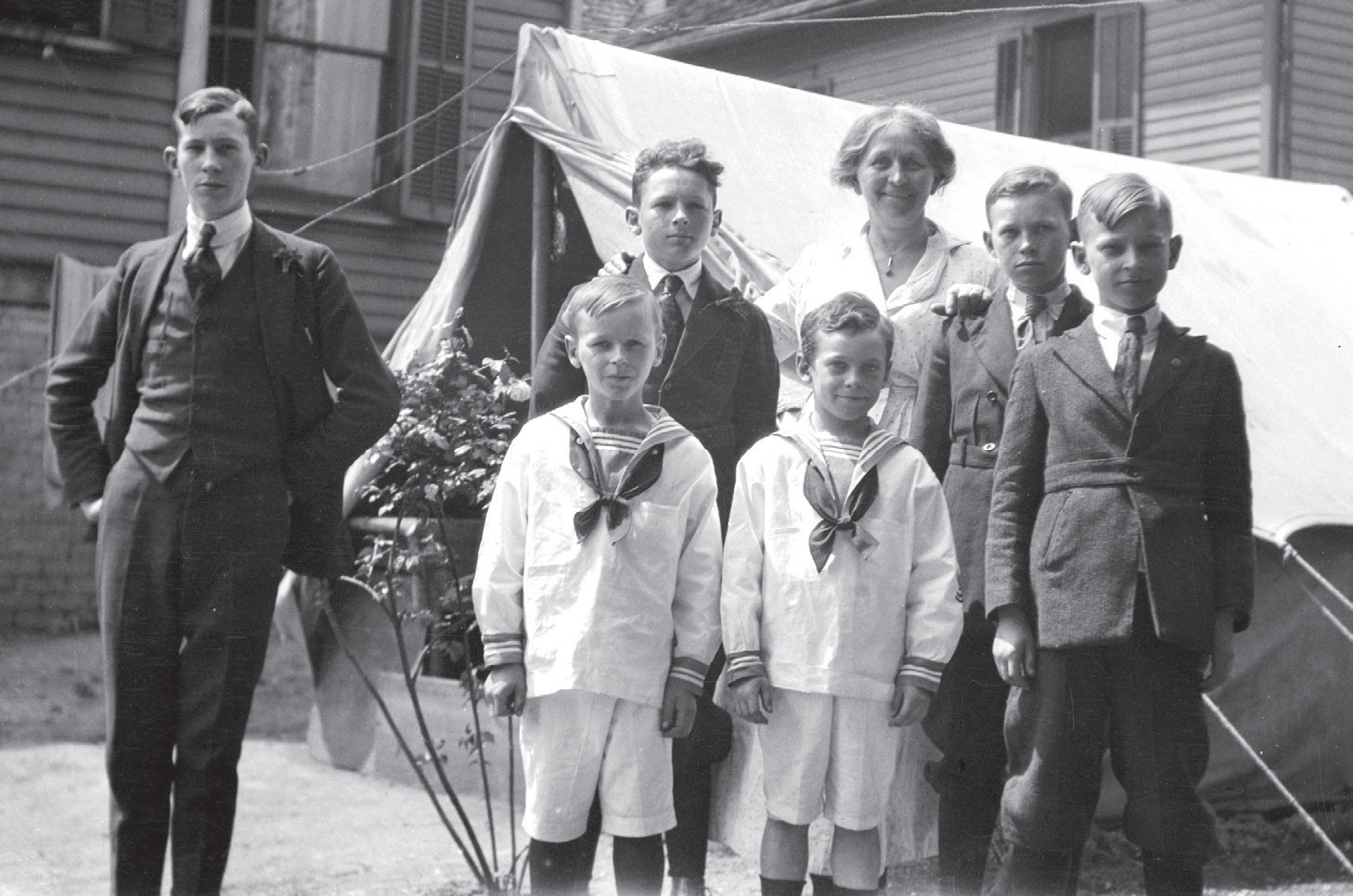 Origins
Like many people who research their family trees, I discovered that people don't have as many kids as they used to.
My parents had three children, and their two sets of parents had two and three children.
Meanwhile, my great-grandparents Sam and Bertha Carey of Knoxville had 10 children; my great-great-grandparents Benjamin and Sarah Carey of Washington County had at least 12 children; my great-great-grandparents Jacob and Mary Slonaker of Washington County had at least nine children; and my great-great-grandparents John Allen and Martha Dempsey of Sullivan County had at least 14 children.
I also discovered that my family tree's U.S. roots go way back. All eight of my great-grandparents — whose surnames were Carey, Slonaker, Dempsey, Garner, Franson, DeVault, Collins and Hallock — were born in the U.S. Thirteen of my 16 great-grandparents were born in this country. I think (though am not certain) that 24 of my 32 great-great-grand-parents were born in the U.S.
As far as U.S. history is concerned, the family tree goes back furthest on the Hallock side, which is the maiden name of my great-grandmother Belle Hallock of Peotone, Illinois. Her ancestor, my ninth-great-grandfather Peter Hallock (1585–1689), was one of the "Pilgrim Fathers" who in 1640 founded the colony at New Haven, Connecticut.
Wars
People from my family tree fought in just about every war in American history.
One of my great-grandfathers, Col. Paul Franson Sr., was a chief of staff in Patton's Fifth Army. "He (Patton) was a soldier's general, visiting the front line almost daily on many occasions, and seeing for himself," he later told a Montgomery Advertiser reporter. His son, my grandfather, was in charge of gunfire support on the USS Louisville when it was hit by a kamikaze during the Battle of Leyte Gulf. "We looked out and could see only flames below us," Col. Paul Franson Jr. told a New York Times reporter a few days later, describing the attack.
Going further back in history, six members of my family tree sided with the Confederacy and nine for the Union. One of the six Confederates, William Newton Thompson, died at the Elmira (New York) prisoner of war camp. One of the nine Union soldiers, George W. Bixler, died at the Battle of Sailor's Creek only three days before Lee surrendered.
Speaking of the Civil War, my great-great-grandfather (John Allen Dempsey) fought for the Confederacy in the 48th Virginia Infantry. His brother-in-law (Andrew Crockett Carr) fought for the Union as a member of Company H, 13th Tennessee Volunteer Cavalry.
In regards to slavery, I found at least one ancestor who owned slaves — that being my great-great-geat-great-grand-father Frederick DeVault of Washington County (1778–1847). Meanwhile, my great-great-great-grandfather Joseph Addison Hallock (on the other side of the family) was an active abolitionist in Illinois who helped slaves escape via the underground railroad. "For more than a quarter century I labored, as I had opportunity, for the abolition of slavery," he told a Chicago Inter-Ocean reporter in August 1896.
I had ancestors on both sides of the Revolutionary War. Among them were William Carr, one of the Overmountain Men from Sullivan County who fought at King's Mountain, and Israel Hallock, who was loyal to the crown and was part of Col. Banastre Tarleton's staff.
Stories
Then there are the tragedies that one inevitably discovers when searching through their family tree.
My great-grandmother (Ruby DeVault Franson) had a sister named Grace who I knew as a child. Aunt Grace lost three children in the influenza epidemic — two on the same day. "Mr. and Mrs. O.B. Harris suffered the great misfortune Monday of losing their two little children, Fred Grayson, aged two years and six months, and Mary Grace, aged eleven months, their entire family, within a few hours of each other," the Montgomery Advertiser reported on July 15, 1919.
Great-grandfather Paul Franson Sr.'s brother, Albert, died in 1904 at the age of 12 from burns suffered when he poured kerosene onto live coals.
My great-grandfather Jacob Weaver Slonaker of Bedford County, Pennsylvania, had eight brothers and sisters, one of whom was named Susannah. In May 1856, Susannah's two sons, George and Joseph, wandered into the woods, got lost and were found dead. They became known as the "Lost Children of the Alleghenies." Allison Krauss sang a song about them called "Jacob's Dream."
One of my great-great-grandmothers was Louisa Folk. Louisa migrated from Hanover, Germany, in 1834 with her parents and eight siblings. By the time they got to the United States, both parents and two brothers were dead. She moved from place to place through her teenage years until she ended up with her older sister, her sister's husband and their three kids. Then her sister died, leaving Louisa without any siblings or parents. Louisa then married her ex-brother-in-law (Dr. Henry Folk), and they had three children of their own, one of whom was my great-great-grandmother Caroline Folk.
This is how Louisa Folk concluded her short, hand-written story of her life in 1896:
"When I think over my past life, I am constrained to say, surely the Lord has led me most wonderfully and kindly when I think back how nearly broken hearted I was sometimes about things that were denied me. I can now see they were withheld for my own good and now I am looking forward to my last rest, willing to take whatever my Father sees fit to send and find my happiness in doing all I can to make others happy and enjoy the happiness of my children."