The Tennessee Electric Cooperative Association celebrates its 75th year of service to co-ops and rural Tennessee
Electric cooperatives are based on a fairly simple concept: We can accomplish more working together than we can separately.
In the 1930s, rural communities worked together to form electric cooperatives. These co-ops provided power and light to rural and suburban Tennessee, services otherwise unavailable outside of the state's larger cities.
Ultimately, 23 rural electric cooperatives were formed across the state in the 1930s and '40s.
As rural Tennessee grew, so did its co-ops.
Quickly, these co-ops grew from small operations with one or two employees into large businesses with thousands of consumers. With size came complexity, regulations and legislative hurdles.
The electric cooperatives faced their first such challenge in 1940 when the state's Public Service Commission attempted to tax the new co-ops the same as for-profit institutions, a move that would have had serious impacts on rural electric consumers. Co-op leaders challenged this position by organizing a united effort to educate the commission on the unique structure of cooperatives.
In 1942, co-ops found themselves working together again as the effects of World War II made it difficult for them to acquire materials, personnel and even power.
When the decision was made in December of 1942 to create a permanent organization to coordinate efforts on a statewide level, it should be no surprise that establishing a cooperative would be the logical solution.
Floyd Jones, an early co-op leader, wrote, "The Tennessee Electric Cooperative Association was formed for the express purpose of taking unified action on various problems affecting rural electric cooperatives."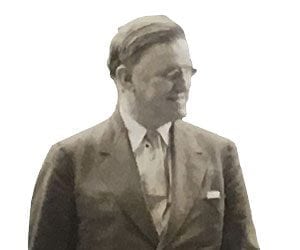 The association's early work focused on legislative and regulatory issues and on training co-op employees to do their jobs safely.
The work of the association expanded to include member education and communications in 1958 when John Stanford was hired as the first editor of The Tennessee Magazine. The first issue was mailed in September of that year.
Today, the mission of the Tennessee Electric Cooperative Association is to provide leadership, advocacy and support to unify and empower the state's consumer-owned electric co-ops. While government affairs, job training and safety and communications remain its primary duties, the Tennessee Electric Cooperative Association's work also includes coordinating disaster response and preparing the next generation of rural leaders through our youth programs.
Currently, the association is leading a determined fight to expand another critical service — broadband — past city limits into the state's unserved areas.
"The leaders who formed our co-ops and this association were visionaries," says David Callis, executive vice president and general manager of the Tennessee Electric Cooperative Association. "We stand on the shoulders of giants, and their accomplishments merit our gratitude and celebration. We must also use this time of commemoration as an opportunity to refine our focus and prepare the association and our co-ops to meet the challenges we face today and those we will face tomorrow."
Many things have changed in the last 75 years. Enhancements in healthcare, communications, technology and transportation would make the world we live in almost unrecognizable to even the most progressive leaders of the 1940s.
Despite these changes, some things still ring true: There is value in working together for a common purpose, and we best serve our co-ops, communities and member-owners when we're unified.
The Legacy of Dr. K.T. Hutchinson
Dr. K.T. Hutchinson taught agriculture at a state college that later became Middle Tennessee State University. In the 1930s, he began helping local farmers organize an electric cooperative. At that time, the Tennessee Electric Power Company, a for-profit utility, had tremendous influence over the appointment of teachers at the college.
Dr. Hutchinson received a letter from the power company instructing him to cease his efforts to form an electric cooperative or the utility would "build a fire under him." Hutchinson told them to go ahead when their "wood got dry," and he was dismissed from the college a short time later.
Hutchinson was instrumental in the formation of Middle Tennessee Electric Membership Corporation and the Tennessee Electric Cooperative Association, serving as the statewide association's first manager. He went on to serve in the state legislature and as assistant secretary of the U. S. Department of Agriculture.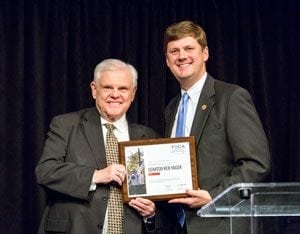 The history of co-ops tells the stories of individuals who were willing to take risks to improve their communities. In honor of Dr. Hutchinson's legacy, the Tennessee Electric Cooperative Association awarded the first Dr. K.T. Hutchinson Award in November to State Sen. Ken Yager of Kingston for his work on behalf of co-ops and rural Tennessee. Above, he accepts the award from Mike Knotts, Tennessee Electric Cooperative Association vice president of government affairs.