Somewhere along the path to modern American landscapes, gardeners got the idea that flowers are pretty and edible plants are not, so no respectable gardener should ever mix the two.
"Ugly" vegetable plants not only got segregated to the vegetable garden but relegated to back corners as far away from view as possible. Then, when busy generations found it easier to just buy produce at the grocery store, vegetable gardens often disappeared altogether.
Lately, though, edible gardening is making a comeback. Fueled by new interest in fresh, nonsprayed produce, homegrown vegetables are chic again. And they're being grown in pots, fabric bags and even straw bales as well as in the ground.
A new twist is rethinking the whole concept of a "vegetable garden" and instead tucking edibles into the existing landscape.
---
Better-looking veggie gardens
Option 1 is keeping the edibles together but dressing them up in a more ornamental way. Think "kitchen garden," a style that includes all sorts of usable plants — herbs, cut flowers, edible flowers and berries as well as vegetables.
Rather than plant in long, singular rows that harken back to farming, an alternative is planting in mix-and-match blocks in wider rows and raised beds. This style makes better use of space, is easier to tend and ensures that soil is loose and well drained.
It also makes it easier to arrange plants by how they look together — just as in flower gardening.
For example, rather planting a row of cabbage next to a row of lettuce, why not inter-plant the two? The ruffled form of leaf lettuce pairs nicely with the rounded form of cabbage. And if you use colorful versions of those plants such as red lettuce and purple cabbage, the combination is even more striking.
When you think about it, edible plants have ornamental characteristics, too. Carrots have frilly foliage. Kale has corrugated, colorful leaves. Hot peppers have fruits that ripen in all sorts of bright colors and shapes. And rhubarb has both red stems and huge, tropical-looking foliage that's impressive enough to make a garden centerpiece.
Pairing small combos by looks also makes it harder for pest bugs and animals to beat you to the harvest since it's easier for them to zero in on masses planted in one spot.
A downside to "landscaping" with edibles is that you'll have regular holes in the design as you pick crops to eat. The solution is "succession planting," meaning that as soon as one crop is harvested, another one is planted to take its place.
Even in colder climates, it's possible to change out a space with two or three different edibles in one season. Radishes, for example, could lead off an area in early spring, then beans could take their place in summer, then lettuce could follow the beans for a fall harvest.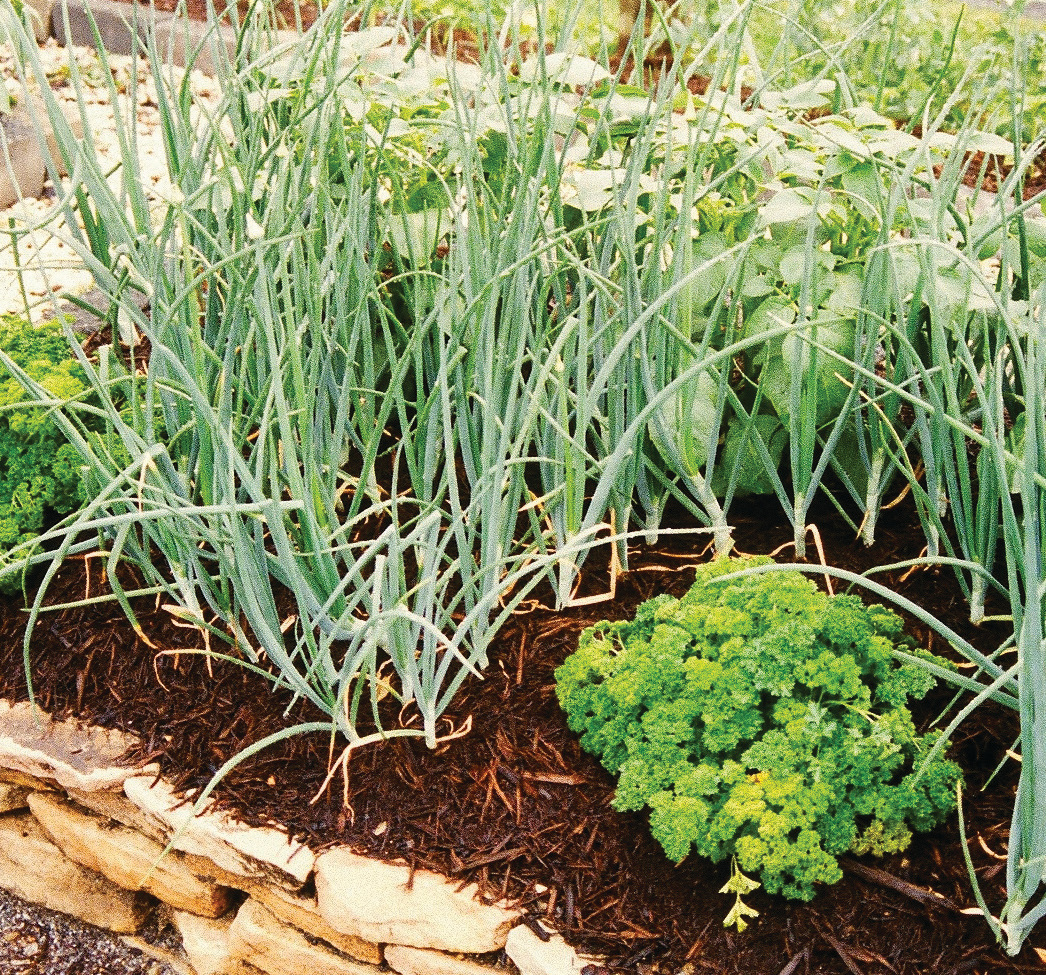 Tuck a few annual flowers into edible plantings to give extra color and season-long interest. Some of the best are ones that can be direct-seeded into the garden such as marigolds, dwarf zinnias, cosmos and sunflowers.
---
Three more ways to dress up an edible garden:
Go with a geometric pattern.
Vegetable gardens don't have to be rectangles. They can be built in more interesting circles or in picket-fenced collections of blocks of varying sizes or, as early German settlers liked to do, in foursquare layouts with a centerpiece bed in the middle.
Add hardscaping.
Define the garden with permanent features such as stone paths between the beds, walls or fencing around the perimeter and maybe a vine-covered arbor at the entrance.
Add accessories and focal points.
Instead of plain wooden tomato stakes and utilitarian vine netting, switch to more ornamental trellises or build attractive bamboo teepees. Finish the garden with an eye-grabbing object or two such as a statue, bird feeder or favorite antique.
---
Edible landscaping
If you can't or don't want to dig up space for a dedicated edible garden, look for places in existing beds to sneak in a few favorite herbs and vegetables.
There's no law (other than in some communities with homeowners associations) that says you can't grow sage in the front yard or strawberries along a sunny property line.
Edibles with the most ornamental value make sense in landscape settings. Select edibles based on how their ornamental traits match existing neighbors.
Chives, for example, make a good edging plant in front of evergreens with their short, spiky leaves and pink, ball-shaped spring flowers. Purple basil pairs nicely with pink shrub roses. And pepper plants fit seamlessly into a hot-colored perennial garden of black-eyed susans, mums and daylilies.
The same design principles that apply to flowers and shrubs apply to edibles… except you get to eat that basil and those peppers in the end.
Breeders have been developing more colorful, more durable and better-tasting edibles in recent years, so your choices are better than ever.
A side benefit is that the plants that add more color to edible plants are generally ones with higher levels of antioxidants and nutrition.
It's all good reason to give new meaning to the term "tasteful garden."