Dear Connie Sue,
Would you know anything about the attached glasses and vase? They were a wedding gift to a relative sometime around 1898.
— Sue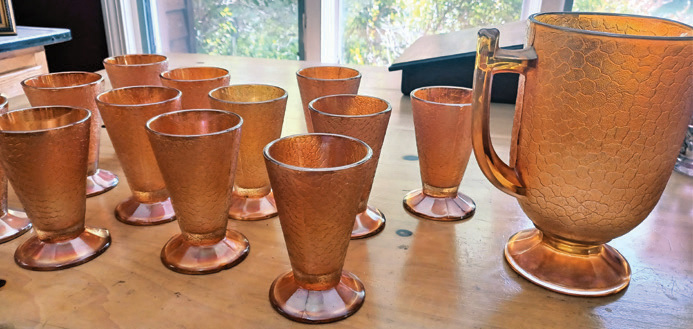 Dear Sue,
The iridescent gold of your beverage set is described as carnival glass. It was made in Jeannette, Pennsylvania, around 1929. Named for the city in which it was made, Jeanette Glass Company commenced production in a refitted glass bottle factory in the early 1920s. Your family pitcher and 12 goblets sell in the $80 to $110 range.
---
Dear Connie Sue,
I inherited this bowl from my grandmother many years ago. Can you give me some idea of its value?
— Judy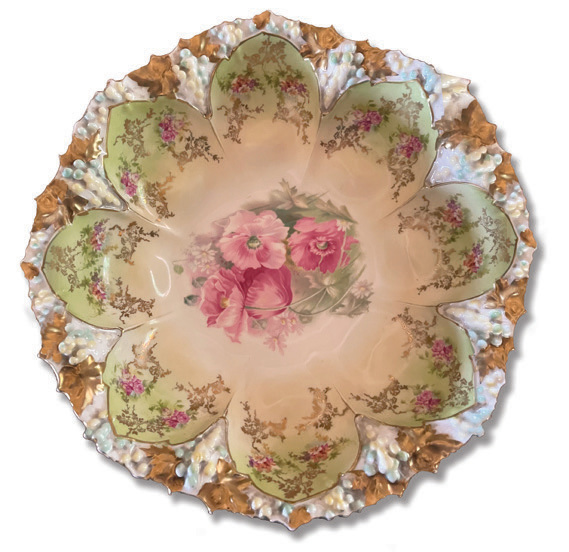 Dear Judy,
Your red star RS Prussia bowl was made between 1870 and 1918. At auction, similar bowls are selling for $70 to $160. The intricacy of the form with eight lobes, raised berries and gold leaves sets it apart from other pretty bowls with flowers.
The highest prices for red star RS Prussian bowls are realized bowls with figures or nature scenes. A nicely formed bowl with pretty ladies or a deer the woods can sell for well over $1,000.
---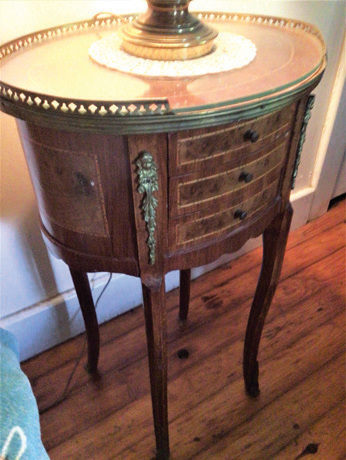 Dear Connie Sue,
My sister bought this table for me as a Christ-mas gift in 1996. She found it at an antiques store and knew I'd love it. It has a decorative veneer, but I know nothing about it. Can you help?
— Ginger
Dear Ginger,
Similar tables sell for $175 to $350. It is French, Louis XV style with inlay on the top, sides, drawers and legs. The additional metal gallery and applied caryatids (the busts of pretty ladies) flanking the drawers are a nice touch. I like the all-around apron with a bit of a scallop.
Before 2000, these little tables were sold by the container load from Europe. They are treasured and still in use. Value has been about the same for decades.
---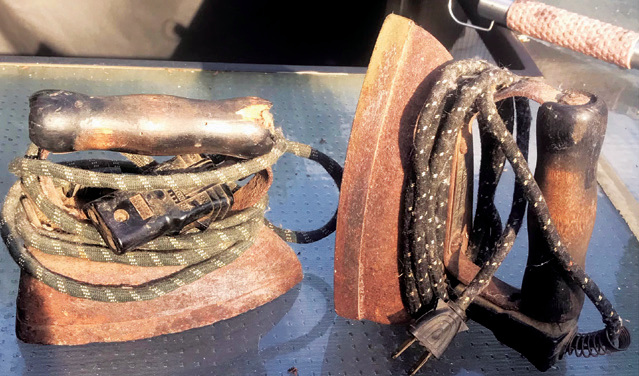 Dear Connie Sue,
Here are two old irons I found in a house that was to be torn down.
— Kevin
Dear Kevin,
They are, indeed, two old irons. Shiny, restored and working irons of this era sell for $8 to $29.
---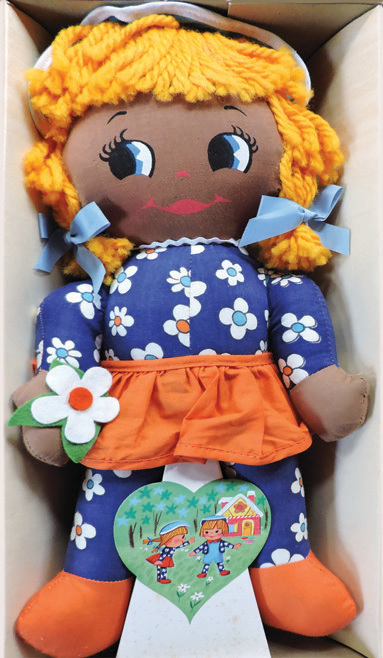 Dear Connie Sue,
We received an Amsco Raggi Gretel Doll still in the original box from my grandmother but have not been able to locate any information about it. The box had an item number of 2101 originally, but a sticker was added over that with a new number 4005. I can find information about the Caucasian doll but nothing about a Black version. The cloth was definitely dyed before construction. Can you help?
— Dana
Dear Dana,
Like you, I was unable to find a dark-skin Amsco doll for sale or that had sold. Mint-in-box (MIB) light-skin dolls are offered at $60 and sell for half that. In 1969, when the doll was produced at Hatboro, Pennsylvania, dark-skin dolls were rare.
D. Dudley Bloom was at the helm of Amsco Toys in Hatboro when the company created dolls and play sets to encourage life skills. Searching for your doll, I ran across a MIB play set for washing cars. It sold for $175.
I know you seek value, and I think your doll should sell at the top of the range — more than $50 — but I cannot offer confirmation.