Linda from Cedar Hill is curious about three items:
The Fiestaware was her grandmother's, and Linda has several odd pieces. It is from the '50s or a later date. Is it of any value?
The Corky Pig — Hull 1957 has the original cork and ring. Linda believes its value could be up to $200.
This gloved-hand pin is mother-of-pearl. Linda says she's never found anyone who has ever seen anything like it. This also belonged to her German grandmother.
Dear Linda,
Your grandmother's colorful cup, saucer and covered sugar bowl were made by the Homer Laughlin China Company of East Liverpool, Ohio. The pattern, Harlequin, was introduced in 1938, produced into the 1950s and sold from Woolworth's. The covered sugar bowl might bring $12, the cup and saucer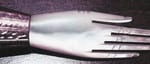 about the same. It was made in other colors, and it's popular to mix and match them.
Hull Pottery's Corky Pigs were made from 1957 to 1985 in various colors. Your brown pig sells for around $30. Pigs with rings around the tail are called bull's eye pigs and sell for closer to $100. A Corky Pig with a bull's eye on his back end may have sold for $200 at one time, but that party is over.
The mother-of-pearl hand pin was made in the late 1800s. The gesture may represent "come along" or "I'm here to help." Symbolism was pervasive in the Victorian era. It enabled shy people to express themselves — and provided plenty of room to be misinterpreted, I should think.
---
Dear Connie,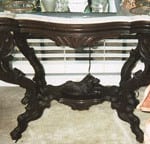 I bought this table about 50 years ago from an older friend in Orlando, Fla. The marble top has been broken in two pieces and repaired. The dog on the bottom looks to be carved in the wooden base. The legs are in great shape. How much is it worth? I'm 88 years old and plan to give it to my daughter soon.
Becky,
Orlando
Dear Becky,
This marble turtle-top lamp table with a dog on the base was made within the Rococo and Naturalistic American Victorian period, in the third quarter of the 19th century. It has the original porcelain casters. Although the power of steam was available to rough out the legs and apron, hand-carving was used to "fluff" the fur on the dog lying at the base. Before 2008, similar tables sold for nearly $1,000. Now they are selling at estate auctions for half that. The broken marble top will take an additional hundred or so from the value.
---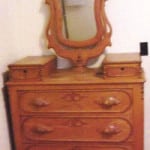 Gregory from Rutledge wants to know how much his cherry hanging cupboard, walnut dresser with wishbone mirror and three-drawer walnut chest are worth.
Dear Gregory,
All pieces were made around 1880. Each of them sells currently in antique malls in the $425 to $485 range.
---
Want to learn more about your antiques?
Send your inquiry with photos to the mailing address or email below. Only published appraisals are free. Private appraisals are available for a fee. Call 615-672-1992 for an appointment. No appraisals are given over the phone.
Connie Sue Davenport, P.O. Box 343
White House, TN 37188
615-672-1992 • email: [email protected]
Connie Sue Davenport, ISA AM, offers antique appraisal events, private appraisals and estate sale consulting services to individuals, businesses and organizations. Sign up for "IT'S JUST STUFF," her FREE quarterly newsletter at: www.ConnieSue.com.