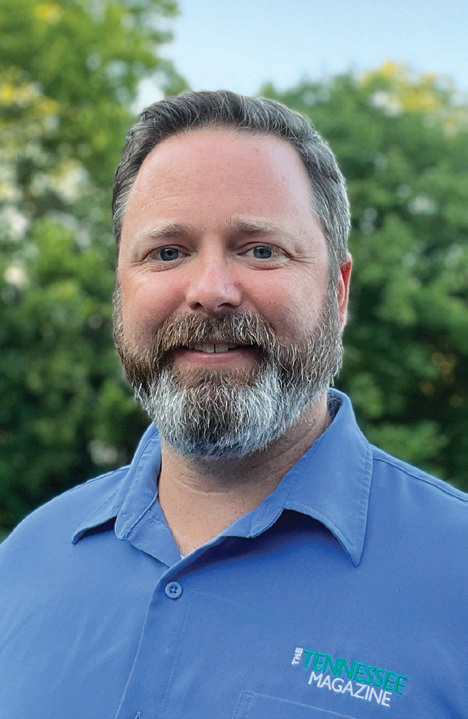 You won't see my face permanently placed on this page usually reserved for David Callis' viewpont. No, I'm just crashing here this month as I move into my new digs as editor of The Tennessee Magazine.
I joined the staff fresh out of the University of Tennessee, Knoxville, in May 2005 as field editor, and I was most recently associate editor. Along the way, it has been my pleasure to celebrate this most special place we get to call home.
Among the people I've been privileged to meet are small-business owners, park rangers, museum curators, historians and veterans — simply, some of the finest folks with whom a man can sit and swap stories. I've become more familiar with the electric utility industry, wondered at the complexity of the distribution grid and scoured storm-ravaged areas to track down tough-as-nails linemen who traveled hundreds of miles to work dawn to dusk replacing destroyed poles and lines.
I step into an immense void left with the retirement of Robin Conover under whose leadership the magazine grew — in circulation and page count — so we can more completely tell the stories of rural and suburban Tennessee. Her award-winning photography and storytelling have delighted readers for more than 30 years, and I'm honored to call her a friend and mentor.
But this isn't a farewell to Robin. I wouldn't be fit for duty were I to let her ride off into the sunset (camera and tripod slung over her shoulders). She'll get to focus on special projects for the magazine and our family of electric cooperatives, and her monthly Point of View column will remain so readers can still get glimpses through her viewfinder.
Another mentor who deserves recognition is my dad, Jerry Kirk. You might remember him as editor of The Cooperator, member publication of Tennessee Farmers Cooperative. Dad also served a stint as editor of The Tennessee Magazine back in the late 1980s before his love of our state's agricultural heritage drew him back to The Cooperator. I'm mostly joking when I tell people I've been working in the family business, but I can't begin to express how proud I am to be following in his footsteps. I vividly remember getting ready for school one morning years ago and thinking, "Man, Dad has a really cool job," as I reflected on all the interesting things he'd done. And I got to confirm that thought myself.
If anyone is wondering, Dad is still in the game, so to speak, helping us edit The Tennessee Magazine each month.
Don't expect major changes to your next editions of this magazine. As far as I'm concerned, I step into this new role as a steward of the quality, informational, entertaining publication that for 65 years has been telling the stories of Tennessee's electric cooperatives and the communities they serve. Though The Tennessee Magazine is the state's most widely circulated monthly periodical, we'll always be that friendly magazine from the electric co-op. You'll still get plenty of recipes, history lessons, personal profiles and impactful electric industry news — and, of course, we'll keep hiding the flag.