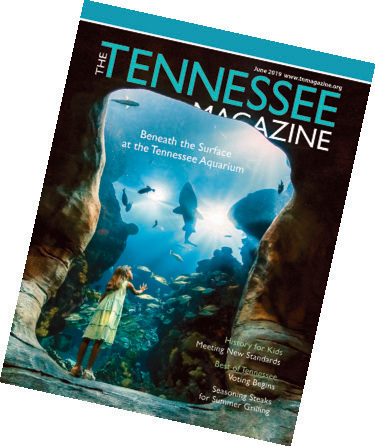 Subscriptions
I lived in Tennessee for more than 20 years but am now back in my home state of Louisiana. Tennessee will always be home to me. I really miss The Tennessee Magazine. I saved a lot of mine from when I lived there. Is there any way I can buy a subscription to your wonderful magazine? It would bring me so much joy. I still have family there, but they don't want to part with their issues.
Sincerely, Dottie J. Jackson, Mer Rouge, Louisiana
Editor's note:
The Tennessee Magazine subscriptions are available to people who are not members of electric cooperatives. The cost is $15 for one year or $30 for three years. Please check our website and choose a subscription at www.tnmagazine.org/shop.
---
Ermco
Thank you, Ermco, for providing jobs and taking such good care of your employees. Great story.
Claudia Belden
Smyrna, Middle Tennessee EMC
---
Secret City
I greatly enjoyed your World War II article about the Secret City in your latest issue! I would love to see more insightful, historical articles in future publications!
I also loved the article about the Milsap family. It was very warm, and it touched my heart.
Thank you.
Kelsey Toledo
Sewanee, Duck River EMC
---
Poetry
I was trying to find the link for the poetry contests but could not locate it. Have you stopped this contest? Please let me know. If you have stopped it, is there a chance that it could be brought back again?
Thank you.
Jackie Houk
Murfreesboro, Middle Tennessee EMC
Editor's note: The poetry contest runs every month in the magazine. Go to our website, www.tnmagazine.org, and click on the "Contests" tab.
---
Shutterbug
I just was wondering what the contest is for May for photography.
Thank you.
Kelly Orose
New Market, Appalachian EC
Editor's note: We only publish Shutterbug Photography Contests twice a year. The announcement for the next contest, themed "Golden Hour," in on page 35 of this magazine. The online entry form will be available June 1 under the "Contests" tab at tnmagazine.org. You can also find the past winners at tnmagazine.org/?s=shutterbug.
---
Mother's Day
Hi, Robin and Chris,
I am contacting you today to make a complaint about your May 2019 edition of The Tennessee Magazine.
I was appalled to read the blatantly sexist article titled "Treat Mom to a chore-free day." In a society trying to break through the constraints of gender norms and their consequences, why would you think this is acceptable for publication? Mothers — and all women in general — are not responsible for cleaning up after their families. A woman does not bear that responsibility solely because she is a female. Maybe this was true many years ago — during a time when marital rape was legal, women were viewed as property and didn't have the right to vote.
Why are you implementing the outdated and inherently wrong mindset that it is only the women who are responsible for keeping the entire home clean? Would you ever consider titling a Father's Day article the same way? Clearly not.
Women deal with sexism on a daily basis, and it is beyond frustrating. You have undoubtedly upset hundreds — if not thousands — of women by publishing this article and sending it to all the homes that subscribe to your magazine. I hope to see a public apology published in your next edition, or you will lose my family's business.
Regards,
Margaret Nagai, Virginia
Editor's note:
Hello, Dr. Nagai,
As a female editor in the South, I understand the points you made in your letter to the editors. I believe we would, in fact, run an article under the headline "Treat Dad to a chore-free day."
When I read the article, I took it from the point of view that everyone has chores at home, and any break from those chores is a welcome event. Where we may have fallen short is to not include traditionally male-dominated "outside" tasks like mowing the lawn or washing the car in our suggestions of how to help Mom enjoy a chore-free day. We shouldn't have singled out only in side chores, traditionally dominated by women.
At my house, I may do any or all of the above chores during the course of the week — not because certain things are assigned to me as a female but because they all need to be done by someone in the household.
The article wasn't meant to assign inside chores to only mothers. The intent was to say, "Give your mom a break on Mother's Day."
Thank you for writing to us with your concerns.