Scopes Trial
It didn't take long for my wife and me to really appreciate this community when we moved here last fall. The Tennessee Magazine has been an additional unexpected treat. Bill Carey's article on the Scopes Trial in the August 2019 issue was especially interesting. I expected more "Inherit the Wind"/Clarence Darrow hagiography but found, instead, a thoughtful piece that dared to look at some serious issues attached to what has become society's current understanding of the basic nature and responsibilities of its citizens. Discussions of the fundamental questions about the source of human dignity and the measures we can legitimately take to improve human life should not be so hard to find! Bravo for your reminder.
— Allan Crowson, Cumberland EMC
Lake Life
I enjoyed your Lake Life article in this month's issue of The Tennessee Magazine. In it you stated Tennessee has 30 "large reservoir" lakes. I live in the Rock Island State Park area between Nashville and Knoxville, and we have the Great Falls Dam with three rivers forming the Great Falls Lake, one of the oldest dams, reservoir/lakes and resorts in Tennessee. It may not be as large as the other 30 but every bit as enjoyable. Come visit us sometime.
— J. Carrillo
Editor's response: We received a few readers' comments about our Lake Life article stating that the only naturally formed lake in Tennessee is Reelfoot Lake. While this is the general perception in Tennessee, we could have defined it more clearly as the only natural lake of 15,000 acres or more.
Missing magazine
I have not been receiving my magazine for years now, and I noticed it is free to members of an electric co-op. Can I start receiving my issue at home?
— Dawn Olson, Cumberland EMC
Editor's response:
The Tennessee Magazine is available to members of Tennessee's electric cooperatives as part of the membership fee. Occasionally addresses are accidentally left off the magazine list. You can contact your local office to make sure the address is correct.
If you are not a member of an electric cooperative, you can still become a subscriber. The cost is $15 for one year or $30 for three years. Please see the form on page 41 or check our website and choose a subscription at tnmagazine.org/shop.

---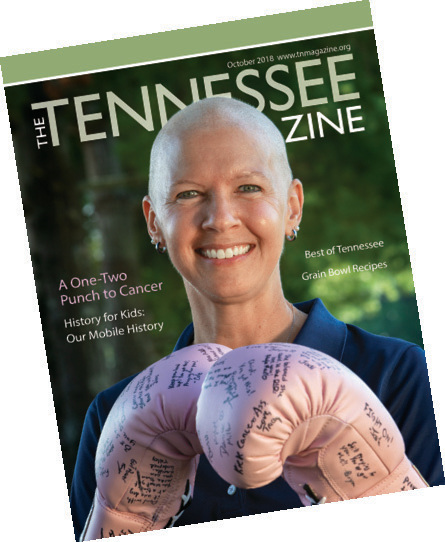 The Tennessee Magazine staff receive awards
Earlier this year, the communications staff of the Tennessee Electric Cooperative Association received awards from the Cooperative Communicators Association and Statewide Editors Association. The staff is honored to be recognized for its hard work in telling the story of Tennessee. Visit our website, tnmagazine.org, to see a portfolio of our award-winning projects.
CCA 2019 Communications Contest Awards
Robin Conover, First Place
Portrait
Photo Essay or Story
Photo Illustration
Scenic Pictorial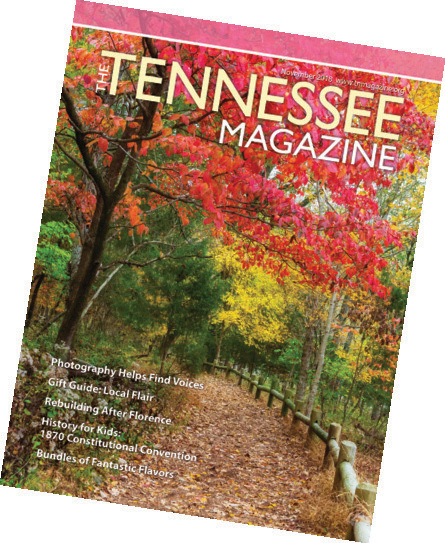 Robin Conover, Second Place
Photo Illustration for "Smart Phone"
Robin Conover, Third Place
Scenic Pictorial
Ron Bell, First Place and Honorable Mention
Writing Headline Writing
Robin Conover, Honorable Mention
Column
Trent Scott, Second Place
Print Advertisement
Trent Scott, First Place
Apps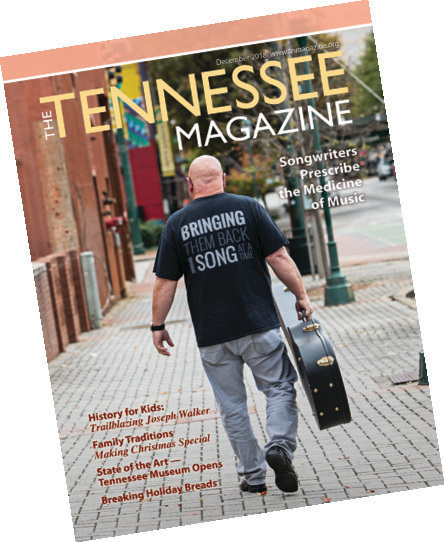 Statewide Editors Association Awards
Trent Scott, Award of Merit
Feature Communicating a Cooperative Principle or a Touchstone Energy Core Value for "Answering the Call" in The Tennessee Magazine
Trent Scott, Award of Excellence
Digital Communication for tnmagazine.org
Robin Conover and Ron Bell, Award of Excellence
Best Illustration for "Ancient Grains"
Ron Bell, Chris Kirk and Robin Conover, Award of Merit
Magazine Design for The Tennessee Magazine