Past poetry
I enjoy perusing through the "50 Years Ago" issues sometimes. How far back do your archives go? My mother submitted a poem I wrote called "The Bug Eyed Fish" by Judi Knight, and I vaguely recall it being published. When did you start having the "Poets Playground" feature? And since I am now 68, I may have it confused. Maybe it was published in our little hometown newspaper, Portland Leader.
Just wondering. Thanks!
— Judith Hartbarger, Middle Tennessee Electric
Editor's response:
"Poet's Playground" has been a regular monthly department in The Tennessee Magazine since 2015. The magazine did also stage poetry contests before that, but they were infrequent and did not follow a specific schedule. To see if your poem was a winner of one of these contests, we'll need to conduct more detailed research because not all of our archives are digitized and searchable. The Tennessee Magazine was first published in September 1958.
---
History lessons
As a transplant from Wisconsin to West Tennessee more than 15 years ago, I always enjoy reading about the history of Tennessee in the magazine. The articles are always well written and researched. I have to note, however, that the recent (July 2022) "History Lesson" about the first steamboats to arrive in Tennessee had an error in the very first paragraph. Not every river beyond the Appalachian Mountains "flowed west and south to the Gulf of Mexico." In fact, many northern states of the U.S. have rivers that flow northward, ultimately feeding into the Pacific or Atlantic oceans. Among them are Bighorn River in Wyoming and Montana, Red River in Minnesota and North Dakota, Fox River in Wisconsin, Illinois River in Illinois and Saginaw River in Michigan, to name only some.
— Mark Dodge, Southwest Tennessee EMC
---
More copies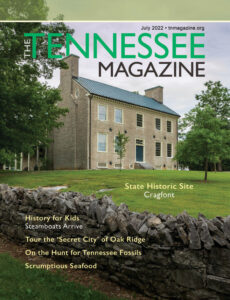 My family and I were wondering how we could go about getting more copies of this last issue. It has a lot of historical places that I grew up going to, and I would like to be able to share with some of my family out of state if possible. Thank you
— Jennifer Jones, Middle Tennessee Electric
Editor's response
Please contact your local electric cooperative for additional printed versions of the magazine. You can also find all of our content plus a few web extras at tnmagazine.org.
---
Subscriptions
I received your magazine for years, but recently I no longer receive it. Can you let me know how to continue to receive The Tennessee Magazine?
— James Combs, Gibson EMC
Is there a printed magazine subscription available?
Thank you.
— Brian Kelso, Irvine, California
Editor's response:
The Tennessee Magazine is distributed through Tennessee's electric cooperatives. The publication schedule varies by co-op as to whether members receive it monthly, bimonthly or quarterly.
If you are a member of an electric cooperative and are not receiving the magazine, please check with your local cooperative office to get back on the mailing list. If you are not a member of an electric cooperative in Tennessee, you can purchase a one-year or three-year subscription. Please see page 35 or visit our shop at tnmagazine.org.
---
The Tennessee Magazine contact information:
For questions or concerns about specific departments, please contact staff members listed below. To enter Almanac events or our contests, including Poetry and Shutterbug, please do so via our website at tnmagazine.org.
Letters to the Editor
Robin Conover
[email protected]
615-515-5516
Almanac of Events
Chris Kirk
[email protected]
615-515-5528
Artist's Palette
Ron Bell
[email protected]
615-515-5535
Poetry
Laura Beth Laden
[email protected]
615-515-5525
Subscriptions and Orders
Laura Beth Laden
[email protected]
615-515-5525
Shutterbug Photography Contest
Robin Conover
[email protected]
615-515-5516