Noble Springs Dairy produces handcrafted goat milk products
For more than seven years, Dustin and Justyne Noble have been raising their herd of dairy goats in Franklin. Members of Middle Tennessee Electric Membership Corporation, they oversee a 233-acre farm and care for 150 to 170 goats that produce some 25,000 pounds of cheese a year — in addition to other products.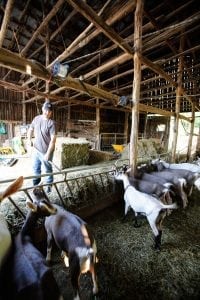 Though operations began in August 2009, the seeds for what was to become Noble Springs Dairy were sown years before. When Dustin and his older brother, Christian, were infants, a cow's milk allergy led their pediatrician to suggest goat's milk as an alternative.
"My parents couldn't find a source for the milk, so they ended up buying some goats themselves," Dustin says. "They kept the goats for six to eight months so they could freeze the milk for us to drink. I remember my parents saying for years how nice it was to have animals that would produce food for our family. I had a friend whose family had a dairy farm and another whose dad worked for Purity (Dairies). It was always interesting to me."
When he was about 9 years old, Dustin asked his parents to get some goats so he could experience that joy himself. He began showing the registered Saanen and Toggenburg dairy goats they purchased, traveling to fairs and shows all around the country. In fact, that's how he met his wife, Justyne.
Like Dustin, Justyne's experience with goats goes back to childhood. Growing up in a rural area near Kansas City, Kansas, she raised goats as her 4-H project.
In 2003, the couple met at the American Dairy Goat Association National Show in Des Moines, Iowa. After Dustin graduated from the University of Tennessee and Justyne from Middle Tennessee State University, they decided to find a way to set up a small dairy and creamery where they could process the milk their goats produced. Calvin and Marilyn Lehew, friends of Dustin's family, had put some of their property near Leiper's Fork in a Land Trust for Tennessee conservation easement and really wanted to see somebody use it as a farm as it had been in the past, Dustin says.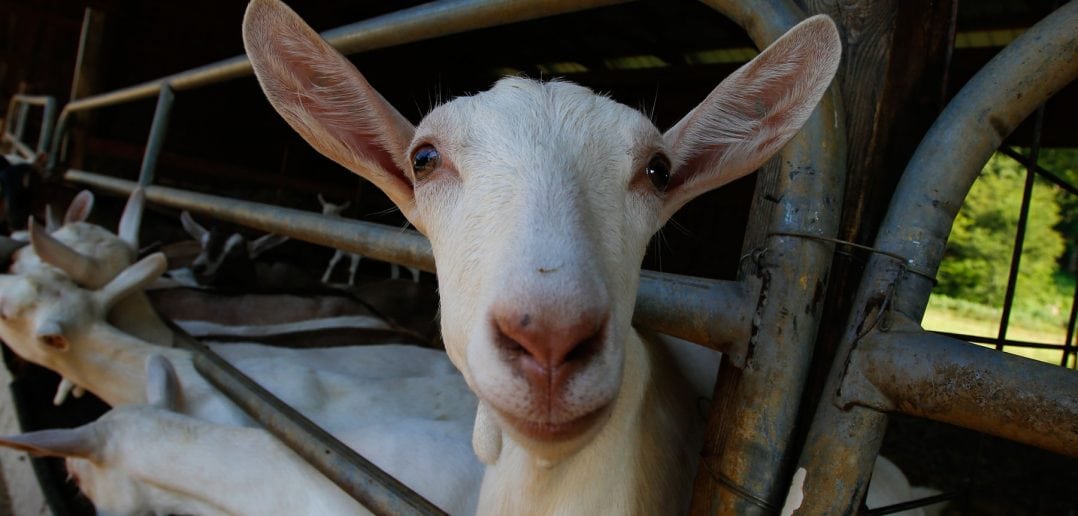 "So we struck a deal to use their property and in 2008 started construction on the buildings," he says. "We'd done research for years, and in the summer of 2009, we completed the dairy and creamery."
Today, Noble Springs Dairy produces a variety of products that are available in stores around Middle and East Tennessee, including Whole Foods and Kroger Marketplace locations. The cheeses also appear on menus at some of the area's most popular local-sourcing restaurants, including popular Nashville spots Pinewood Social, Burger Up and Fido. The Nobles themselves are regulars at farmers markets where they're able to meet with consumers eager to learn where their food comes from.
"Our mainstay product is chevre, a soft goat cheese similar to cream cheese but lower in fat and cholesterol," says Dustin. "We also make feta, which is similar to traditional Greek feta that's made with sheep and goat's milk. Most of what's in stores is made from cow's milk, so ours is more similar to what you'd find in Europe."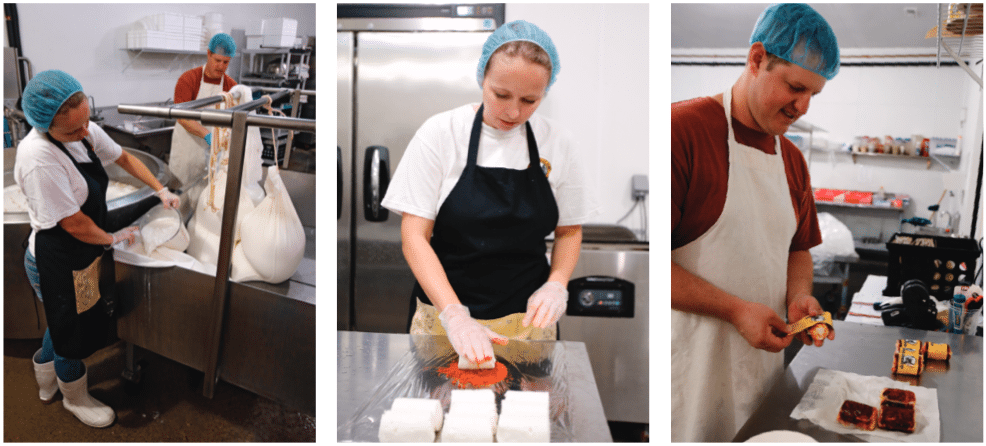 The Nobles also offer aged cheeses and variations of the chevre — from plain, which is lightly salted, to spiced versions like garlic and herb, one of their most popular. There's also pimiento and a mixture named Busy Bee, which includes cranberries and honey.
"A new product a lot of people like is what we call Nashville Hot Chevre," Dustin says. "It's our cheese rolled in a hot chicken spice blend we made up. It's a little spicy, a little sweet, but it's tasty."
Rounding out the product lineup are goat milk and drinkable yogurt, which is like milk with active cultures. And a new venture for the enterprising couple is goat milk soaps with scents like lemongrass, spearmint and lavender.
"Tours of our operation have been popular for the last few years," says Dustin, "On our website, we have a page where you can sign up for farm tours. We usually have two or three regularly scheduled tours each month, and we also offer private tours for groups of 15 or more."
For $12 a person ($10 if paid in advance), guests take a trip around the farm, seeing all the animals: horses, chickens and, of course, goats. Visitors learn the purposes of the different animals and get to pet the horses and goats. Then they see where the goats are milked, learn about the cheese-making process and see where the Nobles make their cheeses. Tours end with cheese-tastings and opportunities to buy products. Visit noble-springs.com to see the dates and reserve your spots.
Those wishing to stay up-to-date with the farm can follow the dairy's Facebook and Instagram accounts, regularly updated by Justyne, who's putting her mass communications degree and marketing minor to work with social media.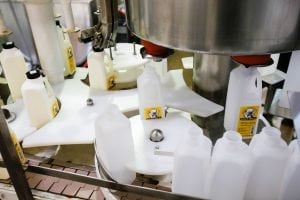 "It's been a great way for us to market our products and for people to learn about what we do," Dustin says. "They can scroll through our timeline and see what we've posted, learn about new products or when baby goats are being born and see what's going on at the farm."
As their operation has grown, the Nobles have been able to hire some help for the day-to-day tasks. But they've made sure they are the ones responsible for ensuring their animals' well-being and making their products.
"Justyne and I do all of the management of the animals ourselves — whether its hoof-trimming or kid birthing and rearing," Dustin says. "We have some help with milking and packaging and things like that, but we always wanted to make sure we had a hand in all the sensitive parts like animal health and making quality food products. We always want to make sure we're taking really good care to put out a good product and keep the animals healthy. We feel that makes a difference in the quality of our products."
---
For more information on Noble Springs Dairy, including a list of stores and restaurants carrying the farm's products, visit noble-springs.com, where you can also reserve spots on farm tours and place orders to be shipped. And follow Noble Springs Dairy on Facebook and Instagram to see what's happening on the farm, learn about new products and receive other updates.