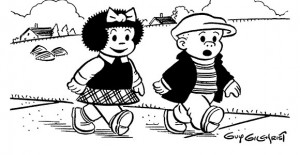 "I consider myself a writer first," says Guy Gilchrist, the "Nancy" comic strip author and cartoonist who has created 56 books and counting. "I'm a writer who hires the cheapest illustrator he can find — me."
If you think the Tennessee-based Gilchrist is a one-dimensional "guy" who spends all his time drawing the internationally beloved "Nancy" comic strip, you're wrong. Among his countless art and writing projects, he is also a songwriter and musician who frequents Nashville music venues in his signature cowboy hat and manicured beard. Combining his love of music and art, he hand-paints guitars that are auctioned off for charity around the world. Before his tenure as Nancy's image handler, he was the cartoonist and writer for the long-running "Muppets" comic strip and books, working with the late Jim Henson on the creation and tone of the projects.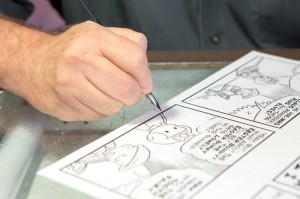 "I really enjoyed those days working on 'The Muppets,'" recalls Gilchrist. "Jim was a really nice man — a genius — and his company was full of great, creative people. I still get a lot of emails and correspondence about my time there. And I still do guitars and commissions with the Muppet characters. Folks really respond to them."
Originally from Connecticut and having lived and worked all over, Gilchrist has called Tennessee home since the '90s.
"I love Tennessee," he says. "It's why I've stayed here so long. In my business — with email and being able to upload everything digitally — I can live anywhere. I chose Tennessee. This is home."
Among his many book projects is the popular "Tiny Dinos" series, illustrated books for young readers that deal with issues such as growing up, sharing and dealing with shyness. A quick search of Gilchrist's name on any book distributor's website will produce most, if not all, of his work. His older, out-of-print titles are quite collectible, with the price tags to prove it.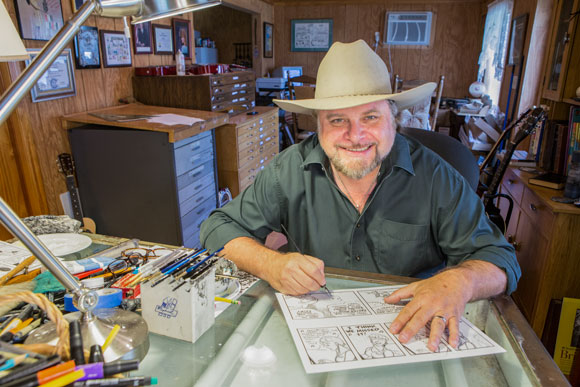 "Books like these have to be fun because we're targeting kids," says Gilchrist. "But as a writer, it's important to teach something, to give the reader something solid to take away. Otherwise, it's just a temporary experience, not as fulfilling for the reader — or for me. I have to entertain myself first. And if I enjoy the story, chances are pretty good others will, too."
Nancy was first created in 1933 by cartoonist Ernie Bushmiller. She was an orphan who appeared on the doorstep of her young, single Aunt Fritzi. Nancy and childhood chum Sluggo grew so much in popularity that Bushmiller moved them to the forefront, and Fritzi became more of a supportive character over the years.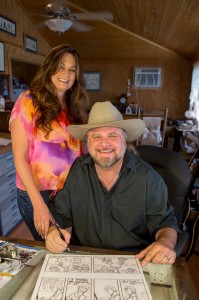 With Bushmiller's death in 1982, the strip changed hands — and styles — under the direction of three different cartoonists, until Gilchrist took over in 1990 and returned Nancy to her classic form more in tune with Bushmiller's original creation.
"It was important for me to draw Nancy with the same clean strokes and classic style of Bushmiller," recalls Gilchrist. "I felt she had been taken too far away from her original appeal, not only in drawing style, but in the writing."
If Gilchrist has taken any liberties with the strip at all, some might say it's with the character of Fritzi. But Gilchrist explains, "I love music. I love classic country music and rockabilly. So I will take a little extra time and give her a Roy Orbison T-shirt or something like that. But if fans ever say I'm reinterpreting anything, I disagree. The original Fritzi was pretty hip and very progressive for her time. I'm very protective of these characters. I've lived with them for so long, they feel like real people to me."
As Gilchrist states so eloquently on his website, "Nancy and her friends live in a warm, comical, nostalgic, carefree world of love, laughter and music in the mythical town of Three Rocks, somewhere just down the road from here."
"The only thing that really matters to me anymore," says Gilchrist solemnly, "is to bring light into the world where there is so much darkness. I want to show people that we need to love each other and be a light in the darkness."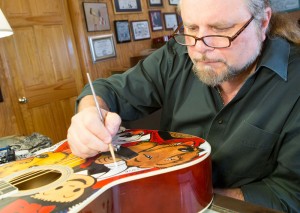 And therein lies the popularity of Nancy, this 80-year-old character who, despite this fast-paced, ever-changing world, remains a kid. And in a very real sense, Guy Gilchrist has done the same, living out his childhood dreams to draw, paint, tell stories and teach.
Here's to another 80 years — and then some.
Want More?
For all things Guy Gilchrist, go to the website www.nancyandsluggo.com. You will find upcoming events and appearances by the artist and author as well as historical and biographical information on Gilchrist, Nancy and all his other creations. The Tennessee-based headquarters of Nancy Entertainment LLC can be reached at 615-655-2022.