Lebanon's Fiddlers Grove a Delight for History Buffs
Lovers of history often wish they could literally walk through the past, observing yesteryear firsthand. That's why historic sites and living history demonstrations are such a delight and so important to preserve. One of Middle Tennessee's best attractions for fans of history is Fiddlers Grove Historical Village in Lebanon, a grouping of more than 50 buildings and exhibits dating from 1795 to 1950. Be sure you've got a couple of hours for your visit because you'll want to soak up the atmosphere, read all the historical plaques detailing the history of each building, chat with the volunteers and shop in the circa-1872 Stringtown General Store.
Your visit actually begins at the general store, where you pay the entrance fee and pick up maps and other printed materials about the village. From there, you can head off in any of several directions, but I suggest the shaded path following the ascending numbers on the map. This will bring you past 19th-century cabins, a smokehouse, drug store, one-room schoolhouse, sheriff's office and jail, doctor's office, the Three Forks Post Office, an 1800s bank that includes the original marble teller counter from a Watertown institution, printing office, granary and weaving house, blacksmith shed and broom factory, stables and several other structures.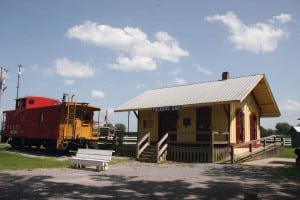 One of the most interesting stops is an early log structure that was relocated from a plantation owned by Judge Nathan Green, a professor of law at Lebanon's Cumberland University. It represents Sam Houston's law office, which was located near the Lebanon town square and where he practiced law for 10 months beginning in 1818. Houston would go on to become governor of Tennessee, president of the Republic of Texas, the state of Texas' first U.S. senator and later governor of Texas, making him the only person to ever be governor of two different states.
Perhaps the most peaceful spot and a nice stop where you can cool off from the summer heat is the Melrose Church. This 1883 little white house of worship with lovely stained glass windows was a Cumberland Presbyterian church until 1980. Today, it greets visitors and even hosts weddings, as do several other spots throughout Fiddlers Grove.
As you come off the central circle of buildings, head up the path that leads to Bay's Bread, a showcase of a midcentury kitchen belonging to the company that bakes bread exclusively for the Lebanon-based Cracker Barrel restaurant chain. You'll also come to the Wheeler School, where African-American children were taught during Reconstruction. Famous civil rights activist, sociologist and author W.E.B. DuBois taught in this school from 1886 to 1887. As you travel on, you'll see a 1940s-era barber shop, 1920s hardware store, McFarland Hospital, the A.C. Wharton Store that served Lebanon's black community for many decades, Clay's Service Station and many more buildings, even a representation of the Ligon & Bobo Funeral Home, which began serving the community in 1920.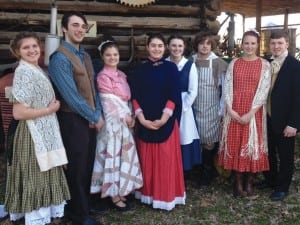 Railroad history is covered in another section of Fiddlers Grove. Included are a train museum complete with running model trains and railroad memorabilia, the Tuckers Gap Depot and caboose and the Tate's Crossing flag-waving station that served Mt. Juliet from 1870 until 1935.
Fiddlers Grove hosts many special events throughout the year, and Event Coordinator Gwen Scott is enthusiastic as she talks about plans for even more. Already this year, the site has hosted Christmas in July with area crafters and artisans such as crocheter Jeanie Such and basket-weaver Delane Kolb selling their wares, kids' camps during which young participants can take classes with artisans and the Honoring Our Veterans events that focused on World War II veterans this year and were, Scott says, "more fun than anything I've done."
Upcoming events include the award-winning Wilson County Fair Aug. 14-22 and Ghosts in the Grove Oct. 17. Regular events are also popular, including Fiddlers Grove Fridays during which costumed artisans are on hand to showcase their crafts. And if you like bluegrass music, don't miss the music, food, dancing and door prizes each second Saturday of the month. Plans are to launch a dinner theater later this year.
One of the things that really brings history to life at places like Fiddlers Grove is having costumed interpreters who inhabit the parts of historical characters. Fiddlers Grove is lucky to have occasional appearances by student actors from Smith County under the direction of now-retired drama teacher Bill Reece. These students have memorized scripts about various historical figures such as lawyer Sam Houston and are eager to talk with visitors about the people they are portraying.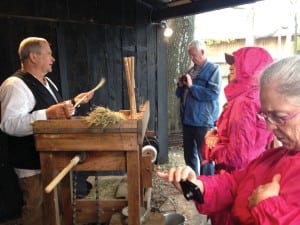 Terri Merryman, director of the Wilson County Convention and Visitors Bureau, wrote the script for the students and says they have done a "terrific job," particularly during a tour by a group of travel writers in the spring. Especially popular was when the writers got to the historic Melrose Church, where three girls sang a cappella hymns from the 1800s.
The student actors are not always at Fiddlers Grove but are rather "on-call." So if you plan to have a group tour, be sure to call well in advance to see if they will be available.
Volunteers are an important part of keeping Fiddlers Grove running and serving its purpose of preserving the history of Wilson County. One of those volunteers is Bill Schorndorf, a Vietnam veteran who served in the U.S. Marine Corps. He's happy to chat with visitors to the World War II Maneuvers Museum. Here you'll find everything from historical military uniforms to posters of Rosie the Riveter and displays detailing the atrocities perpetrated by the Nazis.
Nature-lovers will also find plenty to enjoy at Fiddlers Grove. Several different types of gardens, including butterfly, vegetable and herb gardens, are peppered around the grounds. More volunteers, including those from the Wilson County Master Gardeners, keep up these lovely additions to the site. As you walk through the grounds, you'll also notice that the various species of trees are identified with little plaques near them. Collectively, all these natural features make up the Baddour Parkway Arboretum and Gardens.
Getting to the Grove
Fiddlers Grove Historical Village is located on the grounds of the James E. Ward Agricultural Center, 945 E. Baddour Parkway, in Lebanon. Operating hours are 10 a.m.-4 p.m., Tuesday-Saturday, April-October. For more information or to book group tours or special events, call 615-443-2626 or visit fiddlersgrove.org online.