Photography has always challenged me to use both sides of my brain. The more analytic left side helps me figure out the technical aspects of making a correct exposure, capturing an image and then later processing it. The right side sees things differently. It may react to brilliant colors in a sunset, reflections on the water's surface or intricate patterns in tree bark — or, squirrel! Suffice it to say I get distracted by my right side all the time. I walk really slowly when I'm in the woods because so many things catch my eye.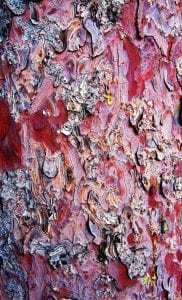 In many respects, nature is the true artist in my images. Photographers attempt to capture tiny slices of life around them that are actually laid out for all to see. My eyes just home in on pieces that not everyone sees.
Here is one such image I captured while on vacation. My dear friend, Dreama Miller, and I were hiking Bear Lake Trail in the Rocky Mountain National Park. We photographed several incredible vistas, elk, moose and bighorn sheep that day. But this is one of my favorite images from that trip.
It has taken decades, if not centuries, for the gnarly bark of this ponderosa pine to form these abstract patterns and colors. The light was fairly flat that day as clouds rolled in overhead. This presented a softbox effect that allowed me to capture the scene with very even light.
I could make it sound more complicated, I suppose, but I basically walked up and shot this image without a tremendous effort from the left side of my brain. Some of my best images are just a matter of taking time to see what's offered up each time I shoot.