Historic blowout in 1916 immortalized Cumberland University in trivia, spared the school from ruin and drew attention to Southern football
Next year, Cumberland University in Lebanon celebrates its 175th anniversary. The school boasts a rich tradition of academic excellence, famous alumni … and a 222-0 blowout loss at the hands of Georgia Tech 100 years ago this month. The most lopsided defeat in college football history, it is to many nothing more than a sports trivia oddity. But the game means everything to Cumberland University — and should to college football fans in the South.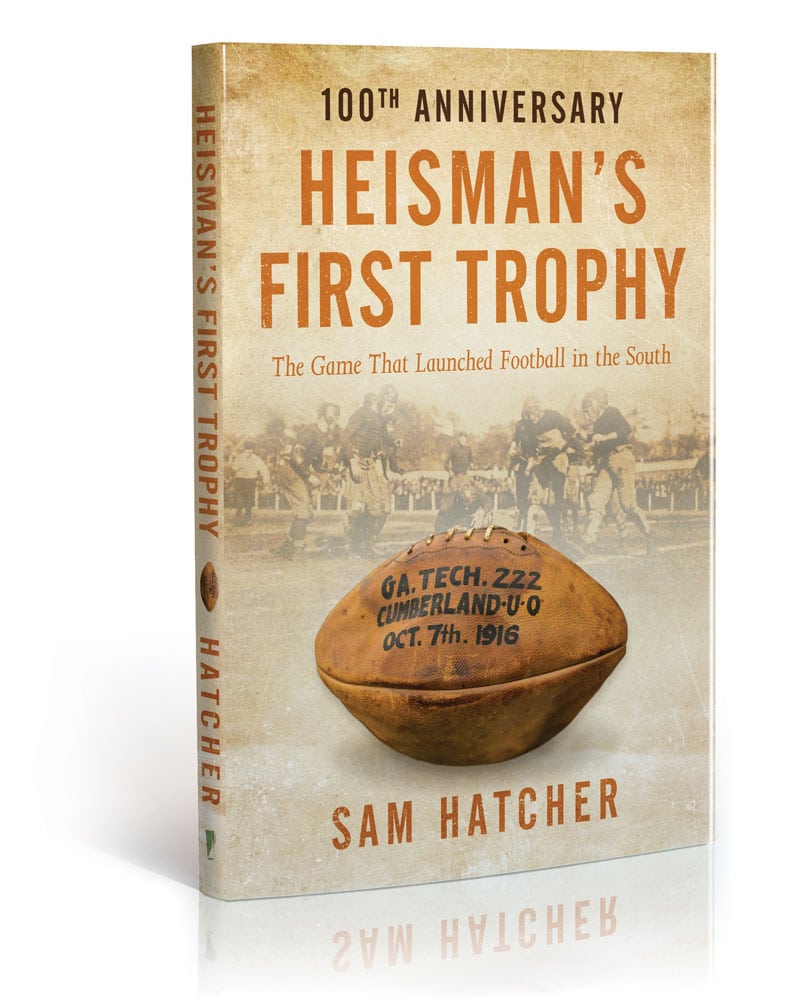 Sam Hatcher, a journalist, graduate of Cumberland University and longtime member of the school's board of trust, wrote "Heisman's First Trophy: The Game that Launched Football in the South" this year, commemorating the centennial of the record-setting game. The book describes the knack for showmanship by student manager George Allen — who would later become a close friend to President Dwight Eisenhower as well as three other presidents and also serve as secretary/treasurer of the National Democratic Party — and how that flair drew the ire of legendary Georgia Tech football and baseball coach John Heisman in 1916.
"Heisman actually had a nationally ranked baseball team that played Cumberland the spring before," says Hatcher. "George Allen went to Nashville and got semipro players who ended up beating Heisman's team 22-0. It was really embarrassing to Heisman, who figured it out during the game and pretty much swore that he would get revenge. A lot of this is documented in a history book written by Frank Burns, who was a historian for Cumberland."
With the university in financial trouble, its board decided to dissolve the football program before the 1916 season. But Heisman threatened to sue Cumberland for breach of contract if the school backed out of the game with Georgia Tech.
"What's interesting about that is that it would have amounted to about $70,000 in damages for breach of contract," says Hatcher. "That could have been a payroll they couldn't have made or could have bankrupted the school. Closure of the school wouldn't have been out of the question."
Hatcher says that Allen, as manager — a student whose job was similar to a modern-day athletic director who schedules games and makes travel arrangements — assembled a team of Kappa Sigma fraternity brothers to travel to Atlanta for their Oct. 7, 1916, drubbing. But in the lopsided result, a university was spared financial ruin, and teams in the South — which, at that time, definitely wasn't a traditional hotbed for football — received much-deserved attention.
"Because the game was created in the Northeast, most of the sportswriters really didn't give football in the South much credit," Hatcher says. "They graded all the teams basically on how many points they could score and how badly they could beat their opponents. So when Georgia Tech scored those 222 points against Cumberland, the sportswriters started looking at Southern football, and then Tech won the national championship the next year. If Tech hadn't beaten Cumberland as badly as they did, they probably wouldn't have won that national championship.
"In a way, all the teams in the South should be thankful the game was played. It opened the doors to football in the South."
"Heisman's First Trophy: The Game That Launched Football in the South" by Sam Hatcher is available at Amazon.com, Barnes and Noble, Books-A-Million and other places where books are sold.