The first time I met Abraham Lincoln was at a history festival in Nashville in 2005. In the years since, I have seen and spoken to him at dozens of events ranging from teacher training sessions to corporate mixers.
Perhaps I need to clarify. I'm not having hallucinations, nor am I talking about the actual President Lincoln. I'm speaking of my friend, Dennis Boggs, who resides in Nashville and makes his living as an Abraham Lincoln re-enactor (or presenter, as he prefers to be called).
Boggs is not the only person in America who resembles, dresses up as and acts like the 16th president. There are dozens of Lincoln presenters — so many that Boggs starred in a 2008 documentary about them called "Being Lincoln: Men with Hats."
However, it is also safe to say that Boggs is the only Abraham Lincoln to have appeared at the Grand Ole Opry — on Memorial Day Weekend in 2001. "The president," Boggs says, speaking of his persona in the third person, "delivered the Gettysburg Address after a short background talk. He stood on that stage, and it was one of the highlights of my career."
As Lincoln presenters go, Boggs is one of the best. Boggs (whose website is www.meetmrlincoln.com) has been doing this for more than 20 years and has made paid appearances in 40 states. After years of studying and reading everything he could find about Lincoln's life and death, Boggs is remarkably knowledgeable. He could speak continuously on Lincoln's life and career for more than eight hours (and knowing him, he probably has.) He recently proofread one of my new Tennessee History for Kids booklets and found a slight mistake in it about Lincoln's early life. You see, I had the year of his mother's death wrong because I pulled my facts from Lincoln's 1860 campaign biography, which contained a slight mistake that the presidential candidate himself didn't catch — but Boggs did.
Knowledge is one thing, but what makes Boggs effective is his outgoing nature. His background is not a scholarly one; he worked in grocery retail for many years before a community theater director told him that if he shaved his moustache, he could portray Lincoln on stage. A few stage performances followed, and in 1999 the dean of education at Nashville's Trevecca Nazarene University (for whom Boggs' wife, Molly, was the administrative assistant) asked him if he would present Lincoln to his cohort of doctoral students.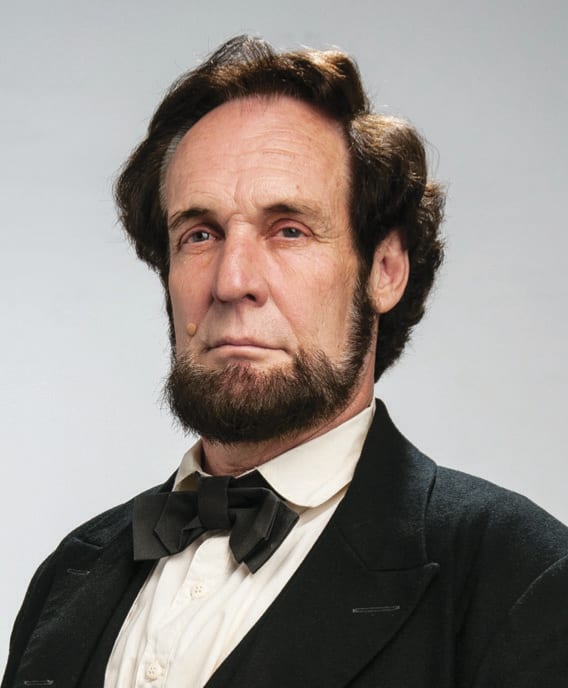 "Dennis was very intimidated by that request and at first said he couldn't do it," says Molly Flat-Boggs, who used to perform as a professional storyteller. "I told him that this man (Lincoln) had one year of formal schooling, and he rose to the highest office in the land, so, yes, you are presenting to these doctoral students."
Speaking to those teachers and education officials at Trevecca Nazarene University that night led to appearances at schools across the state. Since that time, Boggs has presented as Lincoln at schools, national parks, civic group meetings and everything in between.
Today, Boggs is the sort of person who will start up a conversation with a stranger in an elevator. When I bring him to education events — such as the Tennessee Department of Education's LEAD Conference in November — people of all types are drawn to him and take photographs with him. Boggs and I even did a video together — a Tennessee History for Kids snippet (which you can see on YouTube) called "A Big Hat to Fill" that we filmed at Lincoln Memorial University's Lincoln Museum in Harrogate.
I have, however, learned that spending time with Boggs is not the thing to do if you are feeling reclusive. Once I had dinner with the man at a restaurant, and people kept coming up to our table, wanting to have their photos made with him.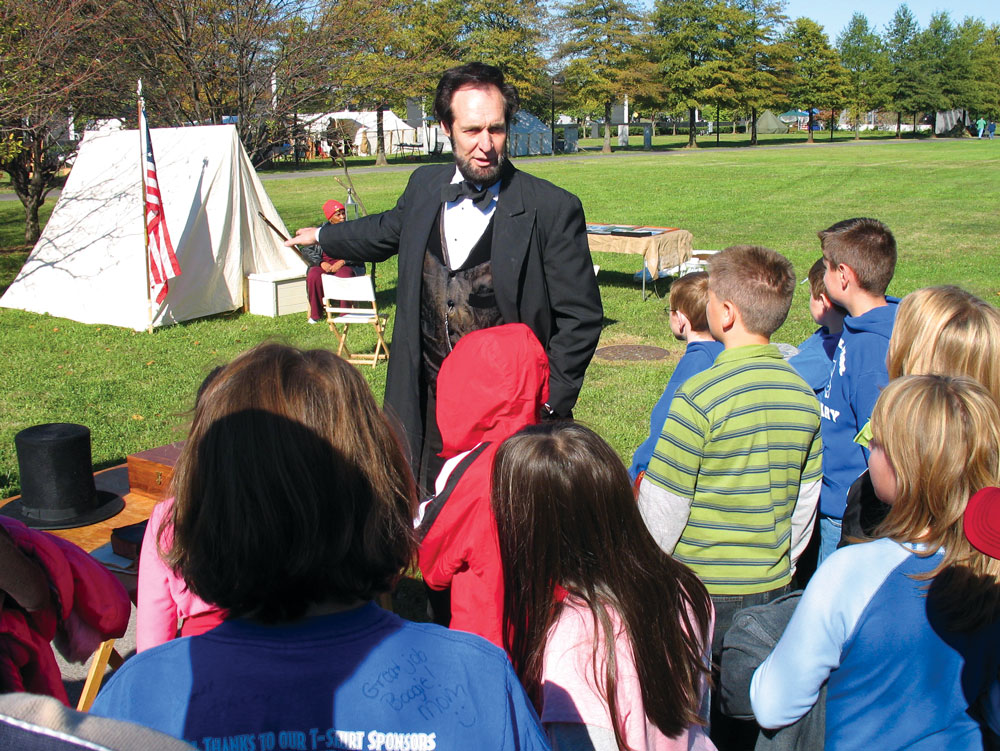 I have also learned that Dennis, himself, has a hard time "turning off Lincoln," so to speak. One time, when the two of us were together, I asked him where he was born.
"Kentucky," he said.
"Where in Kentucky?" I asked.
"I was born in a log cabin near Hodgenville."
"Dennis, I'm not asking Lincoln," I said. "I'm asking you."
"Wait, you want to know where Dennis Boggs was born?"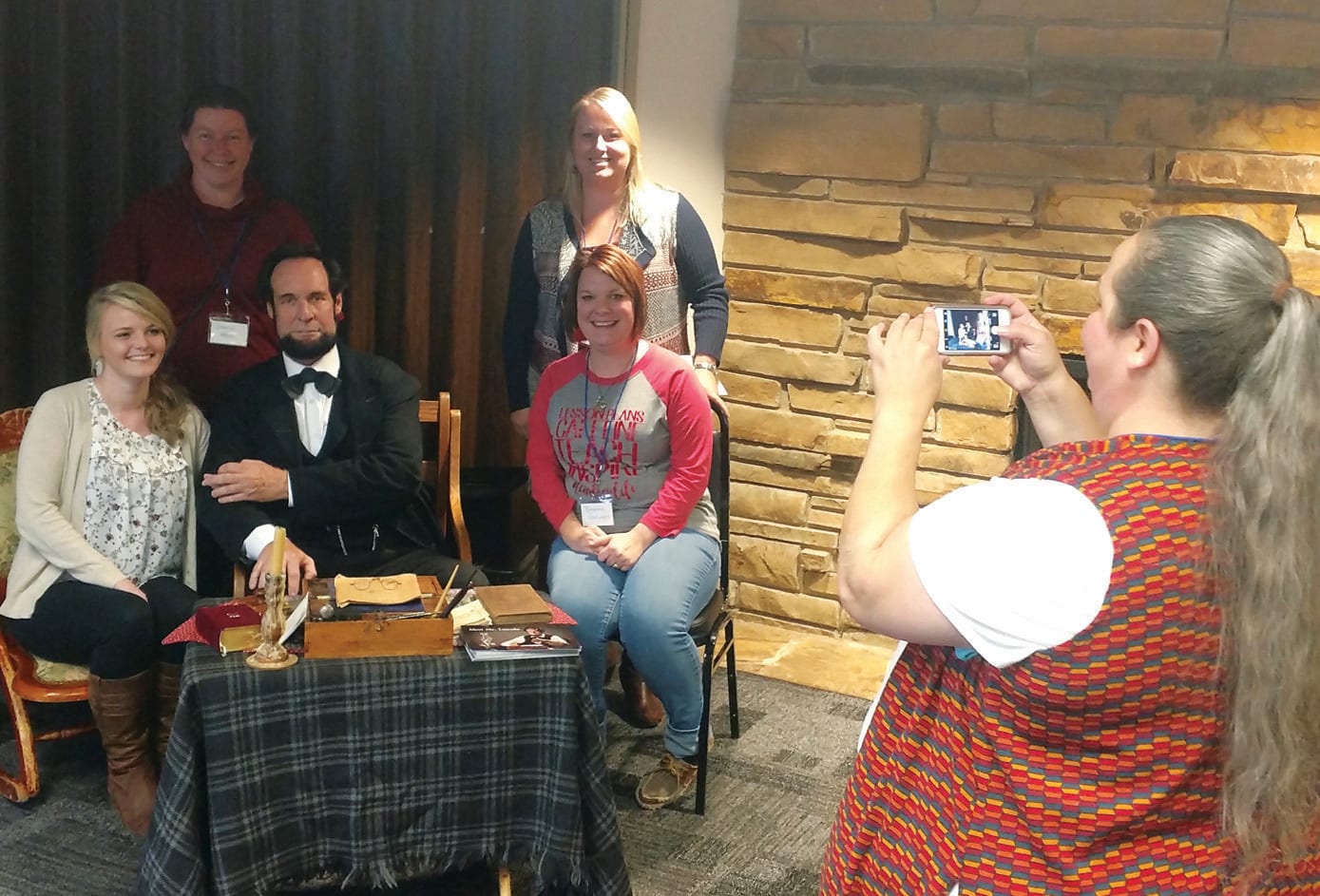 "Yes, you. I want to know where you were born — not the president."
"Oh. Well, I was born in Nashville and grew up in Fayetteville."
What neither Lincoln nor Boggs can explain is why the living history business is on the apparent decline. Boggs says bookings peaked in around 2008. "The business hasn't stopped, but this year has been the slowest year ever." He says he has various theories as to why the business is off, but perhaps the most important factor is a general decline in social studies because of a constant emphasis on standardized tests for math and science.
This bothers Boggs no end — not so much because of the drop-off in business but because of how much he thinks Lincoln means to students.
"I do a lot of events of various kinds — from conventions to ceremonies to speeches," says Boggs. "But I love the school appearances the most.
"Those kids react to me the way they would react to the actual President Lincoln, and it is wonderful when they do."