New Tennessee State Museum Opens Its Doors
If you ever visited the Tennessee State Museum at its former location in the James K. Polk Center in Nashville, you no doubt thought it had an impressive collection detailing and preserving the state's history. But the newly opened museum at the Bicentennial Capitol Mall really gives the museum's offerings the setting they deserve. The new location, which opened in early October, is a showpiece expected to nearly double annual visitation numbers. Evidence of that increased visitation was already seen only a month after the opening.
"The response has been extraordinary," says Joseph Pagetta, director of communications for the museum. "Close to 20,000 visitors walked through our doors in October."
The museum tells the story of Tennessee and its people going back to prehistoric times. Whether it's vehicles or art, weapons or guitars, the museum chronicles how these things affected or contributed to the state's history.
The Tennessee State Museum has a long and rich history of its own. Its roots go all the way back to 1817 when a portrait artist named Ralph E.W. Earl opened a museum on Nashville's public square. A large painting of Andrew Jackson on exhibit at that museum is still a part of the Tennessee State Museum's collection.
The Tennessee General Assembly made things official by creating a state museum in 1937. It was located in the War Memorial Building until it moved to the then-new James K. Polk Center in 1981. Three years ago, Gov. Bill Haslam proposed the new site at the Bicentennial Mall.
The museum currently houses seven permanent collections as well as five temporary exhibits and a children's gallery.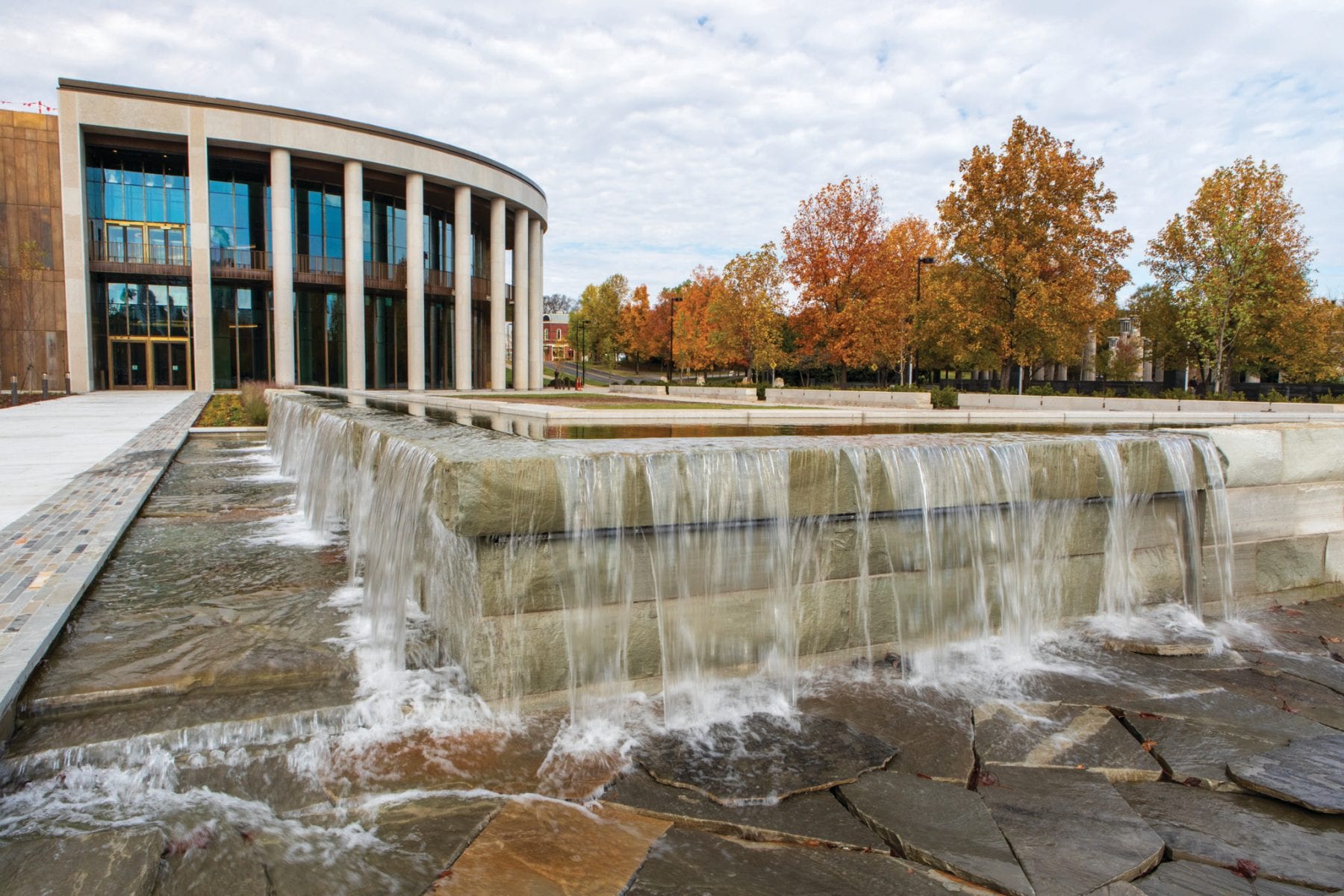 Serving as the backbone is the "Tennessee Time Tunnel," which combines artifacts from the museum's permanent collection with engaging media to give an interactive experience.
The "First Peoples" permanent exhibit covers a staggering span of time that stretches back to the end of the Ice Age, from 13000 B.C. to A.D. 1760. It details how these people dealt with the changing climate and encroachment by European explorers and settlers.
Tennesseans know that their state varies widely in its landscape from one end to the other. In the "Natural History" exhibit, you can learn about these differences and the incredibly rich biodiversity of Great Smoky Mountains National Park.
"Forging a Nation" covers the 100-year period between 1760 and 1860, and you'll see some familiar names here, including James K. Polk and David Crockett. You'll also get a glimpse of what life was like for early settlers with a cutaway log cabin and complete print shop. Revolutionary War and War of 1812 artifacts help round out this exhibit.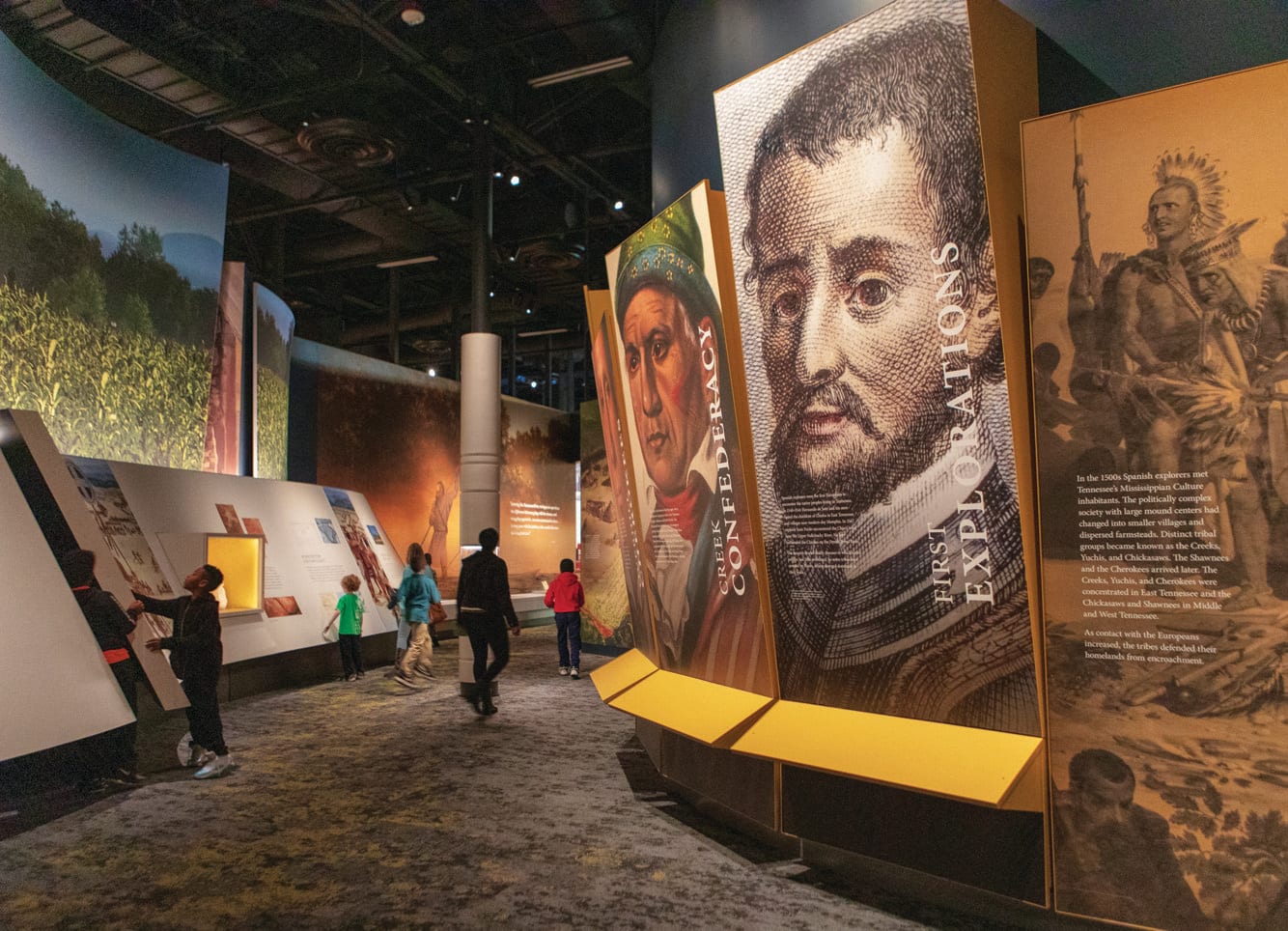 "The Civil War and Reconstruction" covers a much shorter period — only 10 years — than the other sections, but it's such a pivotal part of history that giving it its own exhibit makes sense.
"Change and Challenge" covers a period of great conflict in the state, nation and internationally: 1870 to 1945.
And the final permanent exhibit, "Tennessee Transforms," covers from the end of World War II in 1945 to the present. The Cold War and the civil rights movement provide the backdrop for a good portion of this exhibit, but visitors also get a better view of the state through the 360 Interactive Theater where an interactive map covers topics as varied as the Humboldt Strawberry Festival to Lady Volunteers basketball coach Pat Summitt.
Temporary exhibits cover artist Red Grooms, Tennessee's musical heritage, Tennessee and World War I and art in Tennessee before and after 1900.
Children ages 3–8 can learn about the state in a hands-on way that is also fun. Exhibits allow them to walk along a giant map of the state, slide down Lookout Mountain in Chattanooga, sing songs in Nashville and Memphis and have fun in many other engaging activities.
No matter their age, those who've visited the new museum are impressed.
"If visitors are familiar with the former location, they're excited about the new space and layout of the exhibitions, which provide better interpretation of our artifacts and tell more stories," Pagetta says. "Every permanent exhibition begins with a short documentary film, and visitors are taking the time to sit and get an overview before exploring the galleries. The interactive tables are also a hit, especially in the 'Civil War and Reconstruction' and 'Tennessee Transforms' galleries. Visitors, especially children, gravitate toward them. Visitors also seem to be enjoying 'Tennessee Transforms,' which tells our history from 1945 to the present. The permanent exhibition in our former location stopped in 1920. So now folks are beginning to see artifacts and learn about things they themselves may remember. And then, of course, there is the building. Visitors love the Grand Hall and the second floor veranda with its stunning view of the Capitol and downtown.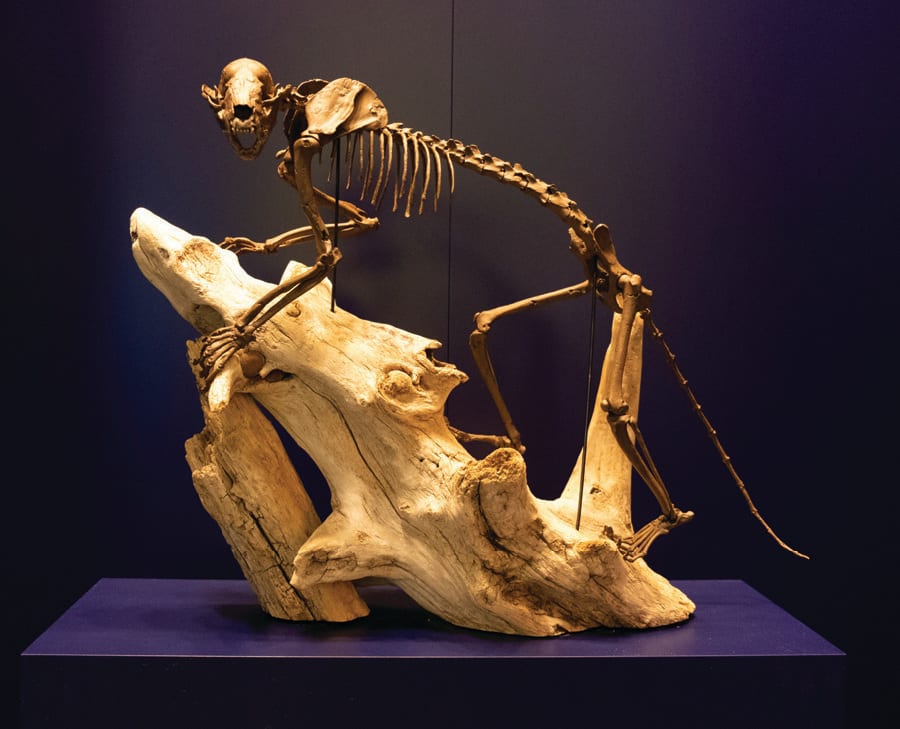 The museum's educational offerings for children also include field trips and the Tennessee Traveling Trunks outreach program that allows teachers to request trunks filled with a variety of teaching materials on topics such as life on the frontier or the World War II home-front.
For those who enjoy learning about military history, note that there is a special section, the Military Branch Museum, at the War Memorial Building on the other side of Capitol Hill. This branch examines America's conflicts overseas — from the Spanish-American War through the Vietnam War. As with the main museum, there is no admission charge for this location, and it is open Tuesday through Saturday, 10 a.m. to 5 p.m.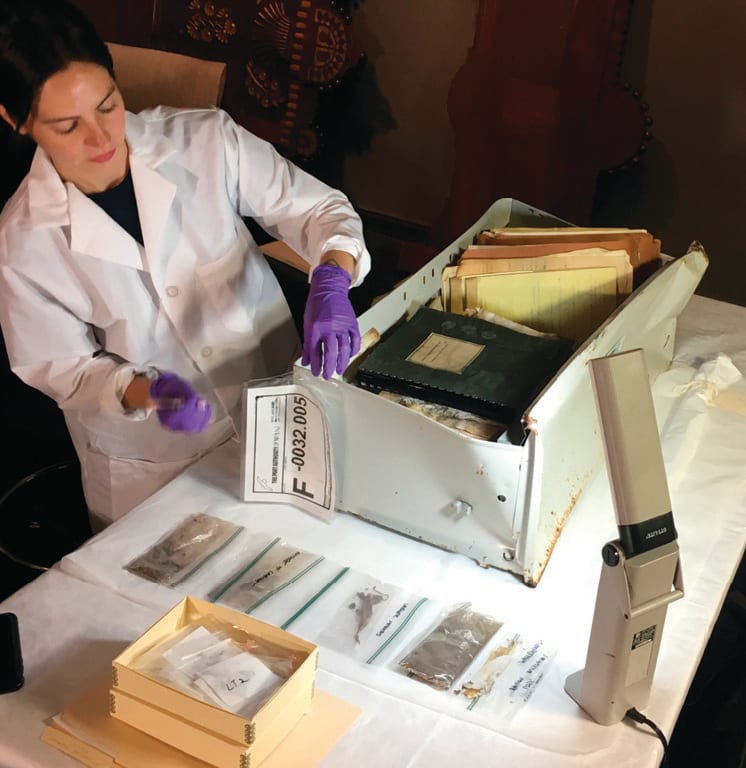 The new Tennessee State Museum, located at 1000 Rosa L. Parks Blvd., is open Tuesday, Wednesday, Friday and Saturday from 10 a.m. to 5 p.m.; Thursday, 10 a.m. to 8 p.m.; and Sunday, 1 to 5 p.m. It is closed on Mondays as well as Thanksgiving, Christmas, New Year's Day and Easter. Visit tnmuseum.org for more information on topics such as parking, public transportation and other things to do near the museum, including free guided tours of the State Capitol given by museum staff members Monday-Friday and tours of the Tennessee Executive Residence, where several governors have lived.
Before you leave the museum at the end of your visit, be sure to stop by the museum store for Tennessee-branded products, works by local artisans, food, a variety of gift options and books that will allow you to continue learning more about the Volunteer State.