Tennessee's vintage base ball league is doing it old school

No cussing, no spitting, no gloves. It's not exactly the sport we now watch on ESPN, but the Tennessee Association of Vintage Base Ball (TAOVBB) would like for us to get back to basics.
Formed in 2012, TAOVBB has grown to 11 teams and more than 160 players (called "ballists," in keeping with the original vernacular). The league neither recruits nor solicits players, preferring to make up rosters from ranks of volunteers who love the sport, care about its history and want to see it grow and succeed. Men and women alike are invited to participate in today's vintage games, and women's leagues are growing in popularity across the country. Vintage base ball games draw 50 to 300 fans, depending on the match.
It's widely believed that base ball was adapted from the game of cricket, which was brought over and played by English settlers. The first recorded base ball game in North America was in 1838, in Beachville, Ontario, Canada. Tennessee didn't see its first game until 1866 when the Cumberland and Rock City teams of Nashville played to a small, curious crowd of onlookers.
In 1860s America, while North and South were battling over common ground, a different rivalry was forming as young boys laid claim to a home base using only a stick, a ball and their speed to invent a sport that would delight generations to come.
America's pastime was spelled as two words in the beginning, but that is perhaps the smallest change base ball has undergone over the years. A little research into the early days of the sport will be a stark reminder of its transformation. Early reports mention "gentlemanly conduct" and "respectful play," while today's games are rife with fist fights, foul language and unsportsmanlike conduct. Players are fined and ejected for doing things their forefathers would have found unconscionable.
Adam "Butter Bean" Alfrey has been a ballist since 2013 and is now TAOVBB media director. His player name was a recommendation from friends. Alfrey says, "It's interesting to read newspaper articles from the 1860s. Opposing teams were greeted at the train station by brass marching bands and paraded through town with a hero's welcome. Both teams would socialize together the night before the game, duke it out on the field the day of the game and part the following day as respected friends. That kind of attitude just doesn't exist these days — unless you're at one of our vintage base ball games."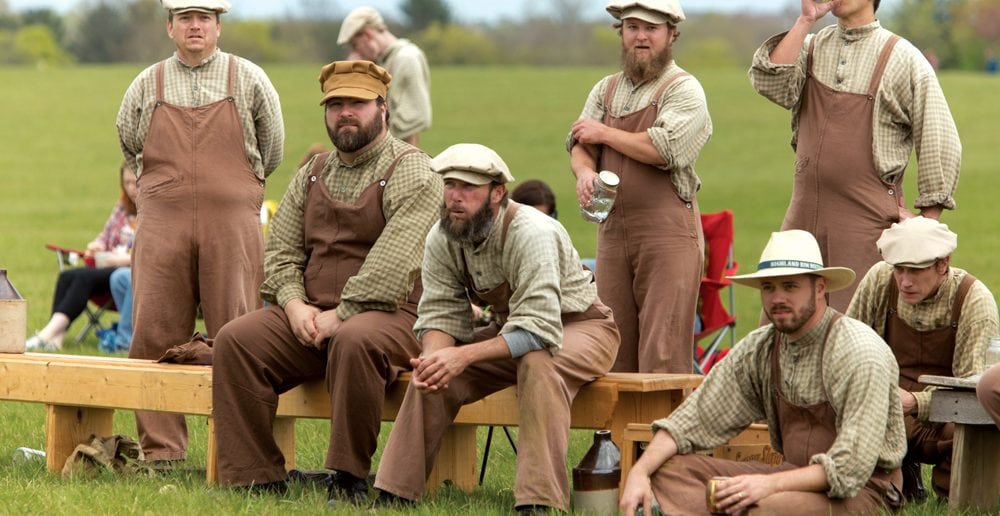 Jeff "Skeeter" Wells agrees: "It is our brand to create a game that is gentlemanly in nature, where civility rules the day."
Wells, whose sister-in-law casually came up with his player name, saw his first game of vintage base ball in 2013 at Bicentennial Mall in Nashville. "I was watching the crowd, and it was amazing. I'm a student of history and love historic games of all ilk like English longbone and cricket, so this was a natural fit for me. I was hooked."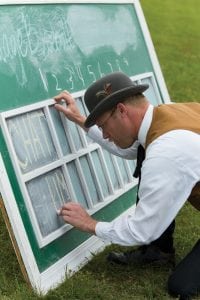 "We're looking for people who care about the history and how we play the game," says Wells, "We work hard to make it look and feel like 1864 when we take the field."
"All kinds of different people play this game," says Robert "Hamspoon" Sandberg, whose player name comes from his once using a piece of country ham as a spoon to eat a bowl of chili when a real spoon could not be found (true story). "We have construction workers, engineers, park rangers, stay-at-home dads. We all get together and dress in vintage uniforms and play this game. It's incredible."
"Our games are faster-paced than modern baseball," says Wells with a laugh. "That's just another reason to see us. Modern baseball gets criticized for going too slow and taking too long. Our games are over in a couple of hours."
To try and keep the experience as authentic as possible, vintage base ball players will research every detail in the way the game was played and often focus on the true characters from the early days, players who saw themselves not only as athletes but entertainers.
"We are definitely playing characters out there," says Sandberg. "I turn into someone else when the uniform goes on. I take on a different demeanor. Even my voice changes."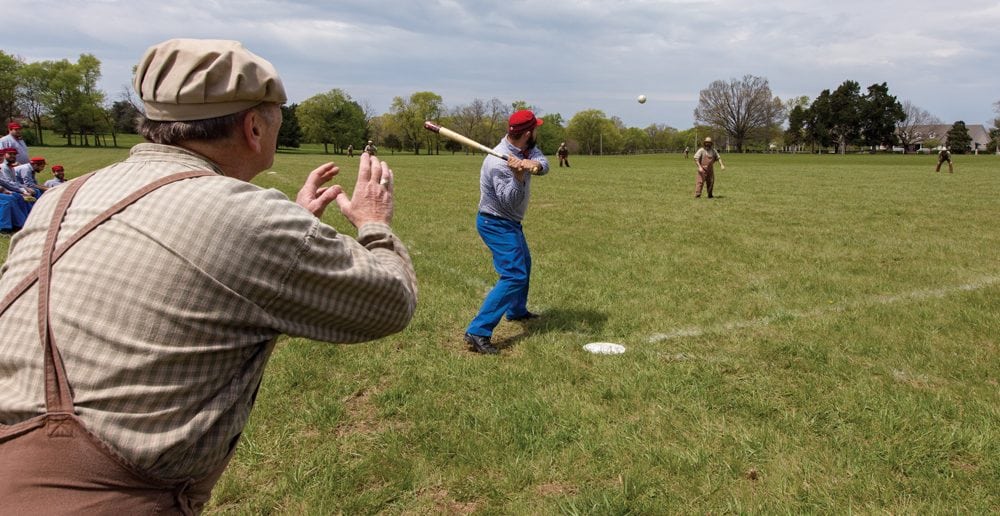 Every player has a nickname. If you don't show up with one, it will be given to you, which, Wells says, "may not be a good thing, so you want to pick your own name if you can."
All the players agree that something magic happens when we combine community and fun with a healthy dash of history and nostalgia. A sense of legacy arises, and we feel a connection to our ancestors. Dressed in their style of clothing and playing a game by their rules can only help them become more real to us — and the past comes alive.
"I have a 6-year-old son," says Sandberg. "He comes out and sees a bunch of adults having a good time, not yelling at each other, and that's a big deal. He loves this game. I tried putting a modern baseball glove on him once, and he said, 'No, I want to do it like you do it, Daddy.'"