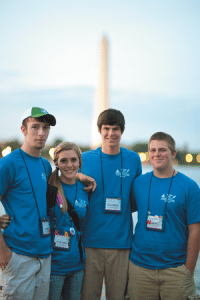 For one week in mid-June, nearly 130 rising high school seniors from Tennessee electric cooperative service areas traveled Washington, D.C., to follow in the footsteps of countless young leaders who have participated in the National Rural Electric Youth Tour, which has been coordinated among the National Rural Electric Cooperative Association (NRECA) and statewide co-op organizations across the country since 1964. Approximately 400 students from 12 states attended that first Youth Tour; more than 1,500 made this year's trip courtesy of their locally owned and operated electric cooperatives.
Joined by co-op employee-chaperones as well as local teachers sponsored by their cooperatives, the touring Tennessee students left their rural communities Friday, June 15. By the time they returned Thursday, June 21, they had enjoyed a fast-paced week packed with all the capital city has to offer: iconic monuments, stirring memorials and inspiring glimpses of American government and exceptionalism on display.
Winners among winners
Students earned expense-paid spots on the tour for writing winning short stories that stressed how local electric cooperatives impact their communities beyond providing reliable, affordable electric service.
All 23 of Tennessee's electric cooperatives were represented on the Washington Youth Tour, and in addition to the trip, each student whose short story was judged the best from his or her co-op service area was entered in the statewide competition for scholarships. Winners were announced during the tour, and earning the first-place $3,000 scholarship was Travis Clark of Nolensville, who was sponsored Middle Tennessee Electric Membership Corporation. Second place and a $2,000 scholarship went to Gage Kerr of Lutts, which is served by Tennessee Valley Electric Cooperative. And Danielle Zayas of Sparta, representing Caney Fork Electric Cooperative, took third place, a $1,000 scholarship.
Also during the tour, Meghan Sullenger of Fayetteville and sponsored by Fayetteville Public Utilities was selected as Tennessee's representative to the Youth Leadership Council, a group of promising future leaders — one representative from each state participating in the Youth Tour — who attend workshops coordinated by NRECA to build leadership skills, learn more about cooperatives and foster future success. Sullenger will also represent Tennessee youth at the next NRECA and TECA annual meetings.
Full itinerary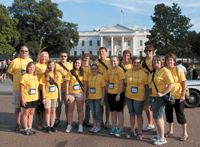 "We really hit the ground running to see as much of the spectacle in and around Washington, D.C., as possible," says Todd Blocker, Tennessee Electric Cooperative Association director of member services and Tennessee's tour director. "Each day begins early, and we don't return to the hotel until long after the sun has set. It's a fast pace, but we still have time to see and appreciate each stop."
This year's stops included the Virginia homes of George Washington and Thomas Jefferson, Arlington National Cemetery, the Smithsonian Institution, Kennedy Center for the Performing Arts and Washington National Cathedral. Tennessee's group was also given a VIP tour of the U.S. Capitol by staff members of Reps. Diane Black and Stephen Fincher. Many of the students also got to meet with their House representatives, and Sens. Lamar Alexander and Bob Corker joined the group for a photo on the Senate steps. And, of course, the group toured the famous monuments of D.C., including the newly opened Martin Luther King Jr. Memorial.
"The Capitol tour was amazing — from the bullet-stricken stairs from the War of 1812 to the massive Rotunda representing American history and power," says Clark in describing his favorite stop on the Youth Tour.
"My favorite stop was the White House," says Zayas. "I hope to be living there as the commander-in-chief one day."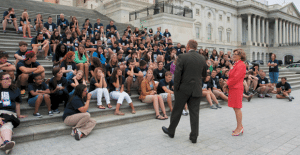 Co-ops' community connections
Aside from expense-paid trips to the nation's capital, the Washington Youth Tour teaches students that their hometown electric cooperatives are more than companies that bill their families each month for electric use. They care about the communities in their service areas and take active roles in ensuring their future success.
"I learned how electric co-ops impact their communities," says Rachel Wolters of Culleoka, who was sponsored by Duck River Electric Membership Corporation and a Youth Leadership Council finalist. "And I was pleased to experience firsthand on the Youth Tour how the local cooperatives want to see our communities grow."