Tennessee's poet laureate finds power and grace in language
Poet Margaret (Maggi) Vaughn, 77, sits in a large, soft chair, her feet resting on a stool. She is surrounded by art pieces that cover practically every inch of her house in Bell Buckle. Her hair is short and gray. She wears glasses with thick, black frames.
Though you can guess her age by looking at her, her face has a youthful, child-like expression. The creative sparkle still shins in her eyes, and her round cheeks express her excitement about life every time she smiles.
Her voice is confident and she speaks loudly. You know she stands behind every word she says or writes.
Vaughn has been the poet laureate of Tennessee since 1995. Established in 1971, the poet laureate of Tennessee is a position that is renewed every five years. Vaughn has written many books of poetry.
She is outspoken, independent and creative. She is passionate about voicing injustice, looking back in history and helping young writers. She discusses big, complicated subjects with simple, down-to-earth, common-sense words. Her poetry is an extension of what she thinks. No subject is off limits for her.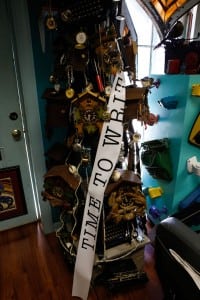 Vaughn was born in Murfreesboro in 1938. She lost her father, a firefighter, when she was only 9 months old. Along with her mother and brother, Vaughn then moved to Gulfport, Mississippi.
She went to Perkinston Junior College, now Mississippi Gulf Coast College. After that, she went to Mississippi Southern College. An exceptional writer, Vaughn can write stories that make you laugh, think, doubt and cry, but she's never had a knack for sciences.
"I could not pass biology, so I left Mississippi Southern after my senior year," she said.
Vaughn almost married twice, but she decided that married life was not for her.
"I grew up in the '50s, when women just took care of their husbands, and I knew I wanted a career," Vaughn said.
Wanting to write full time, in 1982, she moved to Bell Buckle to pursue her writing career. She bought a home, opened a publishing house, the Bell Buckle Press, and started publishing her own books.
"Then, I went to MTSU (Middle Tennessee State University) and finished in 1995. I majored in theater."
Vaughn, 43 at that time, was already an established writer when she attended MTSU. In fact, one of her plays was performed at the university while she was studying there.
"The play was called 'While the Dew is Still on the Roses,'" Vaughn said. "It's about a man who lost his wife, and he died within a year."
The deeply-rooted religion of the South influenced her work, "You're Laughing, Ain't Ya God?" (Bell Buckle Press, 2006). The book dissects human nature and reveals some of the darkest human aspects like vanity and hypocrisy in an entertaining, easy-to-read way. It starts with these words: "Scripture made us religious; interpretation made us nuts."
"See, I wrote this because we got so crazy with religion. It parallels us. It's a reflection of us," Vaughn said. "In the book, God comes again and puts birds in charge, and they make exactly the same mistakes we did."
Another of her books is "The Other Sun of God" (Bell Buckle Press, 2010). This collection deals with social injustices.
"This is about Indians and how we treated them when we got off the boat," Vaughn said.
Poems — like "Saved" — in this book describe how misunderstood the Indian culture was when the settlers came to the American land. The book describes how Europeans destroyed what the Indians considered a perfect world by imposing the white man's rituals and way of life on the natives.
"Saved"  by Maggi Vaughn
White man said, "You must be saved."
Red man said, "Then why do you destroy?"
White man said, "You must be saved."
Red man said, "Saved from what?"
White man said, "Saved from hell."
Red man said, "What is hell?"
White man said, "Big lake of fire."
Red man said, "Our lakes have no fire."
White man said, "You must go to heaven."
Red man said, "What is heaven?"
White man said, "Happy hunting grounds."
Red man said, "This is happy hunting grounds."
"You can't change someone's culture. Leave them alone. Do what you can, and let them do what they want," Vaughn said.
Another of Vaughn's books is "Foretasting Heaven: Talking to Twain at Quarry Farm" (Bell Buckle Press, 2001). She wrote this book while staying at Quarry Farm, an estate owned by Elmira College in New York. The college offers fellowships to scholars or writers who research the field of Mark Twain studies. They can stay two weeks at Quarry Farms, the place where Twain lived and wrote from 1870 to 1880.
"I'm the only poet to ever receive a Mark Twain Fellowship, and I stayed in his house where he wrote his major works," Vaughn said. "So, I slept in his bed, ate at his table and wrote in his studio."
The poems in "Foretasting Heaven" are set as conversations between Vaughn and Twain. Vaughn tells Twain how the world has changed over the last century and expresses her nostalgia for a simpler past.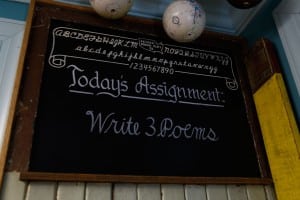 On the cover of the book is an illustration of Vaughn sitting on a chair, her legs on a stool, as she talks to Twain.
You'll find her sitting this way, too, if you visit her at her house. You don't need an invitation; you just need an interest in literature. She said one of her passions is helping writers succeed.
"You won't believe how many people come through this house and want me to help," Vaughn said. "And I help every one of them. They come even from out of state. Most of them have something they've written, and they want me to critique it, and I'll do it. I never turn anyone down. It's like Grand Central Station sometimes."
One of the people she inspired is Jennifer Shockley, 26, an MTSU graduate. In 2004, Shockley's poem, "Tennessee Country Girl," won an honorable mention in The Tennessee Magazine. Vaughn judged the poems entered in the contest.
"I was 14 years old when I entered The Tennessee Magazine's poetry contest for youth," Shockley said, adding that she still keeps a copy of the magazine edition announcing the winners.
Vaughn also helped writer Shirley Hall. "I wrote a story about my dog. I was trying to get it together as a book, and Maggi helped me," Hall said.
Hall has known Vaughn for five years, and the two have become close friends.
"Sometimes her mind works faster than her hands," Hall said. "She'll talk, and I'll write. I've really learned a lot from her."
"She is my nanny," Vaughn said with a laugh.
In the June 2004 issue of The Tennessee Magazine, Vaughn was selected Tennessee's second-best author after Alex Haley, an honor she calls a highlight of her career.
Vaughn is now working on a new book, "Out of the Box," a title that ably describes the affable, helpful poet.
Vaughn's poetry is an expression of her thoughts and understanding of the world and human nature. She is nostalgic, yet relevant. She is outspoken yet does not impose her opinion.
Maya Angelou (1928-2014), an award-winning poet, sent Vaughn a letter with these words: "I wish I had written these poems; but you wrote them for all of us."
Meet Maggi Vaughn
Visit Tennessee's poet laureate in her front yard during the Webb School Art and Craft Show Oct. 17-18 in downtown Bell Buckle.
Poetry Contest
The Tennessee Magazine is launching monthly poetry contests, which Vaughn will judge. Click here for details.