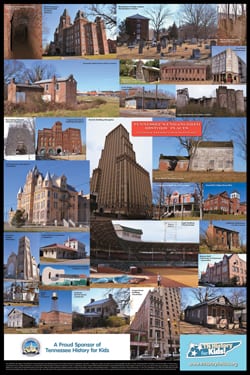 Two years ago, Tennessee History for Kids produced a poster that honored some of the state's preserved historic buildings.
Last year's poster — "Tennessee's Lost Historic Treasures" — included photographs of some of the more beautiful buildings in the state that have been torn down.
Thanks to the support of the Tennessee Historical Commission, we have produced our 2013 poster. This time around, we took photographs of "Tennessee's Endangered Historic Places." These are things that have historic significance and may be torn down — or fall down — unless something is done to save them.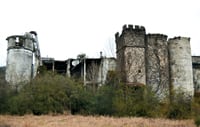 One might wonder how we came up with these places. There are several organizations that release annual lists of buildings considered to be "endangered." The largest is the Tennessee Preservation Trust, which releases a list called "Ten in TN." On a local level, Memphis Heritage, Historic Nashville, Knox Heritage and Cornerstones (of Chattanooga) also come up with lists.
We picked 29 places for the poster. Here are some of the things I learned in the process:
There are a lot of abandoned or largely empty college campuses in Tennessee. Two of them made the poster: historic Knoxville College, a black institution, and Washington College, founded by the Rev. Samuel Doak in 1780. Some of Tennessee's earliest settlers are buried at the cemetery at Washington College.
Two of the largest and most majestic endangered buildings are owned by the state. One is the West Tennessee Mental Health Institute in Bolivar. Another is the old Tennessee State Prison in Nashville, which has been used frequently in recent years as a movie set.
Some of the endangered buildings in Memphis are breathtaking. At the top of the list is the 29-story Sterick building. Once the tallest structure in Tennessee, this tower has been vacant for decades. I also loved the Tennessee Brewery building, a series of 19th-century structures on a Mississippi River bluff. And it would be a shame to tear down the Clayborne Temple, a building with important civil rights era connections that is only a few hundred feet from the FedEx Forum.
Engel Stadium in Chattanooga has not had a tenant since the Chattanooga Lookouts moved to a new venue. Between the wooden seats and the awning over the stadium, the place sort of reminded me of Wrigley Field in Chicago. Fortunately, Engel Stadium has an advocacy group determined to save it.
Many of the endangered buildings in Knoxville are parts of the University of Tennessee that the school intends to demolish. One of them is Henson Hall, a handsome academic building. Across Cumberland Avenue and up the hill from there is the once-proud neighborhood known as Fort Sanders. Each time I visit Fort Sanders, another old house is gone. The house I photographed for the poster is only a shell; most of it had burned down.
You can't tell from the photos whether these buildings are located inside towns or whether they are, for lack of a better phrase, in the middle of nowhere. The Graham-Kivette House in Tazewell is next to a fast-food restaurant, and the Gilliland-Odell House is on a major road, close to Newport. However, I can assure you that Gettys Mill, the Gager Lime Works, the Marugg Stagecoach Inn and Shakerag are well off the beaten path. So is Rural Mount, a beautiful Hamblen County stone house built in 1799 that is, in my opinion, the best photograph on the poster.
It seems appropriate that Tennessee has a building shaped like a guitar — but it might not for long. You'll find the Grand Guitar building on Interstate 81, just a few miles south of the Virginia state line. Unfortunately, it was been vacant for years.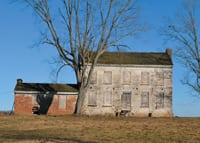 I know that every old building cannot be saved, nor should they all be saved. But if one of these historic places is preserved because of this poster, it will have done some good.
Tennessee History for Kids produces posters primarily for teachers. But if you would like a copy, go to tnhistoryforkids.org.