Great River Road Byway
Crossing 10 states from Minnesota to the Louisiana Gulf Coast, the 2,000-mile-long Great River Road National Scenic Highway crisscrosses the mighty Mississippi River and has been guiding travelers to examples of the river's wonders since the byway's inception in the late 1930s. Tennessee's portion of the byway includes natural and historical treasures alike, from Reelfoot Lake in Lake County to Fort Pillow State Historic Park in Henning to the Mississippi River Museum and the Cotton Exchange in Memphis.
Great River Road Trail
Taking its name from the well-established and -travelled National Scenic Byway, the Great River Road Trail also traces the mighty Mississippi and its influence on life in West Tennessee. You can start with the natural wonders of Reelfoot Lake State Park (stop No. 49) and learn about "Roots" author Alex Haley at the Henning home (26) where he spent much of his childhood.
Cotton Junction Trail
The Cotton Junction Trail uses the traditional tourism draw of Memphis to help visitors explore other sites in West Tennessee. From world-famous Beale Street (stop 5), you may choose to explore the surrounding area. Following the trail east, you'll come to Nutbush (32), hometown of Tina Turner. A little farther is Jackson and the home-cooking delights of Brooks Shaw's Old Country Store (64). And just north of there, you'll find the Trenton town hall and its unusual permanent exhibit: the World's Largest Teapot Collection (94).
Walking Tall Trail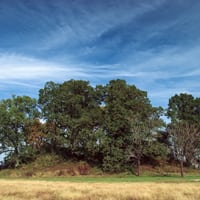 Learn about this trail's namesake and his crusade to rid his hometown of crime and corruption at the Buford Pusser Home and Museum in Adamsville (stop 48). Nearby Shiloh National Military Park (50) is the site of one of the Civil War's bloodiest battles. Today it's one of the best-preserved battlefield parks with self-guided tours and educational programming events scheduled throughout the year. After taking in these chapters in Tennessee's history, learn about the state's prehistory at Pinson Mounds State Archaeological Park (94). At the 1,200-acre site you will see the largest group of Middle Woodland-period mounds.
Tennessee River Trail
Stop 37 on the Tennessee River Trail is Savannah's Tennessee River Museum, which covers more than the vital role the Tennessee River has played on the inhabitants of its banks. Exhibits also showcase Native Americans and the Civil War. The Tennessee Freshwater Pearl Farm Museum (59) in Camden highlights Tennessee's past and present of pearl-culturing. And Paris Landing State Park (80) is one of Tennessee's premier parks. Established on the banks of Kentucky Lake, it offers outdoor recreation, inn and rental cabins and a golf course designated a Certified Audubon Cooperative Sanctuary.