Discovering America's most attractive destinations doesn't mean you have to clean out your savings
When it comes to vacations, America's national parks are a perennial favorite. From roaring geysers and sandy seascapes to frontier forts and presidents' homes, these unique treasures boast magnificent landscapes and cultural enrichment.
Lately, they've been getting even better. Visitors are reaping the benefits of the American Recovery and Reinvestment Act passed in 2009, which funded improvements to national park facilities and roads. Ninety-nine percent of those park projects are completed, according to Jeff Olson, spokesman for the National Park Service (NPS) in Washington, D.C. As just one example, the scenic Skyline Drive in Shenandoah National Park in Virginia sports dozens of new overlooks with jaw-dropping views and new interpretative signs.
National parks, nearly 400 now, offer something for everyone for a relatively low price. You can enjoy hiking, biking, swimming, fishing and rafting, shop for locally made crafts at gift shops, tour museums, explore cliff dwellings, take guided full-moon walks and learn about science and biology at ranger talks.
The beauty and slower pace found from a park vacation have a way of drawing families or couples together. Parents are reminded that food cooked over a campfire tastes better. Kids remember how to make their own fun. Those in their 20s finally bond, adult to adult, with their parents. And even the most sullen teenager will crack a smile.
"For generations now, people have introduced members of their family to national parks," says Olson. "Parents and grandparents are now introducing their children to parks. These are places where you learn about American heritage and culture."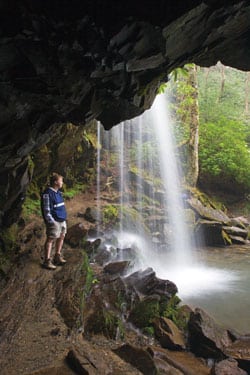 Those who enjoy technology won't be disappointed. For example, visitors to the National Mall in Washington, D.C., can use the NPS's free app. The app displays the user's location, highlights historical and cultural points of interest, provides tour suggestions and gives directions to more than 70 sites. Inside other national parks (rural or urban), visitors can deepen their experiences through their smart phones and other mobile devices at visitors' centers and exhibits. Park websites sport live webcams, podcasts and links to lively social media as well.
For lodging, people sometimes picture a grand lodge or tent campground. While these are great options, there are typically other choices through concessioners in the park or in nearby towns. One reason the Great Smoky Mountains National Park is continually ranked the most popular is accessibility. It's close to Gatlinburg and Cherokee and Bryson City, N.C., which cater to visitors with a wide variety of affordable accommodations, restaurants, shops, museums and other attractions. Popular Acadia National Park in Maine has no "roofed" lodging in the park, but the historic village of Bar Harbor nearby offers house vacation rentals, cottages, motels and bed-and-breakfasts that suit all budgets.
Consider your priorities. Do you want to drive your car or fly to the closest airport and rent one? Cook or eat out? Sleep under the stars in the backcountry or on a real bed? Do you prefer to be near cities or to venture out?
People are surprised that some parks are close to major metropolitan areas. Cuyahoga Valley National Park in Ohio, blessed with a winding river and fascinating canal history, is only 30 minutes from Cleveland. It also hosts scenic train rides and evening concerts. Stanford House, a bed-and-breakfast inn in the park, has a self-service kitchen and wireless Internet access. The renovated farmhouse's room rates, which include a continental breakfast with cereal and fresh fruit, start at around $50 for a small room with a bunk bed and shared bath.
If you want to stay in a quaint cabin, you can rent primitive ones in Virginia's Shenandoah. The large-capacity cabins (roughly $30-$45 nightly) have no running water or electricity but are equipped with mattresses and cookware and have either a wood fireplace or woodstove. In most cases, you carry in your items from between a few tenths of a mile to several miles in. Returning guests rave about the mountain views and the cabins, booked through Potomac Appalachian Trail Club, an authorized concessioner.
If you really want to get away from it all, Big Bend National Park in Texas may fit the bill. It has spectacular canyon and mountain scenery, with lots of plants and animals and more types of birds than any other national park in the U.S.
It pays to do your homework. Biscayne National Park in Florida boasts urban proximity, colorful coral reefs and first-rate scuba-diving and snorkeling. It's within sight of downtown Miami, but that doesn't mean its logistics are easy. More than 95 percent of this marine park is covered by water, so transportation here is by boat.
Finally, stay open to lesser-known parks. A newer park, the Black Canyon of the Gunnison in Colorado, receives a fraction of the Grand Canyon's numbers. However, its canyon's combination of narrowness and vertical drop are unmatched by any other in North America.
National Park Service
202-208-3818 • www.nps.gov
You can connect through YouTube, Facebook and Twitter. Also, visit www.pbs.org/nationalparks for enriching park stories by the Public Broadcasting Service.
Park admission
The majority of America's nearly 400 national parks have no entrance fee. Admission for parks that do charge is from $3 to $25 (good for an entire carload of people for a week). There are also bargain annual passes, good for more than 2,000 federal recreation sites, including one for seniors for $10.
The National Park Service has fee-free days in 2012 at more than 100 national parks that usually charge entrance fees.
Those dates are:
• Saturday-Sunday, April 21-29: National Park Week
• Saturday, June 9: Get Outdoors Day
• Saturday, Sept. 29: National Public Lands Day
• Saturday-Monday, Nov. 10-12: Veterans Day weekend
To find out which parks are holding fee-free days, visit www.nps.gov/findapark/feefreeparksbystate.htm (search by park's name or by state).
Many park-related hotels, restaurants, shops and tour operators offer specials on fee-free days. For more, visit the National Park Hospitality Association at www.parkpartners.org and National Parks Promotions Council at www.nationalparksonline.org.