To finish or not to finish?
Americans are staying put. A down economy is driving people to hunker down in their homes instead of moving, and many wonder whether to finish that attic or replace the front door as they try to wait out hard times.
Only 10 percent of the general public feels that now is the time to sell a home, according to Fannie Mae's National Housing Survey released in November 2011. The survey shows that 75 percent of Americans believe the economy is on the wrong track. It stands to reason that long-term homeowners want to make their property as livable as possible.
How do electric cooperative members get the most bang for their buck in home improvements during a down economy? Which specific home improvements are shown to deliver the most value right now, according to the experts? On the flip side, can a home improvement actually reduce property value?
Exterior home improvements typically deliver the most value for homeowners. A cost-versus-value report from the National Association of Realtors (NAR) ranks exterior improvements among the best home investments on HouseLogic.com, the association's consumer website. The report "shows the value of putting your home's best facade forward, so to speak," says NAR President Moe Veissi, broker-owner of Veissi & Associates Inc. in Miami. Exterior projects are important to a home's regular upkeep and are expected to recoup far more than many other improvements. Plus, they add instant curb appeal when times are finally right to sell a home.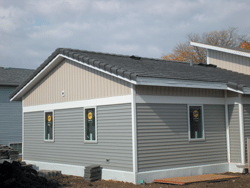 A home's attractiveness, the indicator of initial appeal, makes a big difference. Exterior elements covering large areas such as siding and entry and garage doors have the greatest visual impact. Updated exteriors give sellers an edge because buyers are attracted to a home before entering.
According to NAR, seven of the 10 most cost-effective projects nationally in terms of value recouped are exterior projects. Upscale fiber-cement siding is judged as the No. 1 improvement value by NAR, with an estimated 78 percent of costs recouped upon resale.
Two other siding projects — foam-backed vinyl and upscale vinyl — ranked in the top 10. Each is expected to recoup roughly 70 percent of costs. A steel entry door replacement, the least-expensive project in the report, averages a little more than $1,200 in cost and is expected to recoup 73 percent of its cost.
Garage door replacement, a wood deck addition and vinyl window replacement are all expected to recoup around 70 percent of costs as well.
But good deals aren't limited to the exterior. Conversion of existing space such as a minor kitchen remodel, turning an attic into a bedroom or finishing a basement is more likely to bring a better return than an addition.
On the interior, NAR considers attic and kitchen remodeling projects worthwhile investments. The least-expensive way to add a bedroom and bathroom within a home's existing footprint is an attic bedroom, expected to return 72.5 percent of costs. A minor kitchen remodel is expected to return 72 percent of costs.
Least-return improvements are a sunroom addition and a home office remodel, both estimated to recoup less than 46 percent of costs. An in-ground pool can add to a home's value, but there's little chance of recovering the money spent on upkeep, and NAR advises that an above-ground pool can actually reduce a home's resale value. Many people don't want pools because of the high upkeep.
All homes can benefit from increased insulation and sealing, regardless of climate. Older homes are usually under-insulated compared to new homes. Adding more can help you realize a return on your investment, and beefing up the R-value (rating for insulation efficiency) in an attic or crawlspace helps cut energy use.
Most homeowners can handle routine maintenance projects and cosmetic touchups, but it's recommended they consult with qualified professionals for larger remodeling jobs and major changes to a home's structure. After deciding on one or more projects, how can a homeowner get started? What to do first on a project can be daunting in itself, so what's the best solution to avoid confusion?
Jerry Fedewa, president of the Greater Lansing (Mich.) Home Builders and Remodelers Association, suggests the priority should be to stick to the scope of work unless you become aware of additional items that make sense to complete at that time. "It's best to know exactly what you want done and to be able to communicate the scope of the project. If builders or remodelers see additional work that needs to be done, they will suggest it."
Fedewa recommends contacting the local home builders and remodelers association for a list of licensed and insured contractors. "I would choose three contractors to visit your project," he advises.
The down economy offers homeowners many opportunities for savings, he adds. "Additions and remodels really did not slow nearly as much as home building has, so more home builders started taking on more additions and remodels. There may be a few more contractors chasing the same amount of work, so there are probably some savings there. Customer service has improved, as has project time."
Asking contractors important questions makes all the difference, according to Roger Weymouth, broker/owner of Weymouth & Associates in Holt, Mich., with 20 years of experience in the real estate industry. "Regarding the best questions to ask, I would say as many as you can think of," he says. For instance:
Are you licensed and insured? (Make a copy of the license and insurance)
Do you carry workers' compensation insurance? (Make a copy)
How long have you been in business?
Can you provide me a list of the last three projects you did with names and phone numbers of the people who hired you?
Is this your best price?
"I personally prefer to pay when the job is complete," Weymouth advises. "Be careful of the contractor that wants money up front. Always make sure your agreement with the contractor is in writing. Everything should be written out and understood beforehand."
"It's very important to always include a project completion date in your contract and what happens if the project isn't finished by that date," Weymouth continues. "For example, include wording such as 'contractor to pay owner x amount each day thereafter completion date if project is not completed.'"